* Click here for the revised House map released this morning and click here for the new Senate map. The House Democrats have scheduled a 10:45 hearing this morning for the redistricting committee in Room 114.
* Mark Maxwell…
In the House, Democrats drew the following Republicans into the same legislative districts:

• Representatives Mike Murphy (R-Springfield) and Avery Bourne (R-Raymond)
• Representatives Chris Miller (R-Oakland) and Adam Niemerg (R-Teutopolis)
• Representatives Joe Sosnowksi (R-Rockford) and Steve Reick (R-Woodstock)
• Representatives Dan Caulkins (R-Decatur) and Brad Halbrook (R-Shelbyville)
• Representatives Amy Grant (R-Wheaton) and Seth Lewis (R-Bartlett)
• Representatives C.D. Davidsmeyer (R-Jacksonville) and Randy Frese (R-Quincy)
• Representatives Tom Morrison (R-Palatine) and Chris Bos (R-Lake Zurich)

Democrats drew Representative Dan Caulkins (R-Decatur) into the same district with his colleague Brad Halbrook (R-Shelbyville), but Caulkins said he plans to re-establish residency in a district next door to attempt to outmaneuver the gerrymander.

The new maps also spared some Republicans who were bracing for primary battles under the maps that were passed in May. Representatives Dan Ugaste (R-Geneva) and Keith Wheeler (R-Oswego) are no longer paired together in the same district, as well as Representatives Tony McCombie (R-Savanna) and Andrew Chesney (R-Freeport), who will each enjoy the benefit of incumbency in safe districts in the upcoming election.

Calabrese projected the Democrats could pick up six or seven House seats under the gerrymandered maps, but could potentially lose one or two seats in the Senate.
"They're probably gonna have 80 members [in the House]," he said. "I also have the Democrats actually losing seats in the Senate, because what they did is they really catered to their members. And so there's like no swing districts in the Senate. The seats are either really Republican or really Democratic."
I struck out the Sosnowksi vs. Reick primary because this morning's new House map puts them in separate districts. Stay tuned for more changes.
Also, subscribers know more, including about Chesney's likely GOP opponent.
* Tribune…
U.S. District Judge Robert Dow warned Democrats that they should address concerns about undercounted minority populations when approving new maps during Tuesday's special session.

That's just what Democrats said they attempted to do with the new proposed boundaries introduced Monday, including an effort to put more of the Orthodox Jewish community into a single House and Senate district. The new maps also make a greater effort to keep more communities within single districts, Democrats said. […]

But Shlomo Soroka of Agudath Israel of Illinois said the newest map actually further divides the Orthodox Jewish community on the Northwest Side and in the northwest suburbs.

"I actually refuse to believe this was done intentionally, but if it was a mistake, it's not too late to fix," Soroka said during a hearing on redistricting late Monday.
My consultant Frank Calabrese says there were no changes to that district.
…Adding… From Frank…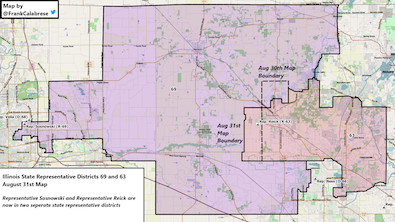 24 Comments







































































Sorry, comments for this post are now closed.