* I only mention this upcoming fundraiser because there's an article about it today…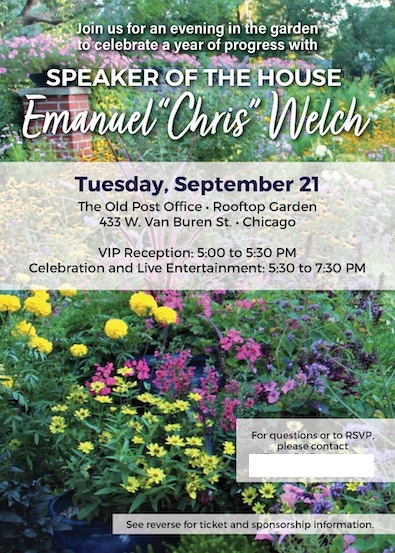 Tickets run from $250 up to $20,000 for a VIP event.
* Crain's…
Illinois House Speaker Emanuel "Chris" Welch has announced plans for his first big Chicago fund-raiser since succeeding Mike Madigan, and though I wouldn't expect Commonwealth Edison execs to pack the place, it does have some similarities to the kind of big-bucks events Madigan used to throw. […]

If Team Welch is imposing any new rules on who can donate, given Madigan's involvement in the on-going Edison bribery and shake-down scandal, it isn't saying so. Madigan has not been accused of any misconduct and denies any impropriety. Several of his key associates are under federal indictment. […]

Says a Welch spokeswoman in a statement, "Speaker Welch is excited to have a fundraiser at a new outdoor venue. He will comply with any state/local guidelines, just like every other political committee holding a fundraiser."
I'm not quite sure why Welch should be singled out here, particularly since Senate President Harmon is the one taking the lead on the energy bill talks.
Your thoughts on any special restrictions that Welch should put on his fundraisers?
16 Comments















































Sorry, comments for this post are now closed.