* In the end, it wasn't even close. Some Democratic opponents flipped to "Yes" and some Republicans came out of the woodwork to support it…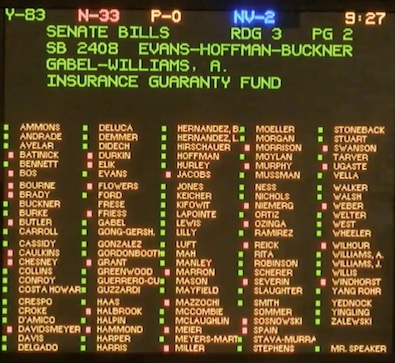 * Senate President Don Harmon…
"The shared goal among the Senate, House and Governor Pritzker has been to position Illinois as a national leader on reliable, renewable and affordable energy policies. This proposal accomplishes that shared goal. I commend the work the House has done to build on the progress the Senate had made.

Senate session will be scheduled for Monday to advance this vital proposal to the governor's desk so it can become law."
* Gov. Pritzker…
Today, with the House passage of SB 2408, the State of Illinois is one historic step closer to reaching a 100 percent clean energy future. For many years, comprehensive energy legislation that puts consumers and the climate first has been debated while scientists around the world have sounded the alarm about the growing impacts of climate change. SB 2408 puts the state on a path toward 100% clean energy and invests in training a diverse workforce for the jobs of the future. Illinois will become the best state in the nation to manufacture and drive an electric vehicle, and equity will be prioritized in every new program created. The days of utility companies writing energy legislation to pad their profits has ended because SB2408 puts consumers and climate at the forefront, prioritizes meaningful ethics and transparency reforms, and institutes key ratepayer and residential customer protections.

A legislative package of this magnitude required bringing all stakeholders to the table, holding regular meetings for more than a year, keeping an open mind, negotiating in good faith, and reaching consensus on a bill that fights climate change and preserves and creates jobs. I want to express my sincere gratitude to Speaker Welch and Leader Evans for their tireless collaboration to get this package across the finish line. To the members of the Clean Jobs Coalition who have worked day and night to protect our planet, thank you for fighting this urgent battle for the next generation of Illinoisans. Your advocacy will leave our children a better and safer Illinois. To our brothers and sisters in organized labor, thank you for fighting for working families across the state and ensuring a just energy transition for Illinois' energy workforce.

I look forward to SB 2408's swift passage in the Senate, and signing it into law as soon as possible, because our planet and the people of Illinois ought not wait any longer.
* Speaker Welch…
"What the House has accomplished tonight is monumental and life changing for the future generations of Illinois," said House Speaker Emanuel "Chris" Welch. "With the passage of this comprehensive energy proposal, Illinois is on the path to a greener future that prioritizes a reduction in carbon emissions, saves jobs, diversifies the energy sector and tackles necessary ethics reforms. I am incredibly proud of Leaders Evans, Gabel, Hoffman, and Representative Williams. It is thanks to their continued negotiations that we have a product our entire state can be proud of.
* In case you missed it, this is just a tiny taste of how bizarre tonight's debate was at times…
Rep. Steve Reick (R-Woodstock) imagines people in sub-Saharan Africa don't wish to "burn dung" to power lightbulbs in their huts. He says no one knows what the average planet temps might be in 50 years. Scientists are quite clear: methane & carbon traps heat, accelerates warming.

— Mark Maxwell (@MarkMaxwellTV) September 10, 2021
"I'm not worried about future grandkids… I already have them"- member of IL GOP.

What about the rest of us who don't have grandkids… yet.

— Liliana Scales (@Lili_Scales) September 10, 2021
Rep. Meier just went on and on and on, often without any direction or purpose. The Prairie State coal-fired electricity plant is in his district, so he was given extra indulgence and time. It didn't help his cause.
At one point, Rep. Blaine Wilhour claimed the bill will somehow prop up the Chinese Communist Party. Another predicted daily, hours-long Iraqi-style blackouts.
On the other hand, often legitimate questions weren't replied to with satisfactory answers, particularly on the eminent domain issue.
* CJI…
Labor coalition Climate Jobs Illinois (CJI) applauded the House of Representatives' passage of historic legislation that will put thousands of union laborers to work building a 100 percent clean energy economy in Illinois and provide a new pathway to the middle class to address growing income inequality in underserved communities most impacted by climate change.

SB 2408 sets the strongest clean energy labor standards in the country and promises to raise the bar for other states seeking to enact new labor and employment policies for building and maintaining clean energy developments.

The bill will create thousands of new clean energy union jobs, expand union apprenticeships for Black and Latinx communities, increase energy efficiency for public schools and safeguard thousands of union workers at the state's nuclear plants that currently generate the bulk of Illinois' zero-emissions energy.

"We commend the House and all parties for meeting this moment, putting aside considerable differences to pass an ambitious bill that takes on the climate change, puts union men and women to work, and opens up new opportunities for historically underserved communities most impacted by the climate crisis," CJI Executive Director Joe Duffy said. "We look forward to working with our partners in the Senate to get this historic legislation passed and sent to Gov. Pritzker for his signature so that we can get to work building a cleaner, fairer future for all Illinoisans."

Specifically, major provisions of the bill include:

• 50% renewable energy by 2040 and zero carbon emissions by 2045
• All privately owned coal generation closed by 2030; municipally-owned coal plants to reach zero carbon emissions by 2045
• $700 million in negotiated subsidies for the Byron, Dresden, Braidwood nuclear plants for 5 years to sustain Illinois' primary source of current clean energy
• Expanded apprenticeship and training programs to increase representation of Black and Latinx communities in the energy workforce, with required diversity hiring reports by renewable industry employers
• Strongest labor standards in the country on wind and solar developments
o Project labor agreements required on all utility-scale wind and solar projects and prevailing wages for all non-residential clean energy projects
• "Just transition" program for areas economically reliant on fossil fuel generation
• 1 million electric vehicles on the road by 2030, with state rebates funding up to 80% of charging station installation and requires prevailing wages on installation
• Increased energy efficiency for public schools
• Increased accountability and transparency — return to traditional ratemaking vs. formula rates, and requires utilities to establish a chief ethics and compliance officer who must report to the Illinois Commerce Commission
* Illinois Clean Jobs Coalition…
"After years of hard work and community collaboration, the Illinois Clean Jobs Coalition applauds this significant leap forward on climate change and nation-leading equity standard that assures every part of the state shares in the promise of the clean energy economy. This urgent, job-creating plan puts Illinois on a path to a 100% clean energy future while providing a just transition for workers and communities historically dependent on dirty fossil fuels, enacting some of the toughest utility accountability measures in the nation, and creating jobs and wealth in Illinois' Black and Brown communities, which are often the first to suffer negative consequences of pollution but the last to reap the health and economic benefits of a clean energy future.

"We would like to thank the numerous advocates, stakeholders, legislative champions, and particularly Governor JB Pritzker for their hard work and urge the Senate to bring this urgent legislation across the finish line swiftly.
* Sierra Club…
"This historic bill represents a nation-leading plan to set Illinois on course to 100% clean energy, heeds the call of science for bold action on climate change, and centers equity and environmental justice every step of the way.

"I want to thank the Governor, legislative leaders, stakeholders, and the tens of thousands of Illinoisans who have raised their voices as part of this process. Today, those voices were heard, as this historic agreement is grounded in their hopes for a better future for Illinois and our planet. We urge the Illinois State Senate to vote to concur with the House on SB2408 as soon as possible so that the Climate and Equitable Jobs Bill can become the law of the land and we can deliver a better future for all the residents of our state."
* Path to 100 Coalition…
"Illinois is now on the path to 40% renewable energy by 2030 and 50% renewables by 2050. If the Senate approves this legislation immediately, we will have taken critical action to address the climate crisis while keeping equity at the forefront, protecting consumers, and creating tens of thousands of good jobs," said Nakhia Crossley, Central Region Director for the Solar Energy Industries Association. "We thank the members of the House and Senate who have worked for years to craft this policy and move it forward. We call on the Illinois Senate to pass this bill and get it to the Governor so we can get back to work."
* Illinois Environmental Council Executive Director Jen Walling…
"We are closer than ever before to passing the nation's most comprehensive, equitable climate bill. The passage of SB2408 today in the House of Representatives was an enormous victory that was only possible because environmental champion state representatives stood strong and sided with their constituents over the polluting fossil fuel interests who have called the shots in Springfield for too long.

"We applaud the representatives who voted yes today—they are climate champions. We encourage members of the Senate to vote for SB2408 so we can put Illinois on a path to 100% clean energy, create thousands of good-paying jobs, establish nation-leading equity programs, reduce pollution and hold utility companies accountable for corruption. The climate won't wait. Let's get this done!"
* TechNet…
TechNet, the national, bipartisan network of innovation economy CEOs and senior executives, today applauded the passage of Illinois SB 2408, a bill that would put the state on a path to 100 percent clean energy by 2050. The bill will also increase the adoption of electric vehicles in Illinois and invest in the state's clean jobs workforce through job training and other assistance. The following statement is attributable to Tyler Diers, TechNet's Executive Director for Illinois and the Midwest:

"Combatting climate change is one of the most critical global issues of our time. Immediate and consistent action is required, and technology companies are helping lead efforts to transition to a clean energy economy through innovation and investment in renewable energy and sustainable technologies.

"This legislation enables Illinois to take a much-needed step in reducing carbon pollution by setting a path to decarbonize the electric grid, ensuring the state's transportation future is all-electric, and making the policy inclusive for communities that have been disproportionately affected by climate change. The bill also enables companies to voluntarily support their energy needs with renewable energy now and in the future, which makes the grid cleaner for everyone and accelerates private investment in new utility-scale renewable energy in the state.

"The technology industry stands in support of SB 2408 and applauds lawmakers from both parties for taking the necessary action to make Illinois' future cleaner, more efficient, and more sustainable."
* Rep. Mike Murphy…
"More than a decade ago, City, Water, Light, and Power, a municipally-owned non-profit energy provider, took steps to plan for our energy future in central Illinois and reduce its carbon emissions by building the Dallman 4 plant. That plant followed all the carbon reduction regulations put in place by the Obama-Biden administration. Now, with 19 years left on the bond obligation for that plant, the state of Illinois is pulling the rug out from under our taxpayers' non-profit energy provider, while down the road a state-run coal-fired plant for state facilities can stay open.

"Not only does this energy overhaul cripple non-profit power plants, but it also gives private power entities the eminent domain authority to build transmission lines across farmland without owners' approval. All of this is on top of a rate increase, and since we can't meet power capacity needs without our coal-fired plants, we'll be buying coal-fired energy from neighboring states. We are rushing to completely alter our energy production at the expense of countless jobs and reliable energy for the sake of special interest and it's terrible."
* Rep. Anna Moeller…
"Today is a day to celebrate Illinois as a national leader in protecting our environment and creating our clean energy future.

As Chair of the Illinois House Green Caucus, and a longtime supporter of clean energy legislation, I want to thank my colleagues in the Legislature, House Speaker Welch, Gov. Pritzker, the environmental advocates and everyone who made today's historic vote possible. We can look back to today as a true turning point in the fight against climate change and for a better future for all Illinoisans."
* Rep. Tim Butler…
"Well over a decade ago, my community made a wise investment to move forward with a reliable, competitive source of power to keep our lights on; a source of power which was approved by the State of Illinois during the Obama-Biden administration. Today, the Illinois House turned the lights out on the community in which the Capitol sits.

"The taxpayers of Springfield will almost certainly be on the hook for paying twice for their energy due to this legislation. My neighbors wanted a reliable source of energy for our future, so we supported the construction of the Dallman 4 unit. Now the state has voted to shut down this municipally-owned, non-profit facility and to trample the rights of private property owners. All our property taxes already go to paying old pension debt, now all our utility bills will pay for closed power plants.

"What was done here today completely ignores the serious harm to jobs and the economic health of downstate and central Illinois communities, along with our municipally-owned non-profit utilities. We are being sacrificed on the altar and at the expense of special interests and investor-owned private utility company profits."
According to Rep. Hoffman, CWLP was neutral.
32 Comments































































































Sorry, comments for this post are now closed.