[This post has been bumped up from Wednesday evening to Thursday morning for visibility purposes.]
* Background is here if you need it. Whew…
Republican gubernatorial candidate Jesse Sullivan just reported close to $11 million in campaign contributions https://t.co/kmCCD4piyZ

— Rich Miller (@capitolfax) September 9, 2021
Dude isn't messing around.
* All out of state…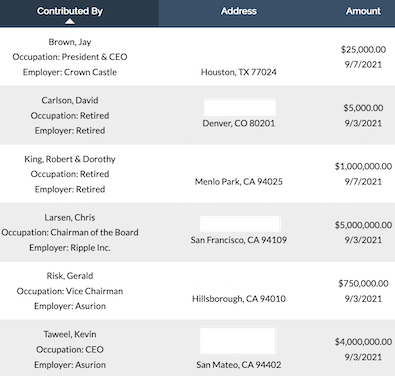 * Media advisory…
TOMORROW: Business Leader and Illinois Native Jesse Sullivan to Make Major Announcement in Republican Race for Governor

Petersburg, IL – Jesse Sullivan, who was born and raised in Petersburg, will make a major announcement on his intentions regarding the Republican race for Illinois Governor tomorrow, from Lincoln's New Salem. He will be joined by friends and family and will make remarks about what he sees for the future of Illinois.

What: Major campaign announcement
Who: Jesse Sullivan
When: Thursday, September 9, 2021, 4:30 PM CST
Where: Lincoln's New Salem State Historic Site Visitor's Center, 15588 History Lane, Petersburg, Illinois 62675
Session day, half an hour from the Statehouse. Not sure what sort of media turnout he'll get.
…Adding… His top contributor last December…
The Securities and Exchange Commission filed charges Tuesday against Ripple, the fintech company best known for cryptocurrency XRP, and two of its executives.

The SEC alleged that Ripple, co-founder Christian Larsen and CEO Bradley Garlinghouse, raised more than $1.3 billion through an unregistered, ongoing digital asset securities offering.

Garlinghouse said the SEC's suit was "fundamentally wrong as a matter of law and fact" and questioned its timing.
*** UPDATE 1 *** Tribune's Rick Pearson interviews Sullivan…
Sullivan, who has promoted his Roman Catholic faith along with family and service as his core values, said he believed a Republican could be successful in an increasingly Democratic state by avoiding a focus on "wedge issues" and instead concentrating on ways to improve the economy and reducing taxes, corruption and crime.

But while he said his background in technology and finance could "serve as a bridge" to suburban voters, his opposition to abortion rights could become an issue for a key regional demographic — moderate suburban women. […]

Sullivan also said he has been vaccinated for COVID-19 and encourages vaccination, in contrast to Rabine and Bailey. […]

"I am not an ideologue," Sullivan said, before making a reference to Rauner. "I actually think it's really not healthy to be an ideologue if you want real outcomes — especially if you're going to run as a Republican in a Democratic-leaning state where they're the supermajority in the legislature. I think we tried that experiment previously and it did not work."
*** UPDATE 2 *** Press release…
Gary Rabine, a candidate for Governor, is issuing the following statement on Jesse Sullivan declaring his candidacy for Illinois Governor.

"It is important for Illinois Republican voters to choose a candidate who best reflects the values of this party and the working class families of our state. Most all of Mr Sullivan's campaign cash has come from Silicon Valley. The values of Silicon Valley are not the values of the Republican Party here in the heartland. To defeat Pritzker's War on Families, Illinois will elect a candidate who is vested in the culture of small businesses and families in Illinois, not California. While Jesse Sullivan has been partnered with Silicon Valley elites, I have been creating jobs for working families right here in Illinois.

I have been at the forefront of recruiting and funding initiatives to support leaders in freedom and small business for a long time. I have been in the trenches since the beginning of great national organizations, such as Job Creators Network and TPUSA, supporting the fight against socialism and bad regulations that kill small businesses. Republican voters know I am the candidate best able to end the war on families in Illinois.
40 Comments























































































































Sorry, comments for this post are now closed.