* Marion County Board of Health meeting minutes from June 16, 2020…
On June 11, 2020, Melissa received a complaint phone call from a Marion County restaurant that Sharon's Café in Salem was allowing inside dining. Dan, our Health Inspector, went to Sharon's Café and spoke with the owner and expressed that inside dining was not allowed in Phase 3 of the Restore Illinois plan, at this time only outside dining, curb side pickup or delivery was a part of Phase 3. Dan did inform them that inside dining would be allowed in Phase 4, which is in 2 weeks.

On June 12, 2020 Representative Blaine Wilhour visited various restaurants in Marion County and told them the health department had no authority to tell them they could not have indoor dining. Melissa contacted Bill Milner, our State's Attorney, to advise. Mr. Milner stated no judge would side with the health department when a small business is trying to stay open to make a living. Also that inside dining is no more harmful to the public than Wal-Mart that is full of shoppers.
We went over that illogic a kabillion times here. Most people don't shop for the hour or two that it takes to eat lunch or dinner. And you can't wear a mask when you're eating and drinking.
* June 12, 2020 Facebook post…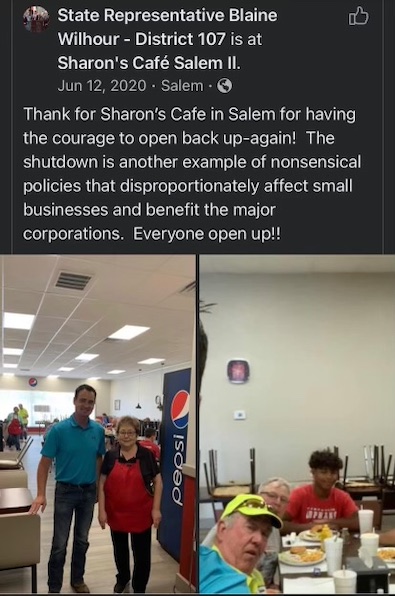 Rep. Wilhour's caption was also quoted by one of those Proft papers last year.
* Yesterday…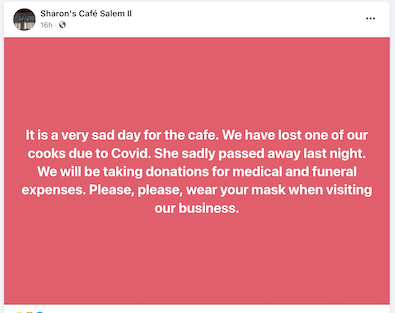 Gut-wrenching.
* Meanwhile…
It's worse in 20 counties spanning the southern tip of the state. All 88 ICU hospital beds were occupied Monday night for a region that's home to more than 400,000 residents and that has a testing positivity rate of 10.3%.

"We're chugging through some pretty bad days here," said Nathan Ryder, community outreach coordinator for the Southern 7 Health Department, which covers Illinois' seven southernmost counties. "It looked like it was leveling off the last couple of days, but now we're facing a pretty scary number."

The state deployed a team of critical care nurses to the region last week when it was down to one or two available ICU beds per night, Ryder said, to open up about 10 additional beds.

"Even with that help, we still don't have the capacity," he said. "If you're in a motor vehicle accident, or you're having a cardiac trauma, a stroke — those are people who need ICU beds. At this point, if you encounter that, you're probably looking at getting shipped off to St. Louis or Nashville. That's an incredible strain on the patient and their loved ones."

The region also has some of the lowest vaccination rates in Illinois — all the way down to Alexander County, where not even 17% of residents are fully vaccinated, the lowest in the state.
Take a very deep breath before commenting, please.
…Adding… Rep. Wilhour…
First off, prayers to the family that is dealing with a loss of a loved one.

I strain to see the connection between your 2 Facebook posts.

At the request of the restaurant-who stated they could not afford to shut down, I like I have throughout the past 18+ months, by request of the owner offered them my take on their statutory due process rights in light of a health department telling them they have to close without their consent or having any intent to get a court order.

THAT WAS 15 MONTHS AGO.

The tragic death that was noted in the 2nd post happened yesterday under a situation where being open was not in violation of any executive order.

Trying to insinuate that one is the result of the other is purposefully misleading at best.

This is a case study in building a false narrative for political purposes.

The right thing to do would be to immediately update your post with my full commentary. Especially since you insinuated some pretty serious stuff against me.
Now he's a mind reader.
50 Comments »





















































































































































This is not Facebook, so uncivil comments, profanity of any kind, rumors and anonymous commenters will not be tolerated and will likely result in banishment.