* Taylorville's school district initially balked at the statewide mask mandate. Its superintendent also signed an open letter denouncing the state mandate as a violation of local control.
* Then the school district appeared to try to get out front of a tragic story yesterday…
Taylorville High School is grieving after it was announced that a high school senior passed away last night.

Taylorville School Superintendent Doctor Chris Dougherty, in a news release sent this morning, announced that Alexia Garrison, a senior student at Taylorville High School, died last night at her home where she collapsed.

Dr. Dougherty, in the release, said there are no words to express the grief, heartbreak, and sense of loss felt by everyone in the Taylorville School District.
I was told by one area reporter that the school district pushed back against questions yesterday.
* But the facts are starting to come out…
Preliminary autopsy results revealed Garrison died of natural causes with COVID-19 being a contributing factor.

Final autopsy results will be released in a few weeks.
This virus can do things to your body which can injure or kill you long after you're no longer contagious.
* More…
Garrison was quarantined for COVID-19, but had cleared her quarantine period and returned to school at Taylorville High School, according to a Christian County Public Health Official. […]

Students at Taylorville High School are planning to wear purple — Garrisons's favorite color — to class on Friday to honor her memory.
Hopefully, this tragic death will prompt more people in the area to get vaccinated. Just 39 percent of Christian County's population is vaxed, according to IDPH.
* Click the image from IDPH if you need a bigger version to see that unvaccinated kids aged 12-17 represent the highest case growth by far in Illinois right now…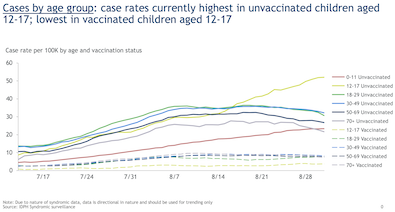 …Adding… Rep. Deb Conroy…
Tragic. Which anti mask, my body my choice Republican will step up and take responsibility for the death of Alexia Garrison? She is everyone's child and no child is safe when personal political gain is valued over human life.
*** UPDATE *** Get your shots, people…
Tragic news from Taylorville. A 17-year-old girl collapsed in her home and died after a long, drawn out bout with Covid-pneumonia. Her dad told @WCIA3 that her symptoms lasted beyond recommended quarantine, and that she was unvaccinated, per @Cole_Henke.https://t.co/gPLYohk88Y

— Mark Maxwell (@MarkMaxwellTV) September 17, 2021
28 Comments



















































































Sorry, comments for this post are now closed.