* I told subscribers about this case and its context earlier today. I'll have more for non-subscribers soonish…
The Nauvoo-Colusa School District decided earlier this week to exempt some unvaccinated staff from weekly COVID-19 testing. […]

Those who choose not to get the vaccine or cannot due to medical or religious reasons must then undergo weekly COVID-19 testing.

Some unvaccinated Nauvoo-Colusa staff members had requested exemptions from weekly COVID-19 testing claiming they have the right to do so under Illinois' Health Care Rights and Conscience Act. […]

The Nauvoo-Colusa School District is on the Illinois State Board of Education's probation list because the school district made face masks optional rather than mandated per the governor's executive order.
* Admitted COVID-19 patients per 100 hospital beds. The greener the better, the pinker the worse…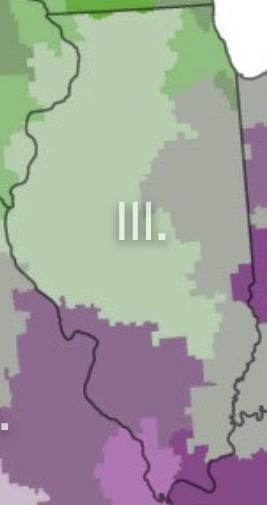 People need to get their heads out of their… you know whats.
* Ugh…
"The choice to not be vaccinated is like a punch in the stomach to frontline caregivers." - Jeff Goldsmith, president of Health Futures, shares his insight on post-pandemic recovery during today's virtual 2021 IHA Leadership Summit. #IHASummit2021 pic.twitter.com/3um6tLcTF6

— IHA (@IHAhospitals) September 23, 2021
* Message to all the people out there who are whining about how they just want to return to normal life: Vaccines are the best way to that goal. I'm really not sure I can take another year of this nonsense…
Moderna Inc Chief Executive Stéphane Bancel thinks the coronavirus pandemic could be over in a year as increased vaccine production ensures global supplies, he told the Swiss newspaper Neue Zuercher Zeitung.

"If you look at the industry-wide expansion of production capacities over the past six months, enough doses should be available by the middle of next year so that everyone on this earth can be vaccinated. Boosters should also be possible to the extent required," he told the newspaper in an interview.

Vaccinations would soon be available even for infants, he said.

"Those who do not get vaccinated will immunize themselves naturally, because the Delta variant is so contagious. In this way we will end up in a situation similar to that of the flu. You can either get vaccinated and have a good winter. Or you don't do it and risk getting sick and possibly even ending up in hospital."
* It's important to remember, though, that not everyone who isn't vaccinated is a hardcore anti-science freak…
"unvaccinated are saying, 'Never me.' Very small percentage. The vast majority of people who are unvaccinated … is they need to make time for it, they still have some questions about it. They're not rigidly against the vaccines."

— Kelly Bauer (@BauerJournalism) September 23, 2021
I've asked for access to that polling data, but here's some coverage in the Washington Post…
Barriers to getting the shot and information about the vaccines have hindered the "unvaccinated but willing," who account for approximately 10 percent of the American population, according to a report last month by the Department of Health and Human Services. Unlike those who have declined vaccines, some vocally, because of their politics or ideology, a quieter share — about 44% of unvaccinated people — say they would get vaccinated but are on the fence for certain reasons. Some, like Orosco-Arellano, lack transportation or other means, while others wish to wait and see or don't know coronavirus vaccines are free.
* More from the city…
"The [city worker vaccination] deadline is not going to be pushed back, I can tell you with 100% certainty," Lightfoot said. "We are not going to retreat from that."

While other employee unions have engaged city officials in "thoughtful dialogue," the police union has "been nowhere," Lightfoot said.

Lightfoot participated in a ceremony Monday to retire the stars of the four Chicago police officers who died after contracting COVID-19 during the pandemic. The leading cause of death for law enforcement officers is COVID-19, Lightfoot said.

"It is unconscionable — unconscionable — that the FOP is taking the position that they will not do the right thing by their members and get them vaccinated," Lightfoot said. "I don't even know what they are doing."
* Not good enough…
The unemployment rate decreased over-the-year in all fourteen Illinois metropolitan areas in August for the fifth straight month according to preliminary data released today by the U.S. Bureau of Labor Statistics (BLS) and the Illinois Department of Employment Security (IDES). Jobs were up in all metro areas, with the exception of the Bloomington Metropolitan Statistical Area.

"As reopening and recovery efforts continue to impact metro areas across the state, IDES is committed to continuing to assist both claimants and jobseekers who are still looking to reenter the workforce," said Deputy Governor Andy Manar. "Claimants are encouraged to utilize IllinoisJobLink.com to search for work opportunities and take advantage of assistance the Department can provide with workforce development, including job trainings and resume building."

Over-the-year, total nonfarm jobs increased in thirteen metropolitan areas and decreased in one (Bloomington MSA, -0.6%, -500). The metro areas which had the largest over-the-year percentage increases in total nonfarm jobs were the Springfield MSA (+3.5%, +3,600); the Davenport-Moline-Rock Island IA-IL MSA (+3.1%, +5,400), the Chicago Metro Division (+2.9%, +102,200) and the Peoria MSA (+2.9%, +4,700). The industries that saw job growth in a majority of metro areas included: Leisure and Hospitality (fourteen areas); Transportation, Warehousing and Public Utilities (eleven areas); Other Services and Government (ten areas each); Manufacturing and Educational and Health Services (nine areas each).

Over-the-year, the unemployment rate decreased in all 14 metropolitan areas; the metro areas with the largest unemployment rate decreases were the Chicago-Naperville-Arlington Heights Metropolitan Division (-5.5 points to 7.5%), the Elgin Metropolitan Division (-3.2 points to 6.1%) and the Lake County-Kenosha County, IL-WI Metropolitan Division (-2.7 points to 5.3%). The unemployment rate also decreased over-the-year in all 102 counties for the fifth consecutive month.
* More…
27 Comments
















































































Sorry, comments for this post are now closed.