* Not long after commanding his followers to "Bring this state to its knees," covid-rights attorney and Republican appellate court candidate Tom DeVore apparently shut down his Facebook page…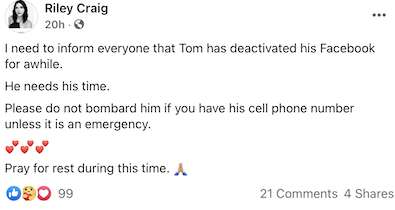 * Ryan Steele offered up more in a video yesterday…
Facebook did not take down his page. Tom took down his page. People were constantly harassing him and haranguing him. After a while it gets to a person. He just needs to take some time. So he has put it on the do not disturb status for a while. So all those people that are blowing me up, there's your answer, so please don't blow me up either. He is still out there fighting the cause he just needs a break from Facebook because he was getting thousands upon thousands of messages a day, and he needed a breather. So he wasn't Zuckerberged there's no conspiracy theory here. Tom decided to take down his own page for sanity's sake, so please give him a break. He has been fighting this fight non-stop for 18 months now, and it's only gotten worse, that people were harassing, I wouldn't say harassing, just constantly reaching out to him non stop. The messages every day, the text messages, the Facebook messages, the calling the office the staff in the office are just overwhelmed with phone calls. He's going to keep up the good fight, and we'll still, you know, have updates from him.

He did a video the other night, it was last night he did a live video, and he had so many questions from that video that were publicly posted, let alone how many private messages he got. So I know he's out there fighting the good fight and still wanting to educate people as to the law.
* Meanwhile, from WGEM…
The preliminary injunction hearing scheduled for Friday between the parents of three Quincy Public School students and the school district over school's quarantine policy has been canceled, according to court records.

Attorney Thomas DeVore of Greenville, Illinois, who represents the parents, said after Adams County Circuit Judge Debra Wellborn granted a Temporary Restraining Order to allow the students back in class on September 2, he felt the school was abiding by the law.

DeVore said he met with the school's attorney, David Penn, and they made the decision jointly to cancel the hearing. DeVore said the court agreed. […]

Adams County State's Attorney Gary Farha told WGEM News that his office would only seek a court order for quarantine if a person was living in a household where someone had tested positive for COVID-19.
* Kadence Koen is a math and science teacher at Southeast High School in Springfield…
It is with a heavy heart that I go to school today. I have been a high school teacher for most of my adult life. I LOVE my students and really like teaching. Today will be my last day with my students for the foreseeable future. I have been placed on unpaid leave for refusing to produce a vaccination card and refusing to be tested. (I am following Illinois law 745 ILCS 70 Health Care Right of Conscience Act). I did not arrive at this decision lightly! I will miss my students. (My kids will miss my pay check) Hopefully this gets through the court system sooner than later!! Liberty and privacy are key components to a free country.
These test refusals have the potential to eventually crash the whole system.
* Sun-Times…
Mayor Lori Lightfoot on Thursday announced a new citywide COVID-19 vaccine initiative.

The Protect Chicago 77 community engagement campaign aims to get at least 77% of Chicago residents 12 and older at least partially vaccinated by year's end. […]

But vaccination rates across the 77 community areas vary. While places like Lincoln Square and Lake View are nearing 80%, others like Austin or Chatham are below 60%.
* Axios Chicago…
COVID hot spots have moved all over Chicago in the past 18 months, but in recent weeks, the highest rates have emerged in two ZIP codes on the far Southwest and Northwest Sides, according to city data.

• 60655 covers parts of Beverly, Morgan Park and Mount Greenwood.
• 60656 covers parts of Jefferson Park and Norwood Park.

The intrigue: These two ZIP codes carry two more distinctions:

• They house the city's highest concentrations of municipal workers.
• And they were the only two Chicago ZIP codes to post strong showings for former President Donald Trump in the 2020 election, per a Tribune analysis.

Why it matters: Chicago taxpayers help pay health care bills for most city workers. And it costs about $20,000 to treat the average unvaccinated COVID patient in the hospital, according to an analysis by the Kaiser Family Foundation.

• Vaccination rates in the two ZIP codes are relatively low at 53% (60655) and 54% (60656) — compared to more than 90% in four downtown ZIP codes.
Lots of current and former first responders live in those neighborhoods…
Ald. Nicholas Sposato — who is the only City Council member to say he has not been vaccinated against COVID-19 — is not wearing a mask. He is, however, wearing a laminated picture of Maury Povich, with the caption, "In case of COVID, you are not positive."

— Heather Cherone (@HeatherCherone) September 24, 2021
* I hate people sometimes…
Some expressed sympathy to her family after her death. Some sent profanity-laced messages on social media that she deserved to die. Some said her relatives were terrible people.

In the two weeks since Candace Ayers' family used her obituary to vent frustration about their fully vaccinated mother's death from COVID-19, millions of people around the world have learned of the Springfield woman's plight.

Hundreds of them have sent messages on the internet — most of them negative and insulting — to her loved ones, though about a dozen told her family they were so moved by the 66-year-old grandmother's Sept. 3 death at HSHS St. John's Hospital that they got COVID-19 shots.
* IDPH…
The Illinois Department of Public Health (IDPH) today reported 21,787 new confirmed and probable cases of coronavirus disease (COVID-19) in Illinois, including 239 additional deaths since reporting last Friday, September 17, 2021. More than 80% of Illinois adults have received at least one COVID-19 vaccine dose and more than 63%% of Illinois adults are fully vaccinated, according to data from the Centers for Disease Control and Prevention (CDC). Of Illinois' total population, almost 68% has received at least one COVID-19 vaccine dose and 53% of Illinois' total population is fully vaccinated.

Currently, IDPH is reporting a total of 1,612,129 cases, including 24,783 deaths, in 102 counties in Illinois. The age of cases ranges from younger than one to older than 100 years. Since reporting on Friday, September 17, 2021, laboratories have reported 797,018 specimens for a total of 31,192,769. Yesterday, 150,245 COVID-19 tests were reported; the highest one-day total of COVID-19 tests since the beginning of the pandemic. As of last night, 1,926 individuals in Illinois were reported to be in the hospital with COVID-19. Of those, 474 patients were in the ICU and 252 patients with COVID-19 were on ventilators.

The preliminary seven-day statewide positivity for cases as a percent of total test from September 17-23, 2021 is 2.7%. The preliminary seven-day statewide test positivity from September 17-23, 2021 is 3.7%.

A total of 14,419,886 vaccines have been administered in Illinois as of last midnight. The seven-day rolling average of vaccines administered daily is 19,371 doses. Since reporting on Friday, September 17, 2021, 135,598 doses were reported administered in Illinois.

*All data are provisional and will change. Additional information and COVID-19 data can be found at http://www.dph.illinois.gov/covid19.

Vaccination is the key to ending this pandemic. To find a COVID-19 vaccination location near you, go to www.vaccines.gov.
Hospitalizations have so far plateaued and are even slightly declining. This is far more of a regional problem right now. Too many people in southern and western Illinois are deliberately injuring themselves and others.
* More…
58 Comments













































































































































































Sorry, comments for this post are now closed.