* I was going to do a piece on this today, but Politico saved me the trouble…
There's an opportunity for state lawmakers to create a second Latino congressional district, according to a remap consultant who testified before the Senate Redistricting Committee on Tuesday. The panel is taking public input before it goes behind closed doors to come up with the new boundaries for 17 congressional districts — one less than the current 18.

Illinois has a larger Latino population than Arizona, which has two Latino members of Congress. Only California, Texas, Florida, and New York have higher Latino numbers, according to Frank Calabrese, who is representing Chicago Ald. Gilbert Villegas, chairman of the Latino Caucus, in calling for a second Latino congressional district.

Calabrese says voter engagement among Hispanics has changed since lawmakers first drew Illinois' 4th Congressional District, now held by Rep. Chuy Garcia. (The district was nicknamed "the earmuffs" because of its odd shape.)

"The 4th District was created a few decades ago because Latinos weren't voting at high rates and you had to make it a super-Latino district to work," Calabrese told Playbook after the hearing. "That's not the case anymore. You don't need to have a district that needs to be 70 percent Latino."

He pointed to New York as a good example. The state has one Latino majority district and three other districts that have a Latino plurality. Rep. Alexandria Ocasio-Cortez's district, for example, is 47 percent Latino, according to the presentation packet Calabrese gave to lawmakers Tuesday.

In Illinois, he told lawmakers, there's an opportunity to create a second district in addition to Garcia's district, which encompasses the South and West sides of Chicago.

There are enough Latinos on the North Side of the city and in the suburbs to create a Latino-centric district that would count 50 percent of Latinos — from northwest Chicago, Melrose Park, Franklin Park, Bensenville, Addison, and Des Plaines. Garcia's district could continue with a supermajority of Latinos, 67 percent. Some of those areas are now part of Rep. Mike Quigley's 5th Congressional District.
* Click the pic for a larger version of Calabrese's proposed maps that he sent me yesterday and more explanation…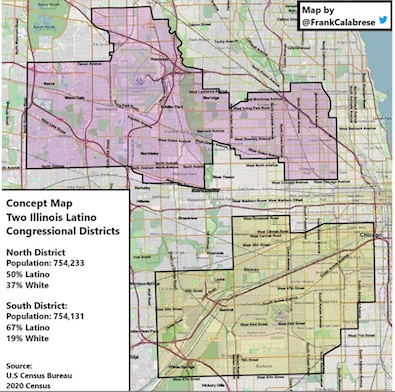 * Meanwhile…
The Illinois African Americans for Equitable Redistricting (IAAFER) has filed a complaint with the Department of Justice to ensure that the [new state legislative] maps optimize opportunities for minority voters to elect candidates of their choice. IAAFER also shared concerns regarding prison gerrymandering and how the practice will divert over $800 million from Black communities to prison towns between now and the next Census.

Spokesman Norman Montgomery called the latest version of the maps the most retrogressive redistricting plan in state history, with the lowest number of majority Black districts in 40 years. The number of majority Black representative districts has been cut from 16 in 2011, to 8 in 2021. The number of Black senate districts has been cut from 8 to 4.

"We are back to where we were in 1990," Montgomery said. "How do you make progress if you lose what you've gained over the last 20 years in 20-year increments? You can't do that."

IAAFER notes that Black people comprised 14% of Illinois' population in 2011, and still comprise 14% of the state's population. However, the number of majority Black districts has been cut by 50%. Whites comprised 60% of Illinois' population in 2011, and 58% in 2021. Yet, 69% of the districts drawn in the Democrat's redistricting plan are majority white.
The complaint is here.
Let's look at the House data. Click here for district demographics. You'll see, for instance, that House districts 6-10 have between 39 and 49.5 percent Black voting age population. All but one of them had 50+ percent in the last remap. All of the current incumbents in those districts are Black and some are quite powerful, including House Speaker Chris Welch (42.3 percent) and Rep. Sonya Harper, the Joint Caucus Chair for the Illinois Legislative Black Caucus (45.4 percent). Population on the West Side is becoming more racially diverse as whites and others move in, so Rep. La Shawn Ford's new district went from 55.3 percent VAP Black to 49.5 percent this time around.
* Onward to the farcical hearings…
But a House hearing on Tuesday lasted only 15 minutes, most of which was taken up by a roll call for attendance and a pro-forma introductory lesson on the redistricting process, given that zero witnesses submitted testimony virtually, or in-person.

State Rep. Tim Butler, R-Springfield, said the address listed for the Joliet hearing site location was incorrect and led to a literal dead-end; he said he was the only legislator on the committee to physically attend.

House redistricting chair State Rep. Lisa Hernandez, D-Cicero, noted that additional hearings are scheduled the rest of this week and encouraged members of the public to participate in them.
12 Comments



































Sorry, comments for this post are now closed.