* Tribune…
Gov. J.B. Pritzker said Tuesday that a continued decline in coronavirus cases and hospitalizations in Illinois could lead him to lift "certain mask mandates" in time for the holiday season.

"We want to remove the mitigations as we approach the holidays," Pritzker said during a COVID-19 briefing at the James R. Thompson Center in the Loop. "That's an important marker for us."

"We want to make sure that these numbers keep going down,"" he said. […]

At the time the mandate was issued, Pritzker pointed to the recommendation from the federal Centers for Disease Control and Prevention that people wear masks indoors in areas of "substantial" or "high" coronavirus transmission. As of Monday, that still included all but two of the state's 102 counties, both of them downstate.
Map…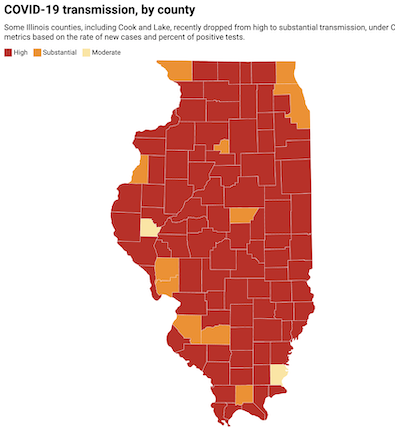 * Pritzker was responding to a question from Amy Jacobson about the state's mask mandates…
Well, we're continuing, again, to watch the numbers. You know that we look at these every day, Dr. Ezike and the IDPH team. And we work with them to determine when the right time is. I think you've seen that, although numbers have come down. And I know pretty much every moment of every day, you've wanted us to remove every single mitigation. Every question that you give is a question about removing mitigations. I want them to go away too. But we want to make sure that we're keeping people healthy and safe, following the guidelines that doctors are offering for us. And so we'll continue to do that. And obviously we want to remove the mitigations as we approach the holidays. These are you know, that's an important marker for us. We want to make sure these numbers keep going going down and we'd like very much to head into, you know we have three holidays coming up. But especially Thanksgiving and Christmas, where people spend extended amounts of time together. So we'd like very much to get to a place where we can remove certain mask mandates.
Please pardon any transcription errors.
* Hannah Meisel took a look at the numbers in a long thread and concluded…
9/9) Bottom line is we're still not back to the low we saw in the summer before the (2x more transmissible!) Delta variant swept through Illinois.
Even with vaccine mandates, we also seem to have reached a trough on regional positivity rates that aren't back down to ~June levels. pic.twitter.com/iRK9i4O10o

— Hannah Meisel (@hannahmeisel) October 19, 2021
* But then up comes the clickbait headlines…
Gov. JB Pritzker Hopes To Lift Statewide Indoor Mask Mandate In Time For Holidays
* IPHA…
Community Health Workers responded to 5,586 service requests in September.

Behind each request is someone experiencing the harmful, long-term effects of the COVID-19 pandemic. As demonstrated in the data table below, most of the service requests received in September were for basic human needs, such as food and household items, income assistance (including rent and utility payment programs), and even finding a safe place to quarantine. […]

Notice also that [southern Illinois] Region Five, despite being a more rural, sparsely populated part of Illinois, had the highest number of service requests for the month. Health administrators in those southernmost 20 counties reported all intensive care unit beds were in-use as a surge tore through the region. This left patients who would have otherwise been hospitalized with few options other than to remain isolated at home for several days.
…Adding… Today's data…
Vaccine Update: 24,418 vaccines were given over the last 24 hours. 81% of Illinoisans 12+ have received at least one shot. 63.4% are fully vaccinated. The 7-day rolling average for shots given is 29,477. #twill

— Mike Miletich (@MikeMiletichTV) October 19, 2021
* More…
* Pritzker pushes COVID booster shots for eligible residents: Pritzker urged skilled nursing facilities to make booster shots available to all residents and staff before Thanksgiving. The Illinois Department of Veterans Affairs is also preparing to provide booster shots to residents at state-run veteran's homes.

* You can't work at this southwestern Illinois hospital without COVID-19 vaccination: "As the principal healthcare provider in our community, we should serve as a leader to our patients, families, coworkers, and community," President of Touchette Regional Hospital Jay Willsher said.

* Just 54% of Chicago Police Officers Tell City Officials They Are Vaccinated Against COVID-19

* Compliance with vaccine mandate for city employees worst among police, firefighters

* Hearing planned Wednesday in Chicago Fraternal Order of Police's battle with city over vaccine mandate
17 Comments


















































Sorry, comments for this post are now closed.