* Top Democrats have been saying this publicly since the moment the new maps were released…
Illinois Democratic legislative leaders said privately Wednesday that revisions can be expected in their proposed map of the state's congressional districts amid concerns within the party that some districts as drawn up now could flip to Republicans.
Press release last Friday…
"This proposal is an excellent first draft that amplifies diverse voices and gives every person in our state a say in government," said Rep. Elizabeth Hernandez, D-Cicero, Chairperson of the House Redistricting Committee. [Emphasis added.]
* This whole exercise has looked to me like a head fake for days now. The map is obviously not the overwhelmingly Democratic monstrosity that so many predicted and continue to claim it is. Instead of 14-3, it's more like 11-3 with maybe three potential tossups (Lauren Underwood, Sean Casten, the vacant 17th and then there's the Newman-Kinzinger pairing)…
Here is the same table as above but it includes the incumbents in each district, showing the past electoral performance for the newly proposed congressional districts by the ILGA. If you'd like to compare them to the current map you can find that here:https://t.co/D8IGJjgQIh pic.twitter.com/ovMQxC4Bwi

— IL Election Data (@ILElectionData) October 18, 2021
* And this pining for Madigan and Mapes among the old-timers in the delegation really needs to stop. Their day is done…
The explanation we've heard that makes the most sense is that Assembly leaders, in particular new House Speaker Emanuel "Chris" Welch and the almost as new Senate president, Don Harmon, just weren't ready for this one. After all, it's been 10 years since the last remap, COVID has created turmoil everywhere, and delayed results from the 2020 Census forced some awkward last-minute juggling.

Put a different way, the ruling party no longer had an old pro on hand like the deposed speaker, Mike Madigan, who has been through the remap process numerous times. If nothing else, Madigan always knew how to ram a bill through and get it to stick while making most of the players—at least in his own camp—marginally happy. Though Welch and Harmon have done a pretty good job overall lately, Madigan's absence on the remap may well have been felt.

In any event, this proposed map likely can be fixed without too much difficulty. Some other Democrats will have to sacrifice friendly territory to shore up Underwood and Newman. It all depends on people being reasonable—and on Welch and Harmon getting them to agree.
That last paragraph is absolutely spot-on. Delegation members are going to have to agree to give up some turf to help each other out and this thing gets wrapped up pretty quickly. Newman and Garcia, for instance, should finally acquiesce to a second Latino district, which will mean some sacrifices by both members, and likely by others in the delegation as well.
As I've been saying since the beginning, this remap proposal can be seen as a message to the delegation and to various other players. And one of those messages is the delegation needs to start cooperating with Springfield so they can help each other.
* Politico…
The biggest concerns are that Rep. Marie Newman (3rd) and Rep. Lauren Underwood (14th) will remain in districts that are more conservative than they'd like. "Do they really want to spend $5 million every two years?" one source asked rhetorically.
Meh. That ain't much of a bluff. They obviously both want to be in Congress. They'll raise the money.
* And this nifty little list will give you an idea of how sparse Downstate is compared to Chicagoland…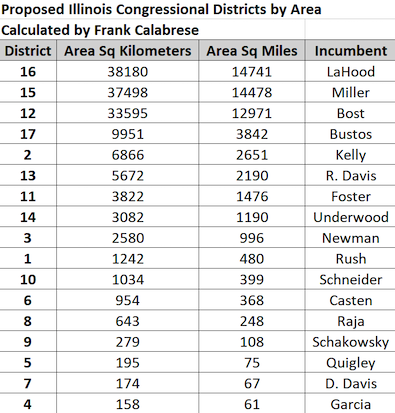 Also, props to the SJ-R for correcting its story's many mistakes. Politico offered no correction today.
* Related…
* Public speaks out on proposed congressional maps

* General Assembly holds congressional redistricting hearings
26 Comments













































































Sorry, comments for this post are now closed.