* I-Team…
New data obtained by the ABC7 I-Team shows how far behind Illinois is in meeting its COVID vaccine reporting mandate for thousands of state government employees.

Prisons, juvenile facilities and veterans homes are among the residential facilities operated by Illinois government that are in a state of uncertainty based on employee vaccination records submitted so far. […]

Across all Illinois Department of Corrections facilities, less than half of staffers are confirmed as fully vaccinated. That's 6,300 hundred employees reporting out of a little more than 13,000.

The department's Peoria Adult Transition Center checking in with the lowest vaccine confirmation: just 13%. In Chicago, Crossroad's Adult Transition Center is at 94%.
They didn't post or link to the full list, so I asked for it.
* IDOC as of October 4…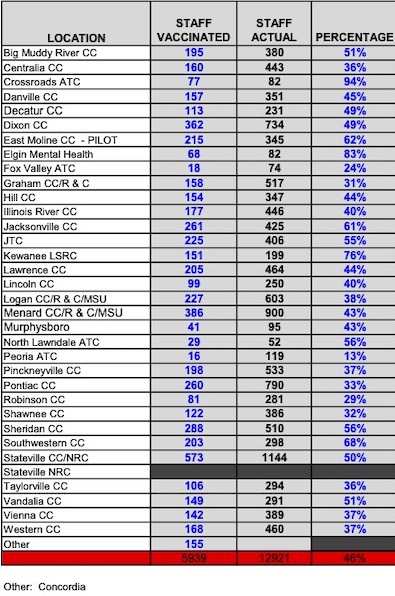 For context, IDOC's vax rate was 44 percent in late July.
Apparently, nothing is working so far.
* Click the IDVA pic if you have trouble seeing the numbers…

IDVA's vax rate was 64 percent in July, so that's a significant improvement.
* Meanwhile…
As a Chicago police officer, Jack DeHeer was shot in the head, seriously injured in a car chase, and revived from a near-fatal heart attack he suffered during a foot pursuit. After surviving all that over the course of 20 years, he cannot believe so many of the city's cops are more afraid of a needle than a bullet.

"Chicago police, go get fully vaccined, stop listening to all these frickin' mopes," says DeHeer, who is now retired and disabled. "Not getting fully vaccinated is the leading cause of death for police officers."

The mopes in question include all those who spread falsehoods and conspiracy theories about the COVID-19 vaccines.

"Can any Chicago police use their own mind, or do they all follow terrible information?" DeHeer asked during an interview with The Daily Beast. "Quicker you get fully vaccinated, the better."
49 Comments


















































































































































Sorry, comments for this post are now closed.