* ABATE Illinois brought the Zero SR/S motorcycle to the Statehouse yesterday and parked it next to the R1T, which was brought to town by the Rivian folks…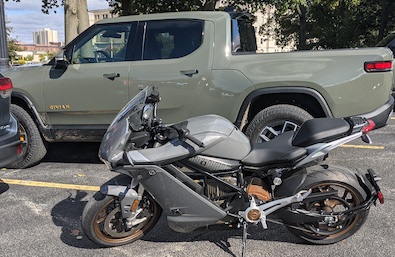 * The Batman was looking good…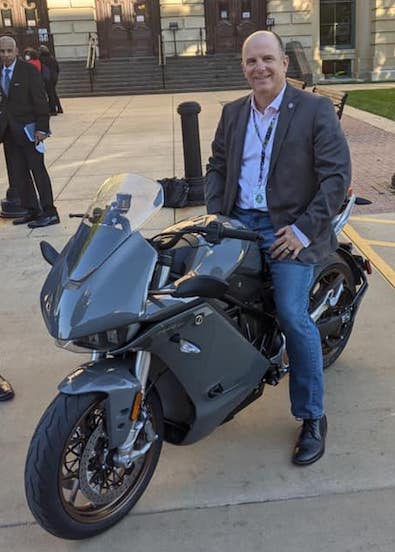 More pics here.
…Adding… A young Batinick…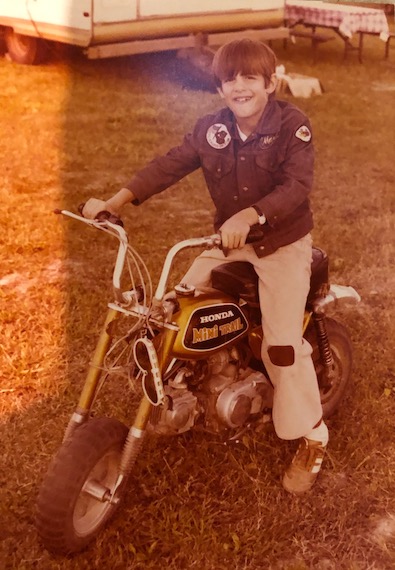 * ABATE is trying to get language on electric motorcycles into the Reimagining Electric Vehicles in Illinois Act. From a press release…
The newly introduced act continues to share the exact same language that was contained in the Illinois Energy Transition Act which excludes motorcycles from Illinois' plans to electrify the transportation grid.

We were especially disappointed to see this language continue to be used after Governor Pritzker's press conference at heartland college last Thursday. When the Governor was asked about the exclusion of motorcycles from the Illinois Energy Transition Act and of the potential of being excluded from this Act as well, the Governor stated "There's no intentionality to exclude".

ABATE of Illinois is calling on Governor Pritzker to stand behind those comments and work with ABATE to remove this exclusionary language from both the Reimagining Electric Vehicles in Illinois Act & the recently passed Energy Transition Act.

Simply put, if the goal of this legislation is to encourage the manufacturing and adoption of electric transportation in Illinois, it must include all transportation in Illinois, not just certain sectors. Many Illinoisans use motorcycles as their primary mode of transportation, racking up thousands more miles on two wheels vs four wheels. For the last few weeks a beta of Illinois members have been posting pictures online with the hashtag #motorcyclesareprimary to bring awareness to this fact.

ABATE encourages members of the General Assembly and the Governor's staff to work together on making the future of transportation equal to all modes of transportation.
* Chandra Brown and Brad Henderson writing in Crain's…
The nation needs to know that Rivian's first electric truck is being made not in Detroit, not in Silicon Valley—but in Normal, Ill.

The nation needs to know that MotorTrend has described that truck, which hits 60 miles per hour in about 3 seconds, as "the most remarkable pickup we've ever driven."

The nation needs to know that Gov. J.B. Pritzker has introduced a sweeping piece of legislation—a set of policies to encourage the burgeoning electric vehicle industry to invest more here.

The nation needs to know that the state has awarded $7.5 million to Normal's Heartland Community College to launch a program to train electric vehicle technicians, so that Rivian and its suppliers have the skilled labor they need.
And it goes on like that. But, they gotta pass a bill first. And that's not yet a guarantee.
12 Comments



































Sorry, comments for this post are now closed.