* Hannah Meisel…
So far, employing Illinois' HCRCA has proven an effective legal strategy for a small group of nurses at a Kankakee hospital, who this week won temporary protection from getting fired over their refusal to get their COVID shots. It's also worked for employees at a trio of medical groups in Quincy, who were spared from terminations over their workplaces' vaccine mandates earlier this month.

Other lawsuits, including those filed on behalf of teachers, go even further in trying to use the law to get out of regular COVID testing — offered as an alternative to getting vaccinated — and mask wearing at school. […]

It's unclear how many lawsuits have been filed in Illinois so far using the HCRCA as a legal rationale to beat employers' vaccine mandates; litigation has been initiated in many of Illinois' 102 county circuit courts, in addition to federal courts. But since Pritzker is often named as a defendant in the suits, the eight cases the Attorney General's office is defending the governor in is a decent gauge for the trend.

And Ashley Wright, chief of legislative affairs at the Attorney General's office, said there's reason to believe the spigot of litigation is just getting started. Wright told lawmakers Tuesday afternoon that the only way to stem the wave of lawsuits is to approve an amendment to the HCRCA this week, and warned that failure to do so could mean the functional collapse of Pritzker's many COVID mitigation orders.

"To be clear, if we leave Springfield doing nothing on this issue, we'll be walking back from all the progress that we've made so far…on all the mitigation efforts that we've made," Wright said. "And that includes masks and testing. Not passing this bill ultimately means that the state cannot keep people safe."
* Mark Maxwell…
Catholic bishops opposed weakening the law, criticizing government desire for "expediency," but Bishop Thomas John Paprocki from the Springfield Diocese said employers who mandate Coronavirus tests as an alternative to vaccines are "reasonable."

"The Illinois Health Care Right of Conscience Act was not intended to cover things like testing or taking precautions like wearing a mask," Paprocki said. "I think that's just common sense."

Several Facebook groups that have rallied supporters to oppose vaccine mandates recruited their followers to fill out witness slips on the General Assembly's website. Within 24 hours, nearly 50,000 witness slips appeared online from people claiming they opposed the House amendment to the Health Care Right of Conscience Act.

"It's an organized effort of misinformation, and it's very concerning to me," Rep. Robyn Gabel (D-Evanston) said on Tuesday night after the committee approved her bill.

Some of the critics who opposed vaccine mandates also sent menacing threats to her office. In a Facebook message Gabel's office sent to law enforcement, one man from the Rockford area referred to her bill as "rape by needle," and threatened to force a medical procedure on Gabel against her consent. Others leveled vile, sexist insults, or referred to her as "Satan," or a "witch."

"I think it's unfair," she said. "I think it's unreasonable, and it's scary."

Legal experts say federal law and established case law protect an employer's right to enforce vaccine mandates. Gabel argues her proposal wouldn't change the existing power to enforce mandates, it would simply remove an illegitimate excuse people have used to try and skirt the vaccine or testing requirements.
* They're such pleasant folks…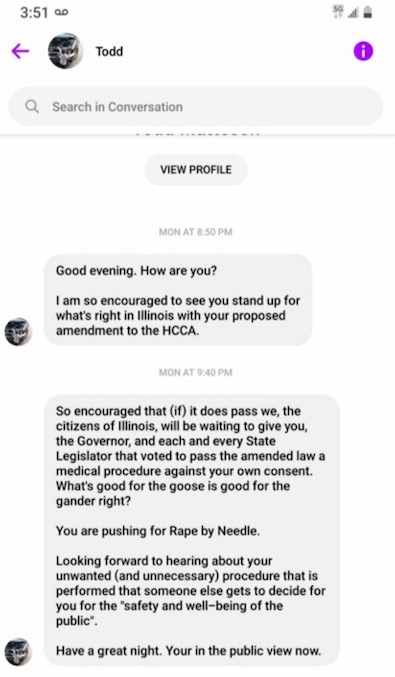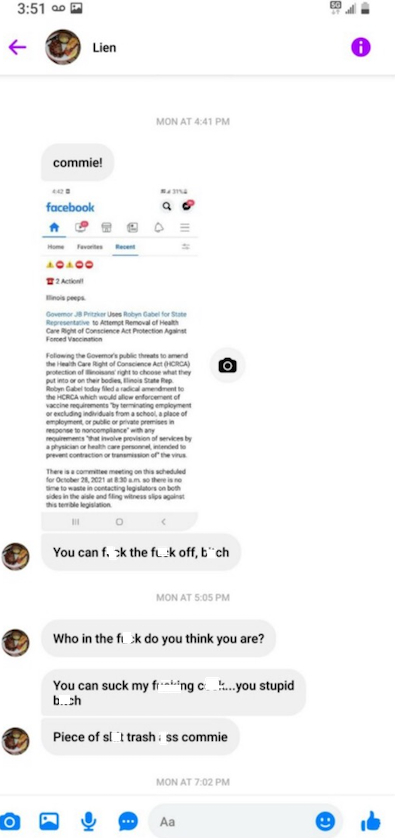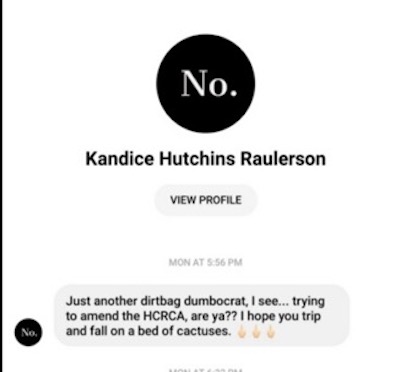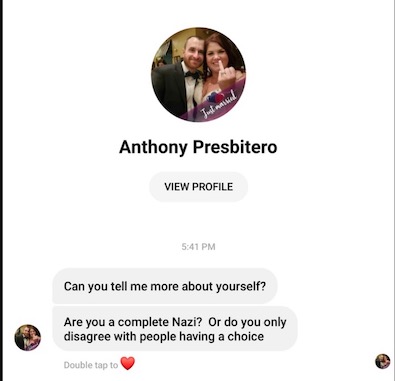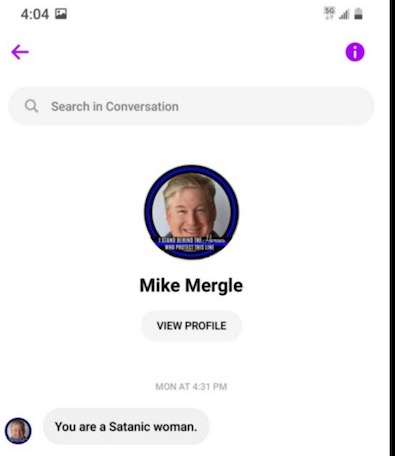 Ugh.
* People would still be able to apply for and even obtain a religious exemption, but employers wouldn't be punished under state law for denying one. This is a misunderstanding of what's going on now…
Democratic state Rep. LaShawn Ford said the amendment isn't ready and may be the wrong approach to encourage vaccination.

"We have to make sure that we convince people that taking the vaccine is the right thing to do and make sure that they still have that option to have their doctor give the exemption and to make sure they get the religious exemption," Ford said. "So those are important for me that we maintain the right to."
* Meanwhile…
Operators of licensed day cares in Illinois say the governor's COVID-19 vaccine mandate on the industry will make a staffing crisis even more acute. […]

Sarah Stoliker with Illinois Directors and Owners of Childcare Centers agreed.

"We're not opposed to public health measures that will help bring this pandemic to an end, but there has to be a balance," Stoliker said in an interview.
Yeah, very reasonable person…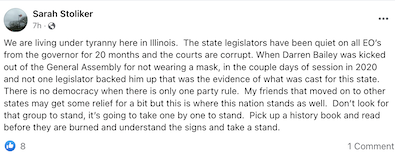 I asked her group's spokesperson for a comment on that post yesterday and it has since apparently been removed.
* Related…
* Editorial: Illinois should end moral, religious exemptions to COVID-19 vaccination and testing: "In multiple cases, ostensibly religious reasons to decline immunization actually reflected concerns about vaccine safety or personal beliefs among a social network of people organized around a faith community, rather than theologically based objections per se," the report states.

* Judge 'Puzzled' by Chicago Firefighters' Vaccine Lawsuit: During Tuesday's 45-minute hearing, which was held by videoconference, Lee asked several pointed questions to plaintiffs' attorney Jonathan Lubin, including why forcing employees to disclose their vaccination status was even a constitutional issue at all. "I look puzzled because I am puzzled," Lee said. "Because don't we have to disclose medical information for all sorts of different jobs? Why is this any different?" In his response, Lubin started to argue that the "political nature" of the vaccine debate with COVID-19 could not be divorced from the legal issues — but the judge cut him off. "I don't care about the political," Lee said. "This is a court of law."
33 Comments


































































































Sorry, comments for this post are now closed.