* Brenden Moore looks at the new congressional districts…
12th — This rural district covers Southern Illinois, including almost everything south of Interstate 70. It also includes some outlying portions of Metro East. This heavily Republican seat includes the homes of Rep. Mike Bost, R-Murphysboro, and Rep. Mary Miller, R-Oakland.
* Here's the district map. The purple district above it now belongs to US Rep. Rodney Davis. The red dot in the upper right corner is the location of Rep. Miller's house…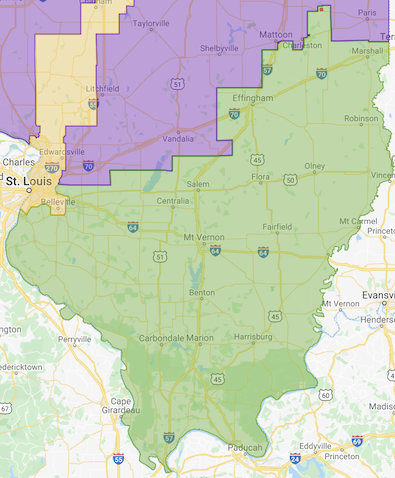 * Ally Mutnick…
The new southern district is a combination of Bost's and Miller's current seats and a small rectangular arm just out of the northern border to grab Miller's hometown of Oakland.

"They didn't do that on purpose," Bost joked, referring to the Democrats. "They didn't draw that little area like that."

Still, he said he plans to run no matter what, even if it meant challenging a colleague.

Miller, meanwhile, began to scurry away when POLITICO asked whether she is planning to run for reelection. A freshman who has faced repeated controversies, Miller perhaps leans more right than the other Republicans in the delegation. She has attended press conferences with the House Freedom Caucus, including one calling for the removal of two GOP colleagues from their committees: Kinzinger and Rep. Liz Cheney (R-Wyo.).

Still, when asked whether she was weighing running against one of her GOP colleagues over another, she suggested she wouldn't be intimidated by the new maps.

"I have no idea," she said, "but I can say I laughed when I read that they think they're terrorizing me. Because I am not scared."
Bost had $647K cash on hand, compared to Miller's $432K.
*** UPDATE *** Bost…
U.S. Representative Mike Bost (IL-12) today announced that he is running for re-election in Illinois' 12th Congressional District:

"With Joe Biden and Nancy Pelosi running roughshod in Washington, D.C., Southern Illinoisans need a battle-tested conservative fighting for them now more than ever. Today, I'm proud to announce my candidacy for re-election in the 12th Congressional District. I have never wavered in defense of our constitutional conservative values; and I will always stand up for the hardworking families, veterans, farmers, and job creators of Southern Illinois who feel abandoned by the liberals in Washington."
30 Comments

























































































Sorry, comments for this post are now closed.