* As subscribers know, Speaker Welch overcame one heck of a lot of objections today…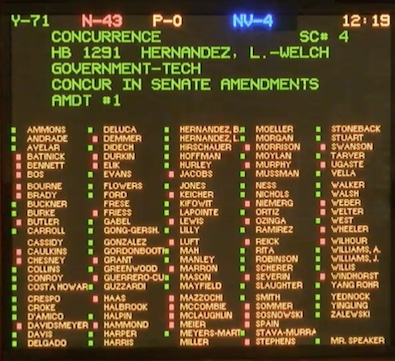 Democrat voting No: Guerrero-Cuellar.
Democrat not voting: Cassidy.
*** UPDATE *** I'll post react as it comes in. Casten…
U.S. Congressman Sean Casten released the following statement regarding the congressional maps approved by the Illinois General Assembly:

"Each decade, our state assembly has an important constitutional obligation to ensure Illinoisans have congressional representation that reflects the vast geography and diversity of our state," said Rep. Sean Casten. "I remain focused on fighting for my constituents as we work to make historic investments in climate action, families, and workers for the sixth district of Illinois."
* Wasserman may not be wrong, but…
But it shifted two points to the left from 2016 -> 2020 while the rest of the state remained stagnant. Plus no Republican has even won it since the 2016 State Comptroller election. Rauner didn't even come within 5 of Pritzker and the very popular R AG cnadidate lost it by 3.

— Uncrewed 🎃👻 (@Uncrewed) October 29, 2021
* Speaker Chris Welch…
I want to congratulate everyone who had a hand in this incredibly successful and historical veto session. We were able to ensure our state has effective tools to fight this pandemic. We repealed the final anti-abortion law on the books in Illinois. We provided incentives for electric vehicle manufacturers to ensure Illinois remains at the forefront of a clean energy future. And, we approved a historic map that offers a new coalition district for minority representation. This is the type of work the people of our state deserve. I want to thank my colleagues in the House and Senate, as well as the numerous advocacy groups and grassroots organizations who helped us achieve these momentous victories
* Sen. Barickman…
State Senator Jason Barickman (R-Bloomington) released the following statement following the Illinois Senate's vote to approve a new Congressional map:

"One things that's become clear throughout the legislative process, is that Governor Pritzker and his allies have no interest in doing what is best for the people of Illinois. Governor Pritzker already broke his clear promise to voters when he signed two state legislative maps into law. Now as we've moved into the Congressional map process, Pritzker is not only going along with the gerrymandering process, he has been confirmed to be an active participant, through secret, closed-door meetings and backroom deals. The product of this broken process will take away choices from voters, further entrench politicians with extreme viewpoints, and disenfranchise people from one end of the state to the other."
* Rep. Kelly Cassidy…
The evolution of this map resulted in two women I strongly admire getting short shrift. I am strongly supportive of the creation of a second Latino district and know that hard choices had to be made to accomplish that, but I couldn't bring myself to support a process that left two strong women leaders' voices out. As we work to ensure the map reflects the diversity of our state, it does a lot to accomplish that goal but falls short in terms of recognizing the need for more women in leadership roles as we watch the steady march towards the reversal of Roe v Wade.
* Illinois House Latino Caucus…
After a long, public process led by one of our own, Leader Lisa Hernandez, the Illinois House Latino Caucus applauds the historic congressional map passed by both chambers tonight. A product of notable collaboration, we are pleased this map will include a second district of significant Latino representation. This would be the first time in Illinois' history that the Latino community can influence two congressional districts. If signed into law, this map will only add to Illinois' reputation as being a model for the nation when it comes to minority representation.
28 Comments



















































































Sorry, comments for this post are now closed.