* Press release…
Today, Illinois Congresswoman Marie Newman announced she intends to run for re-election to Congress in the newly drawn 6th District, where her current constituents make up more than 40% of the population, representing a plurality of voters.

"As someone born and raised on Chicago's Southwest Side and a lifelong resident of its surrounding suburbs, fighting for workers, small businesses, and the middle-class in these communities is in my DNA, and that fight is not going to stop now," said Representative Marie Newman. "Last year, we made history by bringing together a coalition of neighbors, working families, volunteers, and voters from every corner of our communities to stand up against decades-old Machine politics, billionaires, and deep-pocketed special interests — and, we are doing it again. I am proud to announce that I am once again running to represent the residents of Chicago's Southwest Side and our neighbors in the surrounding west and southwest suburbs. The lion's share of this new district is made up of the communities and residents I represent today and I look forward to continuing to serve them in Congress."

"From our grassroots organizers to our door-knockers on the ground, our coalition is ready to deliver for the workers, working families, and communities of this new district. From Elmhurst to Orland Park, I'm looking forward to working with everyone to build a stronger, more equitable future for our residents of the new IL-06."

Under the new congressional map passed by the Illinois General Assembly after midnight on Thursday, Illinois will have 17 members, just six of whom are women currently serving in Congress.
Thoughts?
…Adding… Politico…
As of the end of last month, Casten had $1 million banked, compared to Newman's $440,000. Both are progressive, but Newman would likely try to run to Casten's left.

Some Casten allies have wondered if AIPAC or Democratic Majority for Israel, two pro-Israel groups, might get involved in a matchup because Newman was one of only a handful of Democrats who opposed funding the Iron Dome defense project earlier this year.
…Adding… Casten…
U.S. Congressman Sean Casten has released the following statement regarding the 2022 elections:

"Since the beginning of the redistricting process, I have never wanted to see friends run against friends. I believe the shared goal of every House Member is to maintain and expand our House majority and work on behalf of all constituents and community members who fought tirelessly to elect us. As I said last night, I look forward to continuing to serve the people of the 6th district as we work to make historic investments in climate action, and for families and workers."
…Adding… Sun-Times has a brief blurb about yesterday afternoon's problems passing a map…
Sources told the Chicago Sun-Times that the initial lack of votes on the third congressional map proposal is partly due to Casten putting pressure on some state legislators in his congressional district to improve the map in his favor — or oppose the third draft map, released Wednesday night, because it heavily favored Newman.
…Adding… From Frank…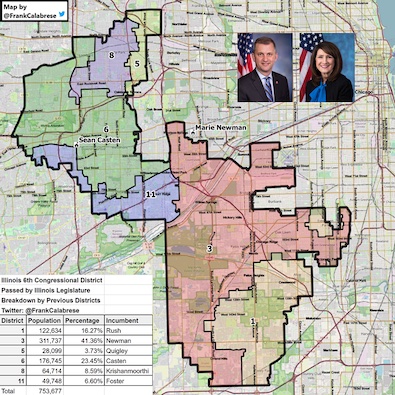 She's got the home field advantage, for sure.
…Adding… Those may be her precincts, but she didn't do so great in the ones that were moved to the new 6th…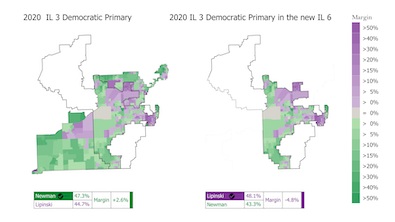 55 Comments




































































































































































Sorry, comments for this post are now closed.