* From the Center Square…
It's not fake news, but social media ads funded by Gov. J.B. Pritzker could still fool some users.

Illinois gubernatorial candidates are expected to use traditional media like TV and radio to get their message out. But, millions have already been spent on social media outlets such as Facebook, mostly by Pritzker.

Since 2018, a Facebook page for "JB Pritzker" has spent more than $3.6 million on ads, $271,000 of which Facebook notes ran without a disclaimer.

Reform For Illinois Executive Director Alisa Kaplan said there is additional spending.

"Social media, in particular, can be a little deceptive in how ads are presented," Kaplan said. "Some of the Pritzker ads for example are presented as news pieces."
* Here's one of the ads featured in the above story…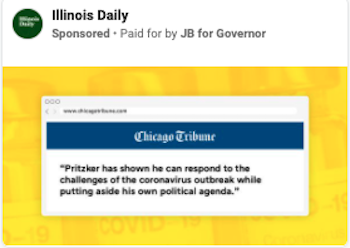 And if you click that image, it takes you directly to the Tribune column. Seems like the usual stuff you'd see in TV ads, only interactive. Labeling it "Illinois Daily" is a bit much, though.
* While we're at it, let's go back to the article to see what else is going on at Facebook…
The lead Facebook spender for the Republicans from the past week was Jesse Sullivan, spending $1,700, though all time Sullivan's campaign has spent $134,000 in Facebook ads.

Businessman Gary Rabine spent around $480 in the past week and nearly $53,000 all time.

Former state Sen. Paul Schimpf, R-Waterloo, spent about $350 in the past week and $10,500 in total on Facebook.

State Sen. Darren Bailey, R-Xenia, has spent $55,300 all time and just $190 in the past week.
* Some of their ads. Click the pics for more info…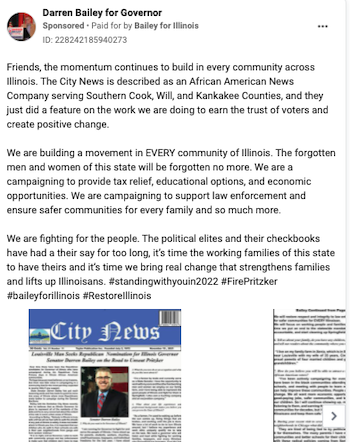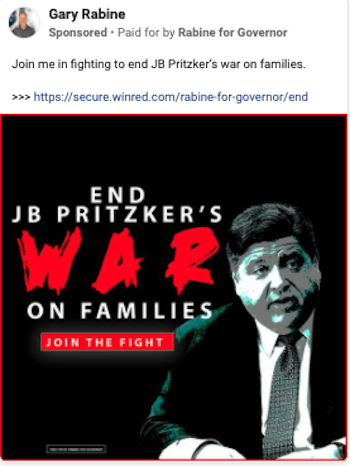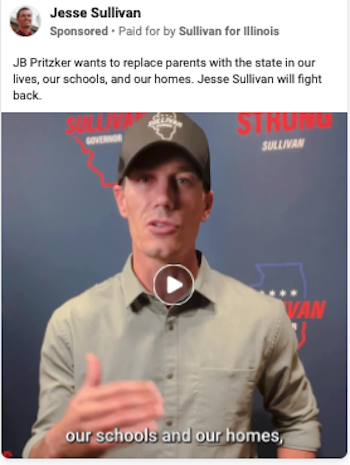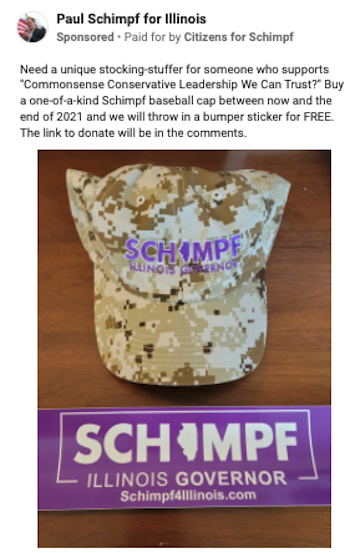 * But then there are ads that perhaps Reform For Illinois and other groups ought to be truly concerned with. We used to call Local Government Information Services the "Proft newspapers," but whoever the ownership, check out their latest FB ads…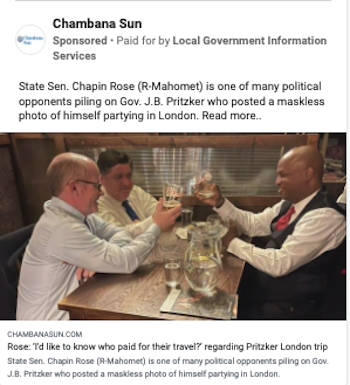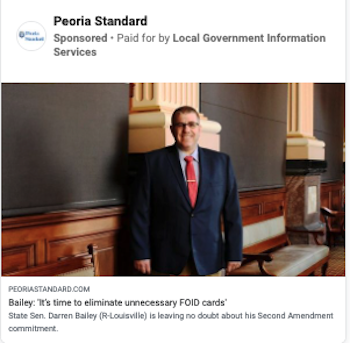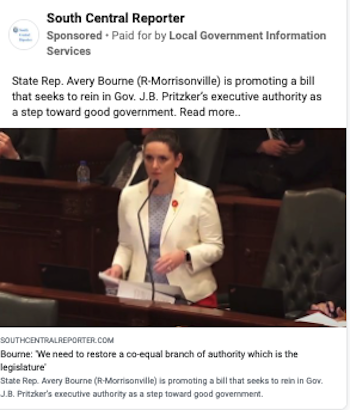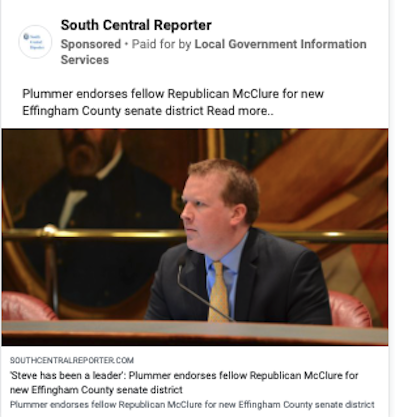 I'm guessing you won't see that in Center Square.
15 Comments












































Sorry, comments for this post are now closed.