* On October 24th, hospitalizations were at 1,198. It's been uphill ever since…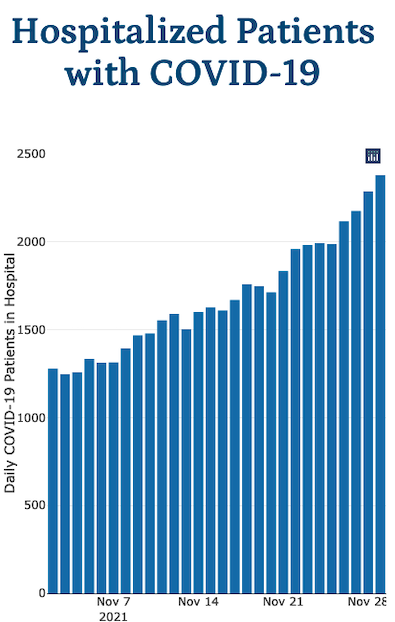 * Shaw Media…
As of late Monday, Illinois had 2,379 COVID-19 patients in the hospital, the most since February 2. Of those, 457 were in intensive care units, and 217 were on ventilators.
We hit a low this year of 340 hospitalizations on July 4th.
* Back to Shaw…
For Monday, the state administered 53,281 shots. Illinois also has administered a total of 227,873 doses to 5-11 year olds, an increase of 11,396 doses from Monday's update. As a state, 19.11% of Illinois children 5-11 years old have received a first vaccine dose, and 1.54% have received two doses.
* Vax graph…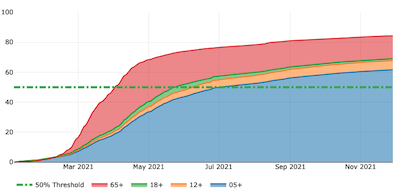 * Shaw…
The state received the results of 125,128 COVID-19 tests in the 24 hours leading up to Tuesday afternoon. The state's positivity rate is 4.1%.
By far the highest 7-day average positivity rate is in Region 1, which is Rockford and northwest Illinois: 9.2 percent. That's up from 7.2 percent on November 17th. Winnebago County is at 9.3 percent.
* Also, just another reason to avoid click-bait headlines…
Economic powerhouses Japan and France reported their first cases of the omicron variant Tuesday, while new findings indicated the mutant coronavirus had already slipped into Europe close to a week before South Africa sounded the alarm.

The Netherlands' RIVM health institute disclosed that patient samples dating from Nov. 19 and 23 were found to contain the variant. It was last Wednesday, Nov. 24, that South African authorities reported the existence of the highly mutated virus to the World Health Organization.
South Africa detected the variant first because South Africa has a lot of very good scientists. Now, the country is being punished for no good reason. And wherever it started, it's out there already.
No further omicron updates because as far as I can tell nobody really knows anything for sure yet, so just hang tight.
19 Comments
























































Sorry, comments for this post are now closed.