* Block Club Chicago…
A Logan Square community activist has been arrested for allegedly storming the U.S. Capitol on Jan. 6.

Lawrence Ligas, 62, was charged with four counts in a criminal complaint released by federal authorities Wednesday. Charges include entering and remaining in a restricted building, disorderly and disruptive conduct in a restricted building and parading in a capitol building.

According to an FBI affidavit, someone who used to know Ligas saw him quoted in an NPR article titled "Trump Supporters Storm U.S. Capitol, Clash with Police." In the article, Ligas says, "We're not moving on … We are not Republicans. We are the MAGA party. We are patriots."

Authorities were later able to identify Ligas based on YouTube videos and surveillance footage of him inside the capitol. The FBI also interviewed Ligas in 2017 about a separate matter, and the special agent who conducted the interview confirmed his identity, as well, the affidavit states.
Accompanying pic…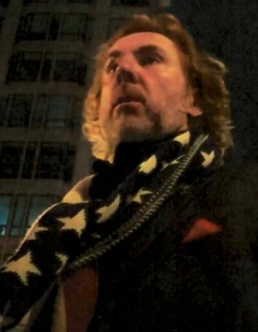 * Now, this was posted to Darren Bailey's Facebook page on October 31…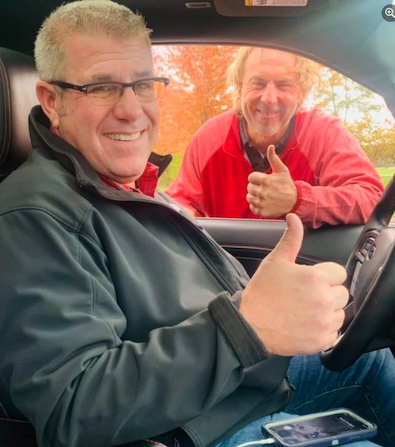 >
Click the link and you'll see it's tagged as being in Chicago. There are other photos, too.
* Bailey's campaign website advertised a fundraiser on October 31 and the contact person is Lawrence Ligas…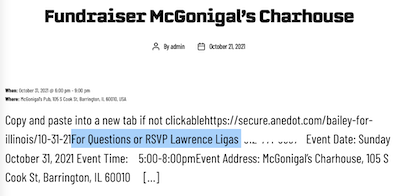 * Bailey's own Facebook page had a reference to the October 31 fundraiser, but it was deleted. However, it does show up in a Google search…

* On Target Radio's Facebook page…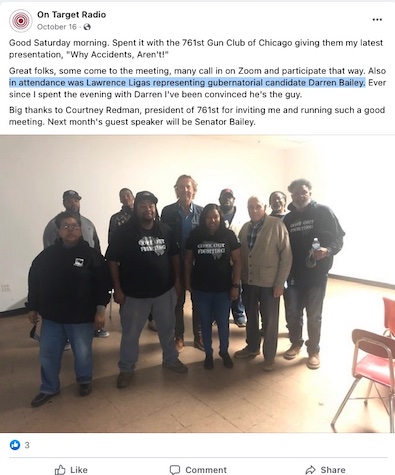 Ligas was also spotted by a couple of people I know at the Illinois State Fair this past summer as a Bailey supporter.
I've reached out to Bailey's campaign and Ligas for comment. I'll post whatever I get as soon as I hear back.
…Adding… Hmm…
This guy was aggressively stalking me at the Illinois State Fair's Republican Day event while I was working. He kept interrupting interviews & conversations to make menacing threats about what he perceived as biased media and "dirty tricks." He was with Darren Bailey's campaign. https://t.co/vc450UqEsa

— Mark Maxwell (@MarkMaxwellTV) December 1, 2021
…Adding… OK, I remember him now. Very weird dude…
Ligas yelled at @ILGOP Chair Don Tracy during a reporters' scrum at @ILStateFair in Aug.
You can hear him advocating for @DarrenBaileyIL after @AmandaVinicky asked why Gov candidates didn't get time to speak
Can also hear someone else ask Ligas if he's a reporter as he crowded us https://t.co/voOmLEaU1C pic.twitter.com/LDv6Fe1LyJ

— Hannah Meisel (@hannahmeisel) December 1, 2021
* Pic on the bottom right…
Oh look, there he is again https://t.co/0RknnT5BZd

— Rich Miller (@capitolfax) December 1, 2021
…Adding… DPI…
Today, Lawrence Ligas of Chicago was arrested and charged in connection with the January 6 attack on the U.S. Capitol. As reported on CapitolFax.com, Ligas has been working with and representing the campaign of Darren Bailey, Republican candidate for governor. Democratic Party of Illinois Executive Director Abby Witt released the following statement:

"The January 6 attack on our democracy was one of the darkest days in our nation's history. Now, we find out that one of the attackers has since been working with and representing the campaign of Darren Bailey, a Republican candidate for governor. When it comes to the traitors of January 6, there must be no equivocation: Darren Bailey must immediately denounce Mr. Ligas and revoke any and all association with him at once. The governor's office is no place for associates of traitors to this great nation."
56 Comments







































































































































































Sorry, comments for this post are now closed.