* Jim Nowlan…
In 2018, the 6½ suburban counties around Chicago cast a total of 2.1 million votes; those in the 95 counties "downstate" cast 1.5 million.
Not sure why he didn't include the city, where Bruce Rauner received 135,028 votes in the general election.
Whatever. The column prompted me to run the 2018 numbers. In the 2018 general election, Cook, DuPage, Kane, Lake, McHenry and Will counties accounted for 64 percent of the total vote and Downstate made up 36 percent. In the 2018 Republican primary, those counties were 47 percent of the total vote, with Downstate voters comprising 53 percent of the electorate.
This is the basic hurdle that all statewide Republican hopefuls have to overcome. It ain't easy to do both.
* With that in mind, check out what Sen. Bailey is promoting on social media…
"I will die on my porch before I give up my guns," Bailey said, receiving a roar of support from the crowd. "And the (Firearm Owners Identification card) must go." #standingwithyouin2022 #FirePritzker #baileyforillinois #RestoreIllinois #VoidTheFoid #twillhttps://t.co/Xp2recPB7Y

— Darren Bailey for Governor (@DarrenBaileyIL) December 2, 2021
* More from that story…
Bailey, who with his wife, Cindy, founded a preschool-through-12th-grade Christian school in southern Illinois, also touched on education during the two-hour rally.

"Public education is under attack," he said. "My friends, we need to get back to public education."

Bailey also made a push for people to become election judges.

"Is there election fraud? Yes," he said. "That's why everyone of us should be election judges."
Um, OK.
* Point and counterpoint…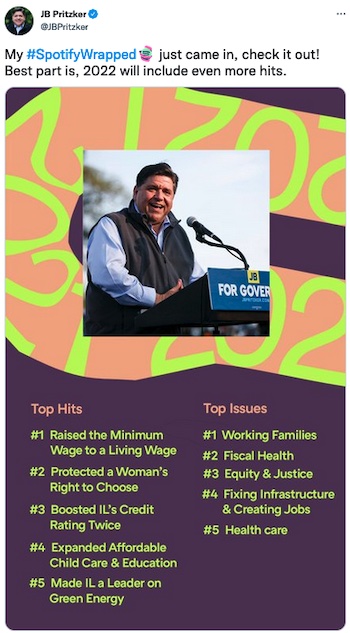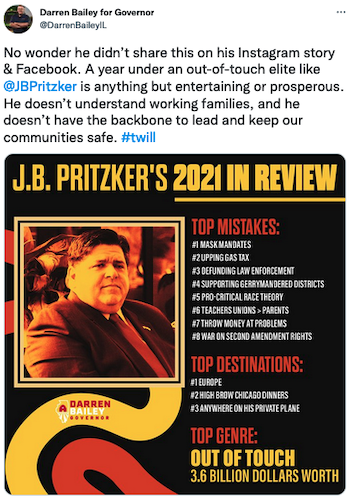 * Now with video…
"Governor of Chicago" JB Pritzker is perfectly content to rule for the wealthy few. Growing up in Central Illinois, I always felt like our politicians never saw the rest of us outside of Chicago. I will be the governor for all Illinoisans.@GovPritzker pic.twitter.com/51RM939ejL

— Jesse Sullivan (@JesseSullivanIL) December 2, 2021
* The conclusion of Nowlan's column…
I think the ideal GOP [gubernatorial] candidate would be a credible, law-and-order prosecutor (think Jim Thompson in the 1970s), because law and order will be a leading issue in 2022. Suburbanites are scared witless by the violence in the city.

Lacking such, or a consolidation of Sullivan, Schimpf, Rabine into one candidacy, Bailey wins the primary, at least as of right now. But in the November general election, Bailey would likely be the darling of downstate, while falling flat in the 'burbs, winning an enthusiastic 40 percent of the total vote.

So, a possible doofus at the top [for US Senate], with Bailey just below, could spell disaster for other races down the long ballot, because of depressed GOP turnout. For example, I have an interest in two, important Illinois Supreme Court races, located in mostly suburban districts. But voters do not go to the polls, or not, because of unknown Supreme Court candidates. Thus, these competitive races, found at the very bottom of the ticket, could be determined at the top of the ballot.

Illinois GOP leaders should get on their knees to top-drawer citizens who might be willing, out of a sense of noblesse oblige, to take on a likely losing U.S. Senate race, and hope that a candidate who can appeal in the suburbs will emerge from the gubernatorial primary.
One thing he's ignoring is the national mood, which tends to drive turnout more than individual candidates. But his scenario could help undermine any expected GOP midterm wave.
…Adding… The Tribune has a new piece that covers much of the same issues that we've been taking about on this site…
"The real pandemic in Illinois … is the violence that we're facing here on the streets of Chicago and now spreading all throughout the state," state Sen. Darren Bailey, a farmer from downstate Xenia and one of four announced GOP candidates for governor, said during a recent stop in Woodlawn on Chicago's South Side.

Confronting Democrats on crime is a strategy Republicans have employed for decades, notably when George H.W. Bush used the early release of Willie Horton, a Massachusetts murderer who went on to commit other crimes, to paint Michael Dukakis as soft on crime in the 1988 presidential campaign.

But rather than inciting fear to motivate voters as was the case then, Republicans say they are addressing real concerns over rising crime in the city and in the suburbs.
42 Comments





























































































































Sorry, comments for this post are now closed.