* Axios…
President Biden on Thursday announced new testing protocols for international travelers and extended masking requirements through March as the U.S. prepares to fight the Omicron variant this winter.
* Gov. Pritzker was asked yesterday if he favored that extension…
We have an indoor mask requirement in the state of Illinois and so we're not lifting that now. Especially not now. I've said all along that when I want it lifted is when we start seeing hospitalizations really plunge. We're not seeing that, it's going up, in fact, every day.
* Fox 32…
In light of the Omicron variant and increasing COVID-19 numbers, Governor JB Pritzker says Illinois' mask mandate is staying in place for now.

"We have an indoor mask requirement in the state of Illinois and we're not lifting that, especially not now," Pritzker said.

As of Thursday, COVID metrics continued to surge across Illinois with over 11,500 cases reported in the last 24 hours. That's an increase from just over 6,000 the day before.

According to a Chicago Tribune analysis, the surge is predominantly being felt by the unvaccinated.
Because of the vaccine, cases aren't as important as hospitalizations, which are soaring among the unvaxxed, but that's beside the point of this particular post.
* Check this out…
The office of Missouri Gov. Mike Parson (R) asked the state health department on Nov. 1 to study how mask mandates affected COVID-19 numbers in the state, and the health department responded Nov. 3 that its analysis found they saved lives and reduced the spread of the coronavirus. But that analysis wasn't made public until nonprofit news organizations obtained it through a public records request, The New York Times reports.

The Missouri Independent reported Wednesday that the health department's analysis found lower infection and death rates in the four areas of Missouri with mask mandates — St. Louis, St. Louis County, Kansas City, and Jackson County — from the end of April until the end of October, the peak of the state's Delta wave.

There are a number of variables that affect infection and death numbers, but "I think we can say with great confidence reviewing the public health literature and then looking at the results in your study that communities where masks were required had a lower positivity rate per 100,000 and experienced lower death rates," state Health Department director Donald Kauerauf told Parson in a Nov. 3 email obtained by the Independent.

The Independent's analysis found that the "masked" areas had 15.8 new COVID-19 cases a day for every 100,000 residents, versus 21.7 cases per 100,000 residents in the areas with no mask mandates, and less frequent deaths.
* From the NYT story…
The study looked at the period from April to October, when the Delta variant was driving an increase in coronavirus infections worldwide.

During that time frame, there were 15.8 cases per day for every 100,000 residents, on average, in the areas that required masks, compared with 21.7 cases per 100,000 residents in unmasked communities, according to The Missouri Independent's analysis of the data. Regions without mask requirements recorded one death per 100,000 residents every 3.5 days, compared with one death per 100,000 residents every five days where masks were required, The Missouri Independent said.

Gov. Mike Parson, a Republican, has said he supports wearing masks to slow the spread of Covid-19, but he has repeatedly spoken out against mask requirements. In July, he said on Twitter that issuing mask mandates while a vaccine is available eroded public trust. "The vaccine is how we rid ourselves of COVID-19, not mask mandates that ignore common sense," Mr. Parson wrote.

In a statement posted on Twitter on Thursday, Mr. Parson reiterated his opposition to mask mandates and said the requirements "infringe on our personal liberties."
* Missouri Independent…
Attorney General Eric Schmitt has gone a step further, suing St. Louis, St. Louis County, Kansas City and Jackson County to block enforcement of their mask mandates.

"Jackson County has imposed an unlawful, arbitrary, and capricious mask mandate that is not supported by the data or the science," the opening sentence to Schmitt's lawsuit against Jackson County states.

Schmitt has also sued Columbia Public Schools for instituting mask mandates.

The state's analysis backs up St. Louis' push to keep its mask mandate, said Nick Dunne, spokesman for St. Louis Mayor Tishaura Jones.

"More than anything it confirms for us what our public health experts have been saying, that masks are an effective tool for reducing community transmission," Dunne said.
Not supported by data or the science?
* Check out the Missouri death rate comparison between mask-mandated areas (in blue) and no mandate (in orange)…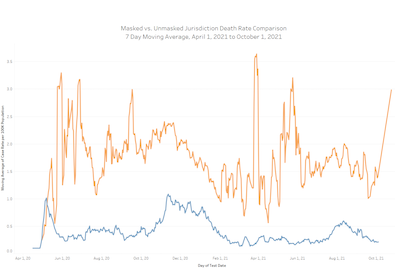 * From last month…
The BMJ, a global health care publisher, released a massive review Thursday that analyzed 72 studies from around the world to evaluate how non-pharmaceutical health measures reduced cases of COVID-19. Researchers found measures like hand-washing, wearing masks and physical distancing significantly reduced incidences of COVID-19. […]

But public health prevention strategies have also been shown to be beneficial in fighting respiratory infections. Researchers found that wearing a mask could reduce COVID-19 incidence by 53 percent.

One experiment across 200 countries showed 45.7 percent fewer COVID-19 related deaths in countries where mask wearing was mandatory, according to the study. In the U.S., one study reported a 29 percent reduction in COVID-19 transmission in states where mask wearing was required.
More here.
37 Comments














































































































Sorry, comments for this post are now closed.