* Not much of a surprise…
BREAKING: @DarrenBaileyIL will announce Stephanie Trussell as his running mate this morning. The former WLS conservative talk show host is in Lisle with Bailey for the announcement before they go on a bus tour across Illinois. #twill

— Mike Miletich (@MikeMiletichTV) December 13, 2021
Live stream is here.
* Trussell was a never Trumper in 2016…


* A recent Facebook post…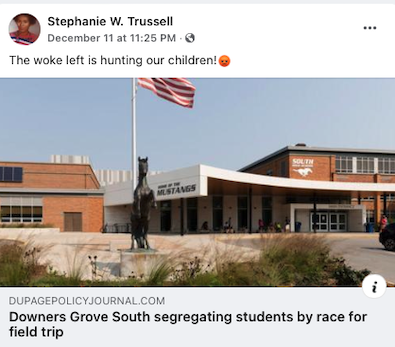 That headline is just bonkers. This was part of an effort to recruit future teachers of color…
"Students will travel to Jefferson Middle School, observe a teacher and then have a question/answer luncheon and discuss the importance of considering education as a career as a person of color," the flier reads.
…Adding… Trussell promised that she and Bailey would deliver a tax cut at the end of their second year in office.
*** UPDATE 1 *** There were a couple of video problems, but here's her speech. As always, please pardon all transcription errors…
What an amazing country we live in a place where a woman born on the west side of Chicago, who spent her high school years working at the Maywood McDonald's can stand here today as a candidate for lieutenant governor of our great state. I love our country and I love Illinois. It's the heartland of America, but its political leaders and political class have failed us. That's why I'm so excited to join Darrin Bailey's campaign to restore Illinois. … With a Bailey Trussell ticket, we will bring our great state back. My mom had me when she was barely 17 years old. Yet through her hard work and sacrifices, she was able to send my sister, my brother and me to private schools, scouts, dance lessons on Michigan Avenue and church youth group. She was determined to give us the opportunities that she never had, laying the foundation for us to become successful adults. One of the most important lessons she taught me was work ethics. Nobody worked harder than my mom and that's her back there.

I got my first job at 14 at Pick and Pay. It was my best friend's family's corner store. At 15, I started working at McDonald's, even though I was only 15. I started working there anyway. At 17 I was a crew chief, by 18. I was a manager. I learned early the value of hard work. Years later my eyes were open to how Democratic and progressive policies that were supposed to help me were actually hurting me, making things worse. I kept working and fighting and eventually my husband and I moved to Lisle, the best kept secret in DuPage County. We immediately felt welcome. As I worked hard as a mom raising five children, I also enjoyed serving my community. I have been everything from a Cub Scout leader, a room mom, to that taxiing mom with a minivan filled with kids, driving them to and from practice. But what I really love about my town is sitting in the stands cheering for the Lyons Lions. I was there when the boys basketball team played in state in 2004. I was there when my daughter played on the basketball team in 2005 when they made it to Sweet 16. I love my town. Darren's life story and my own are a testament that no matter your background, no matter where you start, you are defined by choices you make and the work you're willing to put in.

Our work for the people of Illinois is just beginning. While we love this great state we all know Springfield is broken. It's so self evidently true that it's almost not worth arguing the details. Over the last decade, hardworking people have fled Illinois in droves. The majority of those left looking for better jobs. 20% of them left because they couldn't find affordable housing. Sadly, many are leaving because they no longer feel safe. In the 70s we played outside even after dark as our parents sat on the porch. We felt safe. Today murder and crime rates in Chicago are the highest they've been in two decades. Taxes, the cost of living, crime on the street. These are real problems that we all know JB Pritzker can't, hasn't and won't fix. We need real common sense policy solutions. We need leadership who will fight to defend our police not defeund them. We need to get the woke left political agenda out of our classrooms for once and for all. It's time to teach our kids to chase their dreams not to be a victim or hate one another.

Darren and I will demand a zero based budget that freezes spending with no tax increases. Every department will start at zero and will have to make the case for every cent of its funding. We have to stop passing budgets that spend tax dollars automatically. We'll implement an honest review of each spending item. By the end of our second year, we intend to deliver a tax cut to the Illinois families. After all it's your money.

Friends, better days are ahead for Illinois, but only if you make real conservative changes. Pritzker is a failure. We can't afford four more years of failure. It will kill this great state. Let's put the days of slick politicians and rich elites who don't understand our problem is behind us. My story has made me the conservative that I am today. Growing up on the west side, the best side, getting my first job as a young teenager, raising my five kids. All this didn't come without some obstacles. But together all of us the hardworking people of Illinois, we can solve challenges and turn our home around. Darrin Bailey is the governor we need for Illinois.
*** UPDATE 2 *** DPI…
Today, Stephanie Trussell, a right-wing talk show host and Trump loyalist, announced she will run for lieutenant governor alongside gubernatorial candidate Darren Bailey in the divisive Republican primary. Trussell's bizarre, wildly out of touch views make her a perfect addition to the growing field of radical candidates.

"The first lieutenant governor candidate announcement is in line with what we'd expect from this anti-choice, anti-science field of extremist, far-right candidates," said Abby Witt, Executive Director of the Democratic Party of Illinois. "Illinois Republicans want to overturn Roe, rip needed health care from hundreds of thousands of people, deny the science on COVID-19, and take us backwards."

Trussell, who called Donald Trump "the greatest president of our time," wants to repeal the Affordable Care Act and rip health coverage from more than 600,000 Illinoisans. She has espoused extremely harmful anti-choice views and compared Planned Parenthood to the KKK. She's repeated a number of dangerous, reckless conspiracies about COVID-19 and has shown she is unfit to serve. Trussell's far-right, extreme views do not belong anywhere near the governor's office.

Today's pick sends a clear message that the Republican primary for governor is going to be a messy race to the bottom.
*** UPDATE 4 *** Trussell took her Twitter account private. Maybe shoulda done that before.
…Adding… And now her Facebook page has been pulled down.
*** UPDATE 4 *** They haven't yet pulled down her radio/podcast files, apparently…
Stephanie Trussell, a prophetess. She said this more than 4.5 years before January 6th. pic.twitter.com/vL7FJ1uddb

— Mark Maxwell (@MarkMaxwellTV) December 13, 2021
*** UPDATE 5 *** Go to the 11:10 mark on this link and hear what she says about Trump in 2016…
I don't care what he has to say he is he is a man of very little character. He's uncouth, he's disgusting. And it saddens me that he's the front runner. He does not represent the values of the Republican Party.
A whole lot of people who have endorsed Bailey are going to have an interesting decision to make now.
61 Comments






















































































































































































Sorry, comments for this post are now closed.