* Hospitalizations jumped from 7,114 reported yesterday to 7,353 reported today, a one-day increase of 3 percent.
However, the 7-day rolling average for daily hospitalization increases is now 1.1 percent, which is considerable lower than the 5.1 percent growth average during the last seven days of December.
* Good friend of mine…
As of yesterday, a reported 86% of U.S. adults had received at least one vaccination. Instead of focusing our efforts on the 14% who remain holdouts, why don't we figure out what we can do to get everybody else fully vaxxed and boosted?

— Elizabeth Austin, Mistress of Public Policy (@elizabethaustin) January 11, 2022
For Illinois, the age 5+ gap between the fully vaccinated and those who have received just one dose is about a million people. For those 65 and older, who are most at risk, the gap is about 176,000. That's a good place to start.
Some of those folks got the single-dose J&J shot, but they do need a booster right away.
The "incompletes" may have had an adverse reaction to their first or second shot and are reluctant to move forward. That was the case in my own circle. A close family member got sick after her second shot (it could've just been something else) and didn't want to take a booster. But then her spouse got sick with what we thought was covid (it wasn't) and that convinced her to get boosted. She had zero negative reaction to the booster, by the way.
The governor's office says they're not just focusing on the holdouts and outlined some of what they were doing to get people boosted and to take the second shot. They have booster clinics where people can also get a first or second dose. They're doing paid messaging on boosters, etc.
* Even so, the administration sent out this press release today…
With the current surge of COVID-19 cases due to the highly contagious Omicron variant, the State of Illinois launched a new vaccine awareness campaign to explain the power of the life-saving vaccine. The 'On the Fence' campaign features 18 meaningful stories from Illinoisans who were initially hesitant but are now fully vaccinated.

As health experts continue to advise unvaccinated individuals to get their life-saving shot, the campaign is directed to residents who are reluctant to get vaccinated. The campaign will roll out over the coming months, including stories from people who reflect the racial and socioeconomic diversity of the state. […]

The initial rollout of the campaign will feature the following videos:
Shannon is a nurse in Quincy, a hotbed of vocal and organized anti-vaxers.
I think Elizabeth makes a great point that the state should focus more attention on those who have only taken one dose. Get those second shots moving and close the gap. I mean, if the unvaxed won't listen to stuff like this, then what's it gonna take?…
There are only two ICU beds currently available in Rockford which has forced hospitals to alter routine procedures.

"So if you think you've been boosted or you don't need the vaccine, let's just hope that you're not in an accident. Let's just hope a loved one doesn't have a heart procedure that's needed immediately," Rockford Mayor Tom McNamara said.

[Winnebago County Public Health Administrator Sandra Martell] said about 90% of hospitalizations can be attributed to the unvaccinated.
* We're going to see more of this in the short term…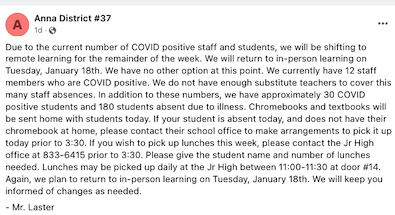 * Retiring House Republican…
Regardless of your theories on Covid one thing is clear: The hospitals are at/near capacity and health care workers are overworked. Everyone seems to be getting Omicron. If we hadn't blown it last time, this would be the time to actually "Take two weeks to flatten the curve."

— Mark Batinick (@mbatinick) January 11, 2022
I don't know who "we" is, but it is getting crazy out there.
* Related…
* COVID-19 update: 28,110 new cases, 92 additional deaths, 7,353 hospitalizations

* Red Cross declares first-ever national blood crisis

* One-Way Masking Works: If you're vaccinated, boosted, and wearing an N95, you're protected—no matter what others are doing.

* U.S. CDC may recommend better masks against Omicron
21 Comments






























































Sorry, comments for this post are now closed.