* NBC News…
The coronavirus pandemic has brought more than 20 months of uncertainty. And through the mask mandates and vaccination debates, Americans have developed a complicated and somewhat surprising set of voices they trust about the virus, according to the latest NBC News poll.

The poll asked a simple question —"In general, do you trust what _____ has said about the coronavirus or not?" — and subbed in a series of possibilities into the blank space.

Through all the names and groups that were mentioned, one thing jumps out in the data: Americans seem more likely to trust people they know directly or people with whom they have direct contact. For instance, the group that ranked highest was "your employer."
* Check out the current number for governors and how much it has moved since April of 2020…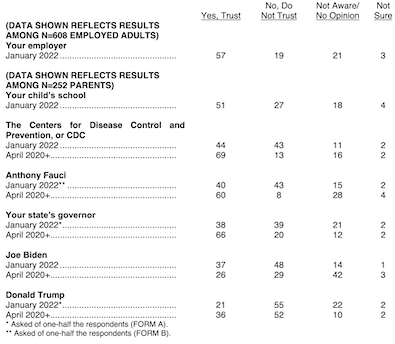 It's only one poll, but a rampant disinformation campaign coupled with incompetent messaging and inaction from the CDC, the White House, etc. are combining to put us all in a very dangerous spot.
* Also…

Teachers' unions should take note.
40 Comments























































































































Sorry, comments for this post are now closed.