* Press release…
Madison County State's Attorney Tom Haine announced today that a Sangamon County judge has granted a temporary restraining order (TRO) halting the implementation of the recently-enacted legislation creating new judicial subcircuits in Madison County.

The TRO was in response to a lawsuit Haine filed on January 21 on behalf of Madison County which challenges the constitutionality of the subcircuit legislation. Judge Ryan Cadagin of Illinois' Seventh Judicial Circuit issued the ruling on January 24, 2022 after an in-person hearing in Springfield, and the text of the order was released today, January 25.

The four-page TRO prevents the Governor, the State Board of Elections, and the Clerk of the Supreme Court "from taking any steps to enforce or institute the Judicial Circuits Districting Act of 2022." Specifically it orders the Clerk of Supreme Court to "recertify the original vacancies of the Honorable David Dugan and the Honorable Richard Tognarelli, as they were before the passing of the Act." The order also mandates that "Any petitions collected on or between January 22 and January 24 for a sub-circuit election [for the above vacancies] shall be accepted by the State Board of Elections for the reinstated county wide residency election." And it states that it "shall continue in full force and effect until the court conducts a hearing on Plaintiff's Motion for Preliminary Injunction."

The preliminary injunction hearing is set for February 15.

"I recommend everyone read the text of this important order, just released this morning. We are very happy that, as requested, this binding TRO preserves Madison County's at-large judicial elections for the time being," Haine said. "This is not a partisan issue, it is a Constitutional issue. I appreciate the Judge's diligent work in allowing our Madison County judicial elections to go forward without being burdened by this seriously flawed subcircuit law, which has many constitutional issues. We will formally move for a Preliminary Injunction in the coming days asking the court to continue this protection past February 15."

"This has been a true team effort," Haine added. "I'd like to especially thank the incredible legal work of ASA's John Hanson and Emily Johnson, whose legal skills have served Madison County very well in this case."
The TRO is here.
* I received an email today from "Lori Lightfoot Watch Dogs" with the subject "Lori Lightfoot wants us to stop talking about crime"…
Friend, Lori Lightfoot wants us to stop talking about crime.

FIRST, Chicago is ravaged by an angry mob of rioters and looters in the summer of 2020

THEN, Lori Lightfoot proposes cutting $80 million from Chicago's police budget

NEXT, Chicago records the DEADLIEST year in 25 years

THEN, Lori Lightfoot pleads with the federal government to get support to the city

"Right now, today, there are simply too many violent people walking our streets and wreaking havoc in our neighborhoods,"
-Lightfoot, December 21, 2021

AND NOW, Lori wants us to IGNORE and STOP TALKING ABOUT the rising surge in homicides, assaults and theft.

2021 was Chicago's most deadly year in recent history and yet Lori Lightfoot wants us to ignore the carnage in the streets of Chicago because it makes "it look like we don't know how to run our cities," she said in an interview with Politico.

Lori can talk about the violent crime in Chicago, but not the rest of us - just like she can go maskless during an indoor party while elementary students have to wear a mask all day at school.

LORI SAYS ONE THING AND DOES ANOTHER

It's time we PUT AN END to Lori Lightfoot styled government. If you want to see corrupt and anti-police politicians like Lightfoot and Governor JB Pritzker put out of office, we need your help.

DONATE $8 TO HELP END CORRUPTION >>

DONATE $13 TO HELP END CORRUPTION >>

DONATE $22 TO HELP END CORRUPTION >>

Thank you for taking a stand and talking about crime, it's more than our leaders know how to do,

Lori Lightfoot Watch Dogs
At the bottom…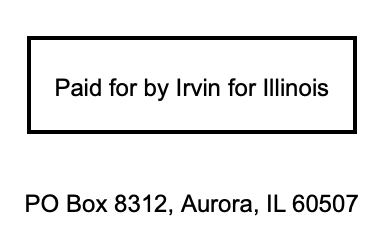 Heh.
* Meanwhile, subscribers were told about all these things earlier. Politico…
— Jonathan Swain has made it official, filing for the IL-01 seat that Rep. Boby Rush now holds. Swain, a Hyde Park businessman and nonprofit CEO, is also assembling his campaign team and advisers, including Jeffrey Wright as campaign treasurer. […]

— Norma Hernandez, who is a Triton College trustee. launched her campaign for state Representative in the 77th House District and has already received an endorsement from Congressman Chuy García (IL-04). Hernandez is challenging Democratic Rep. Kathy Wililis [sic], which is interesting given Willis believed Garcia wouldn't get involved in the race.

— John Fritchey, a former state Rep and a former Cook County commissioner, announced his run for judge in the 8th Subcircuit for the June 28 primary. "I am confident that my experience, background and beliefs would enable me to be an effective judge who can apply the law fairly while never forgetting the impact our system has on all of us," he said in a Facebook post announcing his run.

— Former state Rep. Wayne Rosenthal is running for the newly drawn 108th House seat. Rosenthal, a Republican, represented the area before leaving the General Assembly to head the Illinois Department of Natural Resources during Bruce Rauner's administration.
* Press release…
Today, Alderman Gilbert Villegas earned the endorsements of numerous labor unions, state legislators, and local mayors in his campaign to represent Illinois' 3rd District in Congress.

Villegas, a former bakery truck driver and Teamster shop steward, picked up the endorsement of the International Brotherhood of Teamsters Joint Council 25, Administrative District Council 1 of Illinois of the International Union of Bricklayers and Allied Craftworkers, and United Steelworkers of America, Decorators Union Local 17U. Together, these unions represent tens of thousands of working people in the Chicagoland area.

Villegas also announced the endorsements of State Representatives Fred Crespo and Marty Moylan as well as Mayor Nick Caiafa of Schiller Park, Village President Rodney Craig of Hanover Park, Village President Dave Guerin of River Grove, Mayor William McLeod of Hoffman Estates, Mayor Barrett Pedersen of Franklin Park, and Mayor Frank Saverino of Carol Stream.

"Before I pursued public service I was a bakery truck driver and proud Teamster, so having support from the working people of organized labor and these local leaders is particularly meaningful to me. I'm humbled that our message of getting things done for ordinary people is resonating throughout our community and look forward to building on our momentum together," said Alderman Gilbert Villegas.

Villegas has already received the support of a diverse coalition of leaders, including U.S. Rep. Ruben Gallego of Arizona's 7th Congressional District, Cook County Clerk of the Court and former senator Iris Martinez, State Senator Cristina Castro (22nd District), Ald. and Committeeman Felix Cardona (31st Ward), Ald. Samantha Nugent (39th Ward), Ald. and Committeeman Ariel Reboyras (30th Ward), Ald. and Committeeman Chris Taliaferro (29th Ward), Ald. and Committeeman Scott Waguespack (32nd Ward), State Representative Eva-Dina Delgado (3rd District), Elmwood Park Mayor Angelo "Skip" Saviano, Bensenville Village President Frank DeSimone, Committeewoman Angee Gonzalez Rodriguez (26th Ward), and Former State Rep. John D'Amico.
* Press release…
Orland Park Mayor Keith Pekau is a leader who puts people over politics—and one who will protect citizens' safety and their pocket books. It is that commitment that has impressed current and past Illinois lawmakers, several of whom offered their endorsements and strong words of support for his candidacy this week:

• Jeanne Ives, former State Representative: "The contrast between Keith and the two Democrats running against him could not be clearer. You might as well be represented by Nancy Pelosi if you choose to be represented by left-wing extremists like Sean Casten or Marie Newman. By electing Keith Pekau, we'll finally have someone representing us in Congress who will reign in spending, keep us safe and believes in American exceptionalism.

As a fellow veteran, a military mom, and a suburban taxpayer, I trust Keith Pekau. He is the best mayor in Illinois and during the pandemic acted responsibly, but with a light touch letting businesses and people interact as they wish. As Mayor of Orland Park, he made his community the safest in the state, lowered taxes, and helped create jobs - unlike others, Keith has a proven record of accomplishment."

• Margo McDermed, former State Representative: "As a mom, and a former state representative, I am endorsing Keith Pekau in his run for Congress because he is exactly the type of leader we need serving the residents and families of the 6th district. There are two things, in particular, that stand out to me about Keith's proven record of results—he puts people over politics and stands up for our families and children.

Democrats on the local, state, and federal levels are masters at putting party politics, special interests, and political agendas ahead of what's best for the people they're supposed to represent. Keith has seen it as Mayor of Orland Park and I've seen the political games played in our state capitol. But when Keith tells the people of Orland Park he will do something, he does it, and I trust he'll do the same for our communities. As a founder of the Mokena Educational Foundation, I care deeply about the future of our children, and Keith has been a steadfast leader in keeping our families safe and ensuring children are the focus in our education system. I know Keith is the right person to stand up to the progressives in Washington and help retake the House. His leadership is rare, and we need him in Congress helping guide our country now more than ever."

• Tim Ozinga, State Representative: "Keith Pekau is the voice Illinois desperately needs in Congress. I'm proud to endorse him, and I look forward to our state having a strong leader in Washington—a leader who puts people over politics.

As Mayor of Orland Park, Keith has consistently shown that he is unwavering in his efforts to establish and maintain safety for our families and their neighborhoods. Keith also understands for our neighborhoods to thrive, our business climate must grow. The urgency for an honest, intelligent man like Keith to help restore our economy has never been greater. Keith has displayed great poise and leadership for Orland Park through disciplined government spending and lowering taxes. I am eager to see Keith bring his talents and tenacious work ethic to Washington."

The strong support from experienced legislators is emblematic of the trust that Keith Pekau has earned during his time in public office. For a full list of endorsements and quotes, visit KeithPekau.com/Endorsements.

In response to these legislators' comments, Keith Pekau remarked, "I'm honored and humbled to receive the support of these respected state leaders. I thank them for their endorsements, and I believe that, by putting people over politics, we can give Illinois the kind of leadership our families deserve."
* Press release…
Litesa Wallace, Democratic candidate for Congress in Illinois' 17th District, today was endorsed by three Democratic women legislators who applauded Dr. Wallace for her stalwart commitment to voting rights, reproductive freedom, and access to healthcare.

"During my six years in the Illinois House, I was honored to serve alongside Representatives Deb Conroy, Carol Ammons, and Kelly Cassidy," Dr. Wallace said. "Today, I am so proud to announce their endorsement of my campaign for Congress, and I know their fierce advocacy for the people they represent will inspire and guide my work when I get to Washington."

"Litesa Wallace brings so much professional expertise and life experience to her work as a legislator," said State Rep. Deb Conroy (D-Villa Park), Chair of the House Committee on Mental Health and Addiction and the Democratic Women's Caucus Whip. "Whether she's fighting to protect the rights of women and children, defending access to healthcare, or speaking out on behalf of people suffering from mental illness and addiction, she is always a powerful champion for the people she represents. Litesa Wallace is the right choice for the people of the 17th District, and I look forward to her victory in the June 28 Democratic primary."

"Throughout her service in the General Assembly, Litesa Wallace was a strong, progressive voice for the people of Illinois," said State Rep. Carol Ammons (D-Champaign), co-chair of the Illinois House Progressive Caucus and the first Black woman elected to represent Illinois' 103rd District. "I am inspired by her strength, her compassion, and her determination. Illinois needs Litesa Wallace's leadership in Congress."

"Litesa Wallace has the heart of a warrior," said State Rep. Kelly Cassidy (D-Chicago), a member of the Illinois General Assembly LGBTQ caucus and former legislative director for the National Organization for Women. "Her unshakable advocacy throughout the fight to pass HB40 helped to make sure that women in Illinois will still be able to make their own decisions about their reproductive health – even if the U.S. Supreme Court overturns Roe v. Wade."

"It means so much to me to earn the endorsement of these strong, principled women leaders," Dr. Wallace said. "When I get to Congress, their support and advice will be invaluable as I work to make childcare more affordable, expand healthcare, reform our criminal justice system, protect women's rights, and defend our democracy."

Dr. Wallace, who holds an Ed.D. in Educational Psychology from Northern Illinois University, previously served three terms in Springfield as the State Representative from Rockford's 67th District. She gained national attention in 2018 when she ran for Lt. Governor alongside Daniel Biss in the Democratic primary for Governor.

She is running to represent the new 17th District in northwestern Illinois, which includes most of Peoria, Rockford, the Quad Cities, Bloomington-Normal, and Galesburg.
12 Comments



































Sorry, comments for this post are now closed.