* Heather Cherone at WTTW…
Aurora Mayor Richard Irvin's opening argument in his bid to win the Republican nomination for Illinois governor touts his response to the protests and unrest triggered by the police murder of George Floyd in June 2020 as evidence of his tried and tested law-and-order first approach to crime and violence.

But the first salvo by Irvin in what promises to be a fiercely contested gubernatorial election erroneously claims he deserves credit for "calling out" the Illinois National Guard once the protests turned violent on June 1 and falsely claims that Chicago officials "did nothing to stop looting."

Illinois law gives only the governor the authority to deploy the Illinois National Guard and set members' mission and the rules that govern them, officials said. Pritzker acted in response to requests for help sent to the Illinois Emergency Management Agency by local leaders, officials said. […]

Irvin announced he would run for governor on Jan. 17 with the launch of a campaign website which also asserted that he had "called in the National Guard" as part of his claim to be "tough on crime and criminals."

Irvin contrasts that approach with what he said happened in Chicago, where he said officials "did nothing to stop looting."

However, Chicago Mayor Lori Lightfoot asked Pritzker on May 31 to deploy 375 members of the National Guard to Chicago. Pritzker agreed, and said the troops would be tasked with closing down streets.
* Democratic Party of Illinois…
As Richard Irvin hits Day 10 of hiding from reporters and voters, let's take a moment to remember what happened the last time a Republican held power in Illinois. From 2015 to 2017, Bruce Rauner's budget impasse gutted human services, dropped our credit status to near junk, wasted billions in taxpayer money, and caused widespread crisis that we are still recovering from today. Just this week we were reminded of damage done when a new study from Northwestern University demonstrated the Rauner budget impasse triggered a spike in youth homicides.

Now, Bruce Rauner's moneyman, Ken Griffin, and Rauner's old campaign team are teaming up to try and re-install a slate of Raunerites to take our state backwards. The centerpiece of the Rauner Reboot is Irvin, a longtime admirer of the failed governor. In early 2018, Richard Irvin endorsed Bruce Rauner for re-election despite Rauner's pitiful performance. Now, Rauner is calling Irvin a "good guy" who has the "best chance" of winning the GOP primary.

While Irvin continues to duck the media, at some point he will need to answer a basic question: what was it about Bruce Rauner's disastrous tenure that led Irvin to endorse Rauner's re-election campaign?

Irvin and the Rauner Reboot have been touting their plans to "Take Illinois Back," but we all know what that really means: dark days for Illinoisans and an administration that doesn't work for working families.
The Rauner comments about Irvin were from December, but Irvin wasn't an official candidate then.
* Meanwhile, Richard Irvin's new "Law Enforcement Advisory Council" includes Anthony Beckman, a police officer and Norwood Park Township Republican Committeeperson. I received this late yesterday, so you may have missed it…
The following is a statement from Illinois Senate Democrats Executive Director Magen Ryan:

"Richard Irvin might not talk to the press, but he's making his disrespect for democracy painfully clear.

"How can Richard Irvin stack a "law enforcement advisory council" with someone who dishonored the memory of Capitol Police Officer Brian Sicknick by calling the January 6th insurrectionists "patriots"? A candidate for Governor who embraces people spreading vulgar misinformation about the Presidential Election and the deadly attack on our Capitol police – and follows their guidance – is a threat to the future of our state and our nation's democracy.

"How does surrounding yourself with people like Anthony Beckman, despite the violence they encourage, protect law enforcement? Add this to the list of questions Richard Irvin should have to answer whenever Ken Griffin allows him to speak."
* OK, so who is Anthony Beckman? Well, for one, he was very excited about January 6, 2021…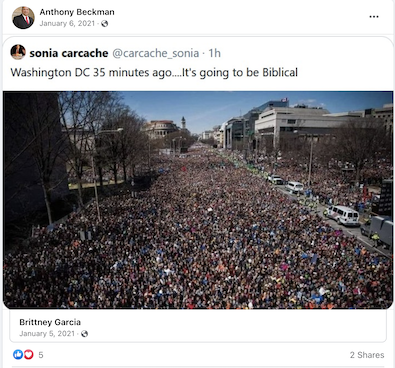 * Oops…

* Yikes…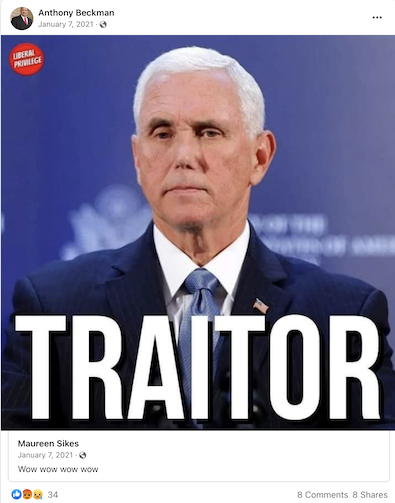 43 Comments
































































































































Sorry, comments for this post are now closed.