* Connor Wood…
Just months after rolling out the Common Application as an option for all Illinois public universities, the move is already impacting school application and admission numbers.

Some state schools have seen a massive growth in applications from last year, in part due to the new system and in part due to lower-than-normal numbers last year.

At Eastern Illinois University in Charleston, applications submitted for fall 2022 are up 52% from last year, said Josh Norman, associate vice president for enrollment management. […]

The Common Application system allows students to apply to multiple colleges with a single application. It includes more than 900 schools, mostly in the U.S. but also across the globe. […]

Illinois' fiscal year 2022 budget included $1 million in appropriations for the initiative. IBHE's FY2023 budget recommendation, approved Jan. 10, also included a $1 million line item. The recommendation now goes to the governor and state legislature before it is approved and may be changed there.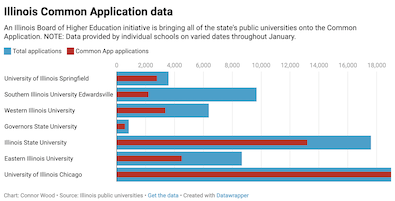 >
8 Comments























Sorry, comments for this post are now closed.