* An email today to Rep. Deb Conroy (D-Elmhurst), one of many such emails she's received on this topic…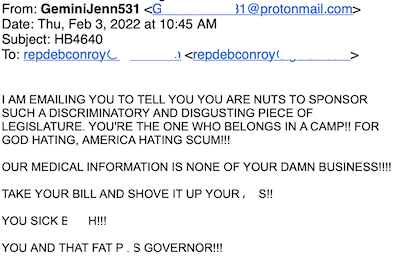 * Facebook message…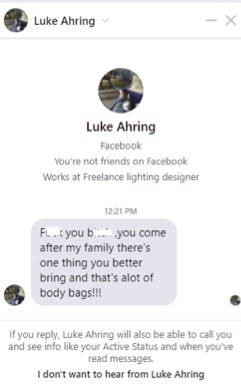 What the heck? Allow me to explain.
* Let's start with this one-pager from the Northern Illinois Public Health Consortium, of which the DuPage County Board of Health is a member. The legislation was brought to Rep. Conroy by a Statehouse lobbyist for the DuPage County Board of Health …
Empower Local Health Departments Through Data
State Legislative Proposal HB 4640/ SB 3131

Background: Data Matters

Local health departments (LHDs) need timely access to health data, from hospital admissions to opioid prescriptions to death certificates. This is how LHDs learn patterns of disease activity and develop fast, robust responses. COVID-19 is a prime example. If health departments know what's leading people to go to the hospital, for instance—or if they know what's causing maternal mortality—they can identify causes and intervene. The CDC says this process is "essential" to public health.

Problem: Missing Data

State agencies such as IDPH are frequently the direct recipients and keepers of data from healthcare providers. All too often, however, LHDs are unable to access this data—or they receive subsets of it only after years have passed. Voluntary data use agreements generally don't resolve this problem since they are often years in the making. The result is a lack of current data, which hinders local jurisdictions from carrying out their core public health functions.

Proposal: Improve Data Sharing

Our bill would ensure State agencies share public health data with LHDs upon request, with safeguards for privacy and security. Important data—some of which is shared with LHDs to varying degrees today—includes but is not limited to:

• Hospital and emergency department data, including admissions, discharge, and patient information.
• Vital records data, including birth, death, and maternal health data.
• Illinois Comprehensive Automated Immunization Registry Exchange (I-CARE), the State's immunization data registry.
• Illinois Prescription Monitoring Program, which collects data on controlled substances.
• Pregnancy Risk Assessment Monitoring System, an ongoing survey of women who have recently given birth.
• Illinois Cancer Registry, a source for cancer incidence information.
• Ryan White HIV/AIDS Program data about people living with HIV and the services they receive.
• List of individual healthcare providers.
• Illinois Medicaid and Medicare datasets of various kinds, such as client-level data for syphilis and HIV, including enrollment in prenatal services.
• Special Supplemental Nutrition Program for Women, Infants, and Children (WIC) data about people's health conditions, access to care, and demographics.

Proposed amendments to the proposal are welcome as stakeholders work together to determine a path that is doable while empowering local health departments through needed data. [Emphasis added.]
Seems basic. The data already exists, but much of it isn't shared in a timely manner, making it almost useless.
* But some amateur morons who can't read legislation looked at the bill because it mentions immunizations and concluded that it will lead to concentration camps. I am not making this up. Here's Fran Eaton's Illinois Review…
Villa Park State Rep. Deb Conroy (Democrat) wants to "isolate or quarantine persons who are unable or unwilling to receive vaccines, medications, or other treatments."

HB 4640 is scheduled to be heard in the Illinois House Human Services Committee February 2 at 9:00 AM.

If HB 4640 were to become law, persons exposed to an infectious disease could be placed under Public Health Department observation, only possible in a contained atmosphere with Department watch guards, some suggest such as a concentration camp.

The bill says:

To prevent the spread of a dangerously contagious or infectious disease, the [Public Health] Department may, pursuant to the provisions of subsection (c) of this Section, isolate or quarantine persons whose refusal to undergo observation and monitoring results in uncertainty regarding whether he or she has been exposed to or is infected with a dangerously contagious or infectious disease or otherwise poses a danger to the public's health.

HB 4640 would also set up a state network data collection system for persons that have received mandated vaccines, medications, or otherwise.
Ridiculous. The quarantine language is part of existing state law. People are either too stupid, lazy and/or ignorant to realize that, before they threaten someone's life, maybe they ought to check to see if only the underlined sections of bills are new language.
So far, the bill has 13,578 opponents online.
* Rep. Conroy sent Illinois Review a letter. Excerpt…
I am writing to let you know that your flagrantly false post about HB4640 has resulted in dozens of death threats aimed at my staff and me. It would have taken no more than 5 minutes to verify what the bill did and where it was coming from, but instead you chose to publish false information, I assume with the intention of enraging people in the hopes they would further spread your misinformation.

Your analysis of the HB4640 is foolish at best and maliciously false at worst. It does none of the things you claim. It allows local health departments the ability to employ local health solutions to share data. It does not give any local body the authority to violate someone's privacy rights and certainly does not allow for anyone to be detained.
But the damage was done.
* Brian Timpone's DuPage Policy Journal threw even more gasoline on the fire…
"Any rules necessary:" Villa Park Democrat Conroy bill would create Illinois concentration camps for non Covid-vaxxed

State Rep. Deborah Conroy (D-Villa Park) wants to create concentration camps for Illinois residents who refuse to take COVID-19 vaccines.

Her bill would allow the state to "isolate or quarantine persons who are unable or unwilling to receive vaccines, medications, or other treatments."

That could include segregating non-COVID vaccinated Illinoisans from COVID vaccinated residents, and more.

Conroy's bill would give local health departments and state politicians formal legal authority to fully control the behavior of any individuals who don't follow their COVID-19 restrictions and rules, including keeping people isolated and under police guard.
…Adding… Emily Bitter at the governor's office responded to the DuPage Policy Journal article…
This lying propaganda hits all the high notes for the conspiracy-theory-loving crowd. It equates Covid-19 to the Holocaust, peddles misinformation and attempts to provoke hysteria – a true fringe-element hat trick. This is no surprise; this site is part of a network of extreme right wing sites that consistently try to deceive the people of Illinois.

The governor will continue to deploy proven and lawful mitigations as needed, as he listens to scientists and doctors about how to fight this pandemic.
* Not hyperbolic at all…
JB Pritzker's Democratic Party wants to mandate you into quarantine if you don't get a COVID vaccine. THIS IS NOT A JOKE - PRITZKER WANTS COVID JAIL. The Bill, HB4640, will be heard in Committee tomorrow. The Democrats have lost their minds.
Retweet this and get the word out.

— Gary Rabine (@GaryRabine) February 2, 2022
* This Einstein also jumped into the fray…
* Greg Hart is on the DuPage County Board and is the Republican candidate for board chair. Rep. Conroy is a Democratic candidate for that job. The local public health board is appointed by the county board chair and confirmed by county board members. Hart even sits on a local public health task force which would benefit from the bill. But here he is fanning the flames…
Republican candidate for DuPage County Chairman Greg Hart released the following statement in response to Democratic State Representative and candidate for DuPage County Chairman Deb Conroy's new legislation, HB 4640: "Deb Conroy's bill- HB 4640- presents a serious breach of the public's trust. There has already been considerable opposition to this bill - over 12,000 opposing witness slips so far. But if that is not enough to communicate the public's sentiments, then I am happy to express on behalf of all Illinoisans my strong opposition to Deb Conroy's legislation and the blatant overreach it permits. I call on Representative Conroy to listen to her constituents instead of special interests and pull her bill."
* Rep. Mazzochi was her usual reserved self…
State Representative Deanne Mazzochi (R-Elmhurst) issued the following statement regarding HB 4640, legislation that State Representative Deb Conroy (D-Villa Park) has recently started pushing:

"State Representative Bob Morgan (D-Highwood) tried to modify the Immunization Data Registry Act by forcing physicians to disclose to the Illinois Department of Public Health sensitive vaccine medical records without patient notice or consent. His efforts were widely condemned by Illinois doctors and residents across the state, and he reluctantly withdrew the bill.

Now Deb Conroy wants to move HB 4640, which will have the effect of doing covertly and dishonestly, what Rep. Morgan tried to do overtly and honestly–expand the power of IDPH, and any local public health authority, to attain peoples' private medical records to create the registry, without patient knowledge or consent, so long as it created under the guise of "research."

After the people of Illinois spoke so strongly on this issue, it is an insult to try to achieve the same results through a sneaky back door approach. I call on Rep. Conroy to table the bill, and for Illinois residents to yet again explain to Rep. Conroy that they do not appreciate this cynical effort to have their private medical records targeted in this way, and for this purpose."
Oh, for crying out loud.
Rep. Conroy told me she had to close down her office because of all the threats to herself and to staff. She's also reported numerous threats to the Illinois State Police and is also turning over information to the local state's attorney.
* Related…
* National Butterfly Center on Texas border closing indefinitely after attacks from right-wing conspiracy theorists
80 Comments















































































































































































































































Sorry, comments for this post are now closed.