* The Illinois House just voted to remove Republican Reps. Sosnowski, McCombie, Wilhour, Halbrook, Niemerg, Welter, Friess, Miller and Chesney from the chamber for refusing to wear face masks during session. The refusal is a violation of House rules…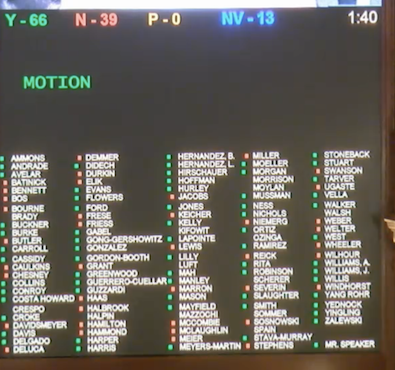 Most House Republicans then walked out of the chamber with their evicted colleagues.
…Adding… Some videos…
Rep. Collins responds 1/2 pic.twitter.com/bLYkGngN4f

— Mark Maxwell (@MarkMaxwellTV) February 17, 2022
Republican Leader Jim Durkin says the HGOP will accept the consequences if his members are kicked out, but calls for hearings to examine the Governor's pandemic restrictions. pic.twitter.com/YNsLkbw51c

— Mark Maxwell (@MarkMaxwellTV) February 17, 2022
…Adding… Sigh…
Rep. McCombie appears to be refusing to leave the chamber. #twill pic.twitter.com/ZPuHkVlOca

— Maggie Strahan (@maggiestrahan) February 17, 2022
Rep. Tony McCombie tells me, "I was elected. I'm not leaving." pic.twitter.com/zqwMUdkDZh

— Mark Maxwell (@MarkMaxwellTV) February 17, 2022
So much for Leader Durkin's pledge to accept the consequences of the vote. Sheesh.
…Adding… Republicans requested a caucus. Democrats will also caucus. The House is now in recess for approximately one hour.
…Adding… There's a roll call coming up. Stay tuned…
The House is back in session. Rep. McCombie remains maskless on the floor in defiance of the order for her to leave. It appears the House Speaker has decided not to physically remove her. Unclear yet if she'll be allowed to vote while in violation of House rules. pic.twitter.com/tAdT50xmXQ

— Mark Maxwell (@MarkMaxwellTV) February 17, 2022
…Adding… No recorded vote for Rep. McCombie…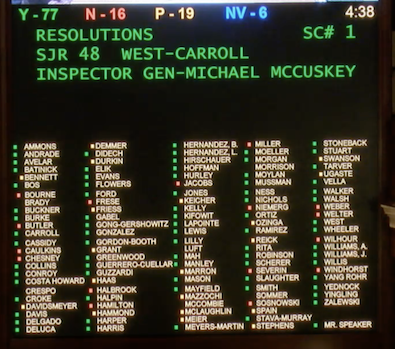 …Adding… Devore's gonna do what he's gonna do…
Later in the day, attorney Thomas DeVore, who has a temporary restraining order against the governor's mask mandates in schools, filed suit against House Speaker Emanual "Chris" Welch, D-Hillside, in Bond County Circuit Court. The lawsuit, DeVore said, is on behalf of his state Rep. Blaine Whilhour, R-Beecher City, and himself as an individual.

"Speaker Welch has no authority whatsoever to place quarantine measures on the peoples' representatives to keep them out of that chamber," DeVore told The Center Square. "It doesn't even make any sense." […]

"They're gonna say 'you put a mask on or we're going to exclude you from a foundational principle of representing your constituents,'" DeVore said. "They're playing those games and completely eradicated [McCombie's] district from the process. There's no way the courts are going to stand for that."
125 Comments






















































































































































































































































































































































































Sorry, comments for this post are now closed.