* Rodney Davis campaign…
The Federal Election Commission (FEC) is dinging Mary Miller's campaign for artificially inflating her already-dismal Q4 2021 fundraising numbers by double-counting campaign contributions and taking prohibited contributions in excess of federal campaign contribution limits.

"This isn't just shoddy record-keeping. Mary Miller is attempting to hide her dismal fundraising numbers because she's a carpetbagger who is running for Congress in a district she doesn't live in. Miller has to fabricate fundraising numbers to give the illusion of support. What else is Mary Miller lying about?" - Aaron DeGroot, Davis campaign spokesperson

Mary Miller reported a dismal $165,000 in campaign contributions and $177,000 in expenditures for Q4 2021, but that doesn't tell the whole story.

It appears that Miller is double-counting around $30,000 in contributions that she received in Q3 2021 for Q4 2021 as well. She reported roughly $15,000 in contributions from the Freshmen Agriculture Republican Members (FARM) Trust on 9/30/2021 in her Q3 2021 report, but then reported those contributions again three days later on 10/2/2021 in her Q4 2021 report, totaling over $30,000. Some of the FARM Trust contributions are even dated as being received in June 2021, which is in Q2 2021. […]

Additionally, the FEC cited Miller as taking unlawful contributions above contribution limits, totaling $14,000 […]

That would mean that Miller has less than $400,000 cash-on-hand, as of the end of Q4 2021.

This is not the first time the FEC has dinged Miller. She most recently had to file an amendment to her Q3 2021 fundraising report after reporting unlawful campaign contributions in that quarter as well.

What else is Mary Miller lying about?
* Fran Spielman…
Gov. J.B. Pritzker is the "favorite" to win a second term but it won't be a "walk in the park" —no matter how deep his billionaire pockets.

Mayor Lori Lightfoot is in so much political trouble she may want to consider not even trying to get reelected. […]

"Given the nature of the year and the resources that are massed against him and some of the scars of having to lead a state through the pandemic, he has to be seriously focused. …This is not gonna be a walk in the park for him," [David Axelrod] said of Pritzker. […]

Polls done for other politicians have recently shown Lightfoot's approval rate in the 30% range, roughly 10 percentage points lower than Rahm Emanuel's ratings were when he abandoned plans to seek a third term. […]

"The first question she's gonna have to ask herself is, does she want the job for another four years. She doesn't always seem terribly joyful in her work," Axelrod said.
The 30 percent range? Whew.
* From a Marie Newman fundraising email…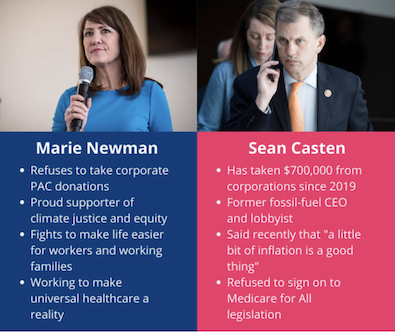 * Sen. Darren Bailey this morning during his daily live Facebook broadcast…
With the recent advent of the Irvin campaign, they are touting many legislators and many people supporting them. Yesterday, we discovered three people on their list, a state senator and a few others, who weren't supposed to be on that list. Never gave them any permission. These lies and deception have got to stop, but it only stops when you get involved, when you truly find out what's going on and you confront these people and tell them to knock it off.
I've asked for the list. I'll let you know if I get it.
* Also from Sen. Bailey earlier this week on Facebook…
If you think Governor Pritzker's actions, have been despicable over the last three years, which they have, friends, I'm going to contend that they are wholly nothing in comparison to what Democrat Richard Irvin, the candidate for governor on the Republican Party, is doing with the barrage of emails and text messages that I know you're getting.

A complete twisting of truth. All out lies. I can't even fathom someone like this in leadership.

You know, it's interesting. Just look up the city of Aurora and compare it with other cities. You're going to see the highest debt, you're going to see the highest the pensions are funded at the one of the lowest levels. It's ridiculous. You're going to see a sanctuary city. You're going to see a … mayor who actually embraced the sanctuary city when Governor Rauner brought this stuff in 2017, 2018. You're going to see a may who's embraced and literally held up everything that Mayor Lightfoot has done that JB Pritzker has done.

Friends, here's the deal. This campaign has hijacked the Republican Party. Yesterday on GOP Database, that is something that we have access to in government to go back and look up voters, constituents to see, you know, where they stand at. Richard Irvin was switched yesterday morning to a hard Republican. Typically a hard Republican or a hard Democrat means that you voted straight through in the last four primaries. That's what it is supposed to mean. But unfortunately, the Illinois Republican Party has allowed this. And you know, I don't know if they did this, or there are several employees from the Illinois Republican Party and the Illinois Republican groups that have went to work with his campaign because they're sitting on $20 million. People love to follow and fall for the money. But it is that mindset and principle that is destroying our society and destroying our state.

So I just simply asked you to educate yourself find the truth. I want to make sure that you understand something. These attacks that are being leveled against me, this is nothing new. I dealt with this when I primaried tax hiker in my district in 2017 and 2018, I dealt with it. It was the exact same group that was working with Governor Rauner. It's the exact same group using the exact same methods. […]

So I just ask you to do your homework, look up the true facts of the city of Aurora. And look at the fact that Clay County and our school districts are the third lowest taxed in the state. And Governor, and Mayor Irvin's city and county is the third highest taxed in the state and kind of put that correlation together and figure that out. […]

Money in and of itself is not a bad thing. Money is obviously needed to get the message out. But when you totally distort and try to change who you are, and then you totally, you can't run on your own merits, but you run on tearing the other person down. Well, that's a problem because then when you get in power, you destroy a state. We've seen it before, friends, and we're not going to witness it again.
* Gary Rabine's running mate Aaron Del Mar was in Normal this week…
Del Mar said crime rates in Chicago and throughout Illinois are concerning.

His plan for education involves improving school resources throughout the state.

"We want to give everyone an even playing field. That means all-day kindergarten, affordable day care for mothers who want to work and giving access to the best techniques and practices available," Del Mar said. "Education should be accessible to everyone in Illinois, regardless of background."

Del Mar noted how in his children's school district in Palatine, students have access to Chromebooks, a resource that is not available throughout the state.

He said increasing educational access would include making those same improved resources available everywhere.
He sure doesn't sound like Rabine.
* Politico…
Gilbert Villegas has picked up endorsements from Amalgamated Transit Union Local 241 and City Council colleague Sue Sadlowski Garza in his bid for the newly drawn 3rd Congressional District. Sadlowski Garza, the alderman who chairs the council's Workforce and Development Committee and a former Chicago Teachers Union area VP, said Villegas "has integrity, is committed to getting the job done right, and is tenacious." […]

Joliet firefighter seeks state Senate seat: Eric Mattson Mattson, who also is president of the union that represents Joliet firefighter supervisors, is a Democrat circulating petitions in 43rd District, reports Shaw Local's Bob Okon.

Michael Rabbitt, Democratic candidate for state representative of the 15th House district has been endorsed by the 40th Ward Dems and Committeeperson Maggie O'Keefe, The People's Lobby, Northside Democracy for America, and 39th Ward Neighbors United.
The story doesn't elaborate because there's zero interest in the beat over there, but this Mattson announcement sets up what could be an interesting primary…
Joliet Fire Department Capt. Eric Mattson is running for the state senate seat in the 43rd District.

Mattson, who also is president of the union that represents Joliet firefighter supervisors, is circulating petitions for the Democratic primary to be held June 28.

"I can make a difference," Mattson said Wednesday of his candidacy for the seat now held by state Sen. John Connor, D-Lockport. Connor is not seeking reelection and plans to run for a vacant judicial seat in the Will County Circuit Court.

Also seeking the Democratic nomination for the 43rd District state senate seat is Will County Board Member Rachel Ventura, who announced her candidacy in June.
Also, Michael Rabbitt tried and failed to be appointed to the 15th District House seat when Rep. John D'Amico (D-Chicago) resigned last year. The district's committeepersons replaced D'Amico with Michael Kelly, a Chicago firefighter. Rabbitt, who announced for the seat last fall against D'Amico, is also was backed by SEIU Healthcare during the appointment process, but the union hasn't taken an official stand in the primary as of yet. More here.


Click here to help buy presents for LSSI foster kids!
19 Comments
























































Sorry, comments for this post are now closed.