* Facebook…
The Tazewell County Republican Party in cooperation with the Peoria County Republican Party and the Woodford County Republican Party will host the Central Illinois Republican Governor Candidate Forum at Five Points Washington, 360 N. Wilmor Rd., Washington, IL from 7pm – 9pm, Monday, April 25th, 2022.

The candidates who will be attending this forum are Senator Darren Bailey, Gary Rabine, Paul Schimpf, Jesse Sullivan, and Max Solomon.
Seems like a certain Aurora somebody is missing. Hmm.
* Speaking of the governor's race…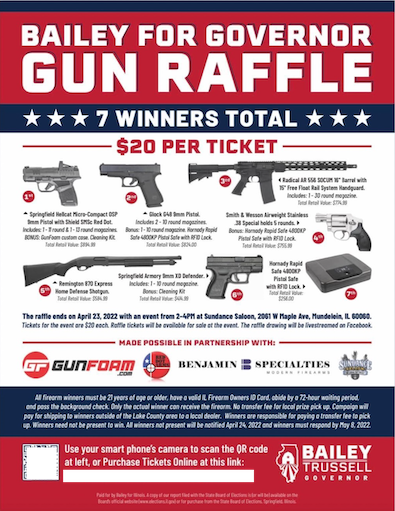 …Adding… Eliza Glezer at JB for Governor…
Any reasonable person, but especially a candidate for the highest office in the state, should not be raffling off guns while voting against common-sense gun legislation like background checks to protect Illinois families from senseless gun violence. This is just another example of how out of touch and extreme Darren Bailey's conservative views are, which will not bode well for his chances at winning this election.
* Dan Brady campaign…
Illinois Secretary of State candidate Dan Brady, a Bloomington Republican, has pledged to take specific actions as Secretary of State to stop the rash of gasoline thefts that are currently plaguing Illinois car dealerships.

"With gasoline at $4.50 a gallon and unattended cars sitting in dealership lots, the temptation to make a quick, illegal profit has proven to be too hard to resist for many criminals," Brady said. "I plan to use the resources of the Secretary of State's office to help keep fuel in the cars and put thieves behind bars."

Once elected, Brady will convene a special task force consisting of Secretary of State Police, local law enforcement officials and car dealer trade association representatives to come up with ways to help prevent these brazen parking lot thefts, which often result in expensive damage to the targeted vehicles. Since Secretary of State Police officers are frequently at car dealerships as part of their routine duties, Brady will also direct those officers to work with individual dealers to heighten security and to recommend additional anti-theft measures they may take.

"I realize this problem is occurring now and can't wait until after the election for a solution," Brady said. "So I encourage current Secretary of State Jesse White to take these ideas and run with them. Gasoline thieves don't care about your political party affiliation."

The Illinois Secretary of State Police Division helps to regulate the automotive industry in Illinois by tracking auto thieves, conducting surveillance on suspected "chop shops," infiltrating auto theft rings, investigating fraudulent state identification documents and conducting "sting" operations.
* Matt Sheehan…
The objection adjudication process began Tuesday, bringing forth multiple challenges against Central Illinois political candidates' petitions. […]

Political newcomer Travis Weaver is also being challenged. Weaver tells WMBD it's a "tactic being used by his opponent."

"I've had multiple legal professionals tell me this is one of the most frivolous challenges they've ever seen. It's a clear tactic by my opponent to distract from the fact that he has an anti-business, anti-farmer voting record and is incredibly conflicted as he is a State Rep while also being mayor."

"The challenge alleges that I don't live at the address I claim because it is listed as a wedding venue. There is a barn on the property that is becoming a wedding venue, but anybody can drive down War Memorial towards Kickapoo and see there is clearly a home. And if they drive by late at night or early in the morning they'll see my car parked in the driveway."

"The challenge also alleges I lived in Chicago until recently because that is where Caterpillar listed my office address. This is a shot in the dark. Everybody in Peoria knows that Cat was fully remote during the pandemic. I did hold a temporary residence there at one time, but my priories were always in Central Illinois and I fully transitioned home once remote work began over two years ago."

- Travis Weaver | IL-93 Candidate (R)
* Dan Proft roast teaser. Make sure to catch the Jeanne Ives bit…
The Roast of Dan Proft from AM 560 The Answer on Vimeo.
* More…
* Congressional campaign contributions flowing as Illinois primary races heating
22 Comments

































































Sorry, comments for this post are now closed.