* Wait. The Illinois First Alliance is having its inaugural second fundraiser in Naples, Florida?…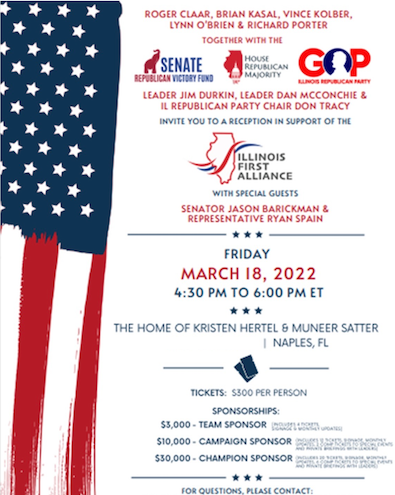 Come to think of it, lots of Illinois folks will be down in that region right about then. I know some prominent retirees who are not far from there at this very moment. I won't be around, but only because of session, although I generally tend to avoid Naples.
* The rest of the email…
Good evening! First Virginia… then San Francisco's school board…then Michael Madigan gets indicted. Folks, we can actually turn Illinois Red. So much more is possible in a wave - 2022 is our moment. Any winning team works together well.

They work as a team, think as a team, check their egos, and operate with a strategic plan to achieve a goal. For years, Chicago Democrats levered their base strategically to rule Illinois. The Madigan-Pritzker Enterprise playbook is to offer more and more spending and sweet deals to government workers while stirring racial and identity politics to hold their coalition together. The result is a state that no longer helps ordinary people: exploding crime, prosecutors that don't prosecute, schools that don't teach, perpetual corruption and ever higher taxes.

This is Democrat Illinois. Democrats are the cause of, and Republicans are the solution to, what ails Illinois. For years, Republicans have operated in clusters - creating silos of information and setting up multiple different political groups and events competing for donors' time and voters' attention. Too often, the results were losing campaigns, wasted resources, and mixed messaging.

No more.

We recognize if we are to flip seats at every level from blue to red, if we are to make better use of our resources, tools, and tactics, then we must operate as a team. For the first time in the history of our state, the Illinois Senate Republicans, Illinois House Republicans, and the Illinois Republican Party are truly uniting to win.

Under a joint agreement called Illinois First Alliance, we are coming together to raise resources, coordinate on information and strategies, and frankly, work together as a team to flip as many seats as possible from Democrat Blue to Republican Red. This way, we ensure we are better stewards of the resources donors invest and operate as a well-run team to achieve our goal of saving Illinois. For this reason, we invite you to a special event. Together with the Illinois Senate Republicans, Illinois House Republicans, the Illinois Republican Party, please join the leadership of Team Illinois at 4:30 p.m. to 6:00 p.m. at the home of Muneer Satter [redacted] in Naples, FL for a kickoff event for this effort with special guests, Senate Leader Dan McConchie, Illinois Republican Party Chairman Don Tracy, and others. Ticket price is $300 per person with sponsorships available at $3000. We are asking host committee members to contribute $3,000. Campaign sponsors are $10,000 and $30,000.

Sincerely,

Richard Porter
Combining House and Senate GOP forces with the ILGOP is an interesting concept, I suppose, but they can already do that through the state party. We'll see if it gets any buy-in.
Richard Porter is the state's National Republican Committeeman. He's also a Richard Irvin backer. Just a wild guess here, but maybe they will get some dough from a certain someone.
If nothing else, the legislative leaders and some other swells have an excuse to go to Naples in March. The fundraiser is just a couple of miles from the Ritz-Carlton and a mile from the swanky Club Pelican Bay golf course.
By the way, a search of the Board of Elections turned up no results yet for Illinois First Alliance.
* Politico…
According to a polling memo shared with Playbook, the race to fill the Illinois Supreme court seat in the new 2nd District remains a toss-up. The poll, conducted by Brian Stryker's Impact Research for candidate Elizabeth Rochford, shows a virtual tie. If the election were held today, Rochford would get 12 percent of the vote, to Rene Cruz's 11 percent, Nancy Rotering's 10 percent, and 67 percent undecided. All of the candidates are within the margin of error.

The polling memo says Rochford passes her competitors when respondents learn that she's a Lake County Circuit Court judge and Rotering is mayor of Highland Park: Rochford gets 40 percent to Rotering's 19 percent. Cruz, a Kane County Circuit Court judge, likely isn't included in the polling memo because he's trailing in fundraising. The point being, candidates need money and messaging to get their names before voters for the June 28 primary.
You'd think that Mayor Rotering, who has run for various offices, would be starting off with a much higher base name ID. The poll is here.
* Republican gubernatorial candidate Jesse Sullivan recently completed a 15-day, 52-county "statewide truck tour" and posted a video. Trouble is, there is no Tuscola County in Illinois…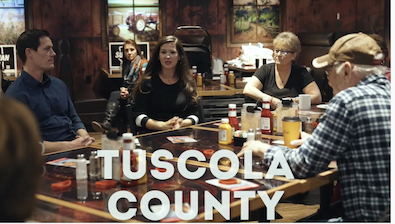 Oops.
There's a Tuscola County in Michigan on Saginaw Bay. Maybe somebody in the campaign has a summer home there.
* Press release…
[Yesterday], Congresswoman Lauren Underwood (IL-14) filed approximately 14 times the required amount of petition signatures required by the Illinois State Board of Elections to officially confirm her candidacy for U.S. Representative of Illinois' 14th Congressional District. This is the largest number of signatures ever submitted by the Lauren Underwood for Congress campaign totalling 5,645 petition signatures collected from every county in the newly-drawn IL-14. Congresswoman Lauren Underwood issued the following statement in response:
Same district, other party…
Jim Marter has the most signatures, the best name recognition, the most endorsements and the strongest grassroots team behind him in this Primary. … Marter submitted his signature package in Springfield early in the morning on Monday and said he was humbled by the 40+ volunteers who circulated them for him, securing over 1,200 signatures from all seven counties within the district.
Another GOP primary candidate in that district named Mike Koolidge…
[Yesterday] morning I was down in Springfield and submitted nearly 1,200 petition signatures, from residents in all 7 counties in the 14th District, to be on the ballot to serve as your next member of Congress!
* Press release…
Today, the National Association of Letter Carriers, announced their endorsement of Nikki Budzinski in Illinois' 13th Congressional District. The NALC represents thousands of city letter carriers across Illinois.

The NALC's endorsement is the latest in a broad coalition of support that Budzinski is building, including U.S. Senator Dick Durbin, U.S. Senator Tammy Duckworth, the Illinois AFL-CIO, EMILY's List, State Treasurer Mike Frerichs, Rep. "Chuy" García, Rep. Sean Casten, Rep. Cheri Bustos, Rep. Jan Schakowsky, Rep. Mike Quigley, Rep. Raja Krishnamoorthi, Rep. Bill Foster, Madison County, St. Clair County, and Sangamon County Democrats, State Senator Christopher Belt, Assistant Majority Leader Jay Hoffman, House Democratic Caucus Chair LaToya Greenwood, State Representative Katie Stuart, UFCW Local 881, Illinois Federation of Teachers (IFT), The United Brotherhood of Carpenters (UBC), SEIU State Council, United Steelworkers (USW), IBEW Locals 51, 146, 193, 309, 601 and 649, Communications Workers of America (CWA), Sheet Metal Air Rail and Transportation Workers' Union, Heat and Frost Insulators, Amalgamated Transit Union (ATU), Associated Fire Fighters of Illinois (AFFI), Bricklayers and Allied Craftworkers (BAC) Local 8, Leage of Conservation Voters, J Street, Elect Democratic Women, Pastor T. Ray McJunkins, County Chairs Bill Houlihan (Sangamon), and Pam Monetti (Macoupin).

Nikki Budzinski made the following statement: "The U.S. Postal Service is an institution and the men and women who make it run are public servants that frequently are unsung heroes. I am committed to working with the NALC to make sure the U.S. Postal Service has a bright future. I look forward to advocating for the NALC's members in Congress."

Tony Bultinck, President of the Illinois Association of Letter Carriers, made the following statement: "Our members need an advocate on the federal level that will fight for us and make sure the United States Postal Service has a bright future in America. Nikki's years of experience in the labor movement mean that we can work with her, support her, and trust that she will always have our members' backs. We are eager to work with her."
Always be kind to your letter carriers, especially if you have a lot of direct mailers to send.
51 Comments
























































































































































Sorry, comments for this post are now closed.