* For decades, business and labor have sat down to negotiate how to solve any issues related to the state's unemployment insurance program. The resulting compromises were then taken to the leadership in both parties and bills would be passed on a bipartisan basis because the leaders all give their word to stick to the deal. But negotiations apparently aren't going well and a deadline is looming, so this letter from the House GOP Leader appears to break from the past in a major way…
Governor Pritzker,

Before the pandemic, our state's unemployment insurance trust fund had a positive balance of more than $2.2 billion. The historic surge of unemployment benefit applications that began with the stay-at-home order quickly drained that balance and has now put the trust fund over $4.5 billion in debt—a debt that continues to grow as interest charges accrue daily. On top of the legitimate unemployment claims, Illinois also experienced a historic level of fraud—the total dollar amount of which your administration still refuses to estimate or release. These claims worsened the fund's financial condition through no fault of employers or workers.

More than a year ago, my colleagues and I called attention to this debt and warned of the consequences of inaction, specifically that failing to pay off the debt would require a massive tax increase on businesses and a reduction in unemployment benefits for Illinois workers.

Unlike many of the other structural problems Illinois faces, this one-time COVID-related debt also came with a one-time COVID-related solution: Coronavirus Aid, Relief, and Economic Security Act (CARES) and American Recovery Plan Act (ARPA) funds. Many other states faced the same challenge we do, and they responsibly used these federal relief dollars to pay off their unemployment insurance debt and avoid tax increases or benefit reductions.

Unfortunately, the current fiscal year budget passed by Democrats in the House and Senate did not dedicate a single dime to paying off this pandemic-era debt. When the budget came to your desk, you used your amendatory veto authority to make changes to certain enactment dates in the poorly drafted and hastily enacted budget. You had an opportunity to address the unemployment insurance trust fund debt at this point in time, but you instead chose to ignore the problem, just like you ignored the roughly $1.5 billion in ARPA "pet project" spending that was added in by democrat legislators in the final hours of the spring legislative session.

While Illinois cannot recover the $40 million paid in interest due to ignoring this problem so far, it's not too late to stem the bleeding now. Of the more than $11.5 billion in CARES and ARPA funding the State of Illinois has received from the federal government, it appears that nearly $6.94 billion has not yet been spent. That means we still have sufficient funding to eliminate the unemployment insurance debt entirely and still have almost $2.5 billion remaining to pay for real COVID-related costs.

This problem could have been solved a year ago, and we could have avoided tens of millions of dollars in interest charges. But instead, Springfield is doing what it so often does: playing a game of brinkmanship with an April 1 federal deadline looming.

Let's not raise taxes on Illinois businesses as they fight to emerge from the pandemic. Let's not cut benefits for Illinois workers who may soon need the protection that unemployment insurance offers. Instead, let's use the federal funds we have available to solve this problem once and for all.

Sincerely,

House Republican Leader Jim Durkin
Deputy Republican Leader Tom Demmer
I asked for their breakdown of available ARPA money…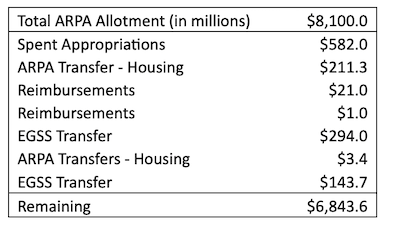 Notice that the chart says "spent" appropriations. According to the governor's office, another $3 billion or so has already been appropriated by the legislature and is awaiting approval from the US Treasury. This unspent money is mainly capital projects, but there are also several one-time items like violence prevention programs.
What's actually left, the governor's office says, is $3.5 billion.
Bottom line is the Republicans don't want to vote for any election-year employer tax hikes at all even if unions agree to benefit cuts. The agreed bill process may be on its last legs.
…Adding… Similar or coordinated message from the Richard Irvin campaign earlier today…
While JB Pritzker continues to push his election year gimmicks, his failure to lead will result in higher taxes and lower wages across Illinois as the gaping hole in the Unemployment Insurance (UI) Trust Fund continues to grow. Pritzker has thus far refused to use federal ARPA funds to replenish the shortfall and create a reserve balance in this crucial social safety net program. His lack of action results in $2 million in interest charges a week.

Instead of using the federal funds to fill this hole, Pritzker chose to pledge them towards one-time election year gimmicks of fake tax relief. If Pritzker continues to withhold the federal bailout funds, employers could see their unemployment taxes go up and employees could see their benefits cut.

The state's Unemployment Insurance Trust Fund currently has a deficit of over $4 billion – plus interest. That number would just cover the deficit; much more will be needed to replenish the fund's reserves. Even worse, a recent news investigation found the Department of Employment Security knowingly gave money to scammers and the Pritzker Administration refuses to disclose how much the Unemployment Insurance Trust Fund has lost due to fraud.

"JB Pritzker has never seen a tax increase he didn't like, so it's no surprise he's angling to pull the wool over the eyes of Illinoisans once again," said Irvin for Illinois spokesperson Eleni Demertzis. "This is his failure that taxpayers are now on the hook for, something that could have and should have been prevented."

According to IRMA, state law has 'speed bumps' written into it that are expected to trigger $500 million in tax increases for employers and $500 million in benefit cuts for employees. Despite lawmakers pushing for Pritzker to use federal funds to replenish the debt, he has continued to stall as an April 1st federal deadline looms. Without action, higher taxes on employers and reduced benefits for workers are inevitable.
…Adding… Pritzker campaign…
At a time when working families across the state need assistance, we need to be honest about what Richard Irvin is objecting to in the governor's budget proposal: tax relief for Illinoisans. Ken Griffin's hold on Irvin remains so tight that even Bruce Rauner would blush at his rejection of policies that would help working families. Voters can see this candidacy and these embarrassing objections for exactly what they are and no amount of spin from Irvin's team of Rauner rejects can change the truth.
…Adding… Jordan Abudayyeh…
Following the established agreed bill process, that for years has resulted in compromise, there have been 13 formal meetings and countless discussions since January 11th between business and labor along with lawmakers from both sides of the aisle. Earlier this year, Rep. Demmer asked the Governor's Office what it means to have a seat at the grown-ups table. We would tell the Representative it means not abandoning a bipartisan and sincere effort to follow a decades long agreed bill process in favor of scoring cheap political points at a critical moment in the negotiations. The Pritzker administration will continue to convene all parties and negotiate in good faith for a compromise that is fair to both businesses and workers.
23 Comments




































































Sorry, comments for this post are now closed.