* Early voting begins September 29. From Jon Seidel at the Sun-Times…
Three weeks after the indictment of former Illinois House Speaker Michael J. Madigan, federal prosecutors told a judge they want to keep their Sept. 12 trial date in a related bribery case that involves Madigan co-defendant Michael McClain.

But in a surprise move during a status hearing Wednesday, McClain defense attorney Patrick Cotter told U.S. District Judge Harry Leinenweber the defendants in that case would prefer to have it go forward as a bench trial — decided by the judge — rather than as a jury trial.

Assistant U.S. Attorney Amarjeet Bhachu told Leinenweber it was the first he'd been made aware of the defendants' preference. Leinenweber set another hearing for April 26 to give the feds time to consider the request. All sides would have to agree to it, a requirement that makes bench trials rare in federal court.
But there will be no new ethics bills this session…
The day a 22-count federal corruption indictment came down against former Democratic House Speaker Michael Madigan, those controlling Illinois' state government quickly reacted to the horrors of the racketeering and bribery allegations. […]

Despite all of those still-fresh superlatives of shock and outrage, the chances of Democrats pushing through a new round of post-Madigan indictment ethics reforms appear bleak at the moment, with less than three weeks left before the scheduled end of the Legislature's spring calendar.
Irvin campaign…
"Even with one of the largest corruption investigations in our state's history coming to light, J.B. Pritzker is silent on pushing for meaningful ethics reforms, but it shouldn't come as a surprise given he funded Mike Madigan's Criminal Enterprise to the tune of $10 million," said Irvin for Illinois Spokesperson Eleni Demertzis.
…Adding… Natalie Edelstein at the Pritzker campaign…
"The governor passed comprehensive ethics reform last September and stands ready to work with the general assembly to do even more to restore the public's trust in government, as he has frequently said. It is laughable that a mayor who has repeatedly doled out city contracts to his top campaign donors would try to throw stones when he lives in an ethical glass house."
* A Democratic candidate fundraiser co-hosted by Mrs. Rauner…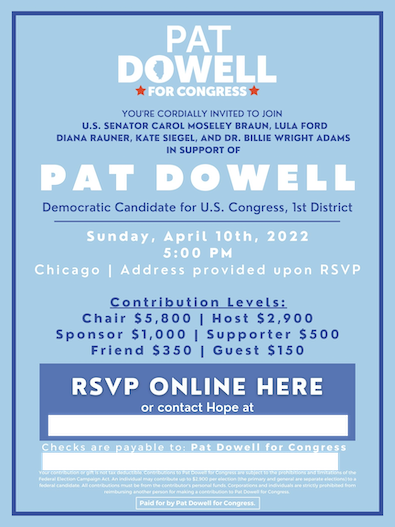 Um.
…Adding… Dowell campaign…
Diana Rauner is a long-time supporter and a Democrat who as President of Start Early has done great work in the City Of Chicago. Pat Dowell has worked with her for years and has seen the positive impact Ms. Rauner has made in the community. Alderman Dowell has a long history of building coalitions to solve problems.
* Several people I know received a text poll earlier this week and it sure looked like US Rep. Mike Quigley is testing the waters for the 2023 mayor's race. Click here, here, here, here, here, and here, here for just some of the screen shots.
* Pritzker campaign…
On the 12th anniversary of President Barack Obama signing the Affordable Care Act, one of the most transformative pieces of health care legislation in American history, into law, Illinois Republicans have shown they're more determined than ever to strip away critical health care protections from working families. The GOP candidates for governor would waste no time kicking Illinois families off of their insurance, rolling back protections for pre-existing conditions, and increasing the costs of health care if given the chance.

Extreme conservative Darren Bailey, who was an ardent supporter of the GOP's 2017 tax scam that would have stripped ACA coverage from 13 million Americans, has proven that this field of GOP candidates will not stand up for working families. Meanwhile, Governor Pritzker knows health care is a right, not a privilege.

As Governor he has been fighting to expand access to care, improve the quality of care available, and make it more affordable. He reduced the Medicaid backlog left by the previous administration, providing health care to over 130,000 Illinoisans and enshrined reproductive rights in state law, protecting the freedom of choice from the potential overturning of Roe v. Wade by the U.S. Supreme Court. From capping the price of insulin to strengthening critical access hospitals in rural communities, Governor Pritzker is committed to ensuring that everyone in Illinois can access quality care they can afford, whenever they need it.
Video is here.
Monday, Michelle Smith, a GOP candidate in the Illinois House 97th district was called upon to withdraw from the June 28th GOP primary ballot by her opponent Thomas McCullagh.

Smith told Illinois Review this week that she's not reacting to her opponent's challenge.

"I don't take moral cues from someone who does fundraisers with Rod Blagojevich. Like many typical politicians, Mr. McCullagh believes voters aren't smart enough to see through his lies," Smith said in a written statement. "Unfortunately, he's going to find out that childish political games won't work and he has to actually earn their vote. These types of games are exactly what makes good people not run for office."
Ouch.
* Daily Herald…
Questions about U.S. Rep. Brad Schneider's residency could knock him off the ballot this year.

In an objection filed Monday with the Illinois State Board of Elections, two Lake Forest residents claim Schneider doesn't live at the Highland Park address he listed as his home on nominating petition sheets and a statement of candidacy. […]

Objectors Alan R. Palmer and Laura La Barbera also claim in their complaint that Highland Park hasn't issued an occupancy certificate for the house, which is newly built. A city building department employee on Tuesday said a temporary certificate had been issued for the house, but she didn't recall when. […]

The house at that address, however, doesn't appear lived in. The driveway isn't finished, there's no grass where the front lawn should be, a large trash container sits on the driveway blocking the garage doors and construction debris is visible outside.
* OK, wanna really get into the weeds of petition requirements? Let's start here…
• According to Section 7-10 (h) of the Illinois Election Code, nomination papers for the vacancy in the 2nd Supreme Court District "must contain the number of signatures equal to 0.4% of the number of votes cast in that district for the candidate for his or her political party for the office of Governor at the last general election at which a Governor was elected, but in no event less than 500 signatures." Section 2A-1.1b(b) of the Illinois Election Code then reduced that requirement by one-third.

• 296,552 votes were cast in the five counties of the 2nd District for Governor JB Pritzker in 2018. By completing the formula outlined in the Illinois Election Code, you get 791 signatures needed to qualify for the ballot.

• While the 2022 Candidate's Guide from the State Board of Elections said only 394 signatures were needed, the guide also makes clear that it should not be taken as law or relied on for legal advice. The State Board of Elections miscalculated in this case.

o "Legal information contained in this guide is not binding and should not be construed as legal advice or sufficient argument in response to an objection to any candidate's nominating papers. The State Board of Elections recommends that all prospective candidates consult with competent legal counsel when preparing their nomination papers."

• Nancy Rotering only filed 669 petitions, significantly below the threshold needed.

• Judge Rochford submitted more than 1,700 signatures.
The objection is here.
* Counter-point from an attorney who is not involved with this petition objection issue…
The statute requires signatures equal to at least 0.4% (.004) of the number of votes cast in that district for the candidate for their political party for the office of Governor at the last General Election at which a Governor was elected, but in no event less than 500 signatures. The judicial districts were redistricted in 2021 and there hasn't been an election for Governor in "that district." Even though you could technically determine the number of votes in the new districts since they encompass full counties, the plain text requires the number of signatures in "that district." Since no Governor has been voted for in that district, the Board relied on the 500 signature minimum. Since the signature requirement was reduced by 1/3 for 2022, the number of required signatures is 334. That's what the Board included in the candidate's guide.

See pp. 32-33: https://assets01.aws.connect.clarityelections.com/Assets/Connect/RootPublish/will-il.connect.clarityelections.com/Elections/2022GeneralPrimary/CandidateGuide.pdf
That's why we have lawyers, I guess.
* From the polling memo on a Chicago remap proposal…
The Chicago United plan has a valuable supporter in retiring Illinois Secretary of State Jesse White. Two- thirds of voters (66%) say they approve of the job that White is doing as Secretary of State, to just 17% who disapprove of White's job performance.
* Hope none of these House members needed to use their cars…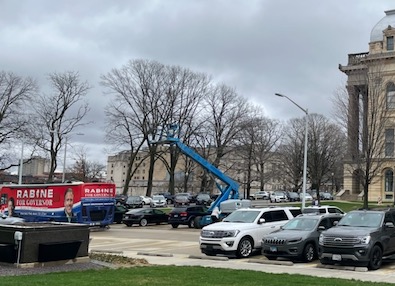 …Adding… I forgot to post this…
Pat Dowell, IL 1st CD Candidate Announces Support for Striking Workers at WTTW Channel 11 - Will Not Cross Picket Line for WTTW Election Guide

"I support the men and women of Local 1220 of the International Brotherhood of Electrical Workers who are on strike against WTTW Channel 11. Management of WTTW needs to return to the bargaining table and negatoate a fair contract."

"Yesterday, WTTW reached out to me, asking me to participate in their 2022 Primary Election Voter Guide. While I appreciate every opportunity to communicate with voters, I have told WTTW that I will not participate in this project. Whether in person or online I will not cross a picket line at WTTW. I encourage other candidates not to be a part of the WTTW voter guide until the workers' demands are met," said Ald. Pat Dowell, candidate for the Democratic nomination for Illinois' 1st Congressional District.
*** UPDATE *** The Board of Elections spokesperson explained the ballot position lottery results: "Since there are eight GOP gubernatorial candidates, you throw out 9th alphabetical and move 8,7,5,3 up." Here you go…
State Board Lottery for ballot position
Using last name in Alpha order - Ballot position
1st alpha …………… 1st
4th alpha …………… 2nd
2nd alpha …………… 3rd
6th alpha …………… 4th
9th alpha …………… 5th
8th alpha …………… 6th
7th alpha …………… 7th
5th alpha …………… 8th
3rd alpha …………… 9th
And last place order is: 3, 4, 1, 2
* Related…
* Candidates in Illinois Often Get Booted from the Ballot for Ticky-Tack* Reasons
25 Comments










































































Sorry, comments for this post are now closed.