* I think almost everyone I know has received this Richard Irvin mailer…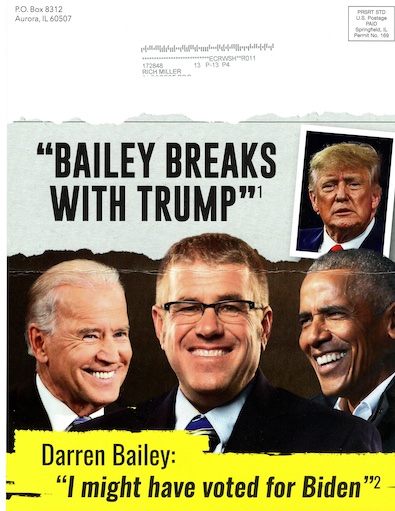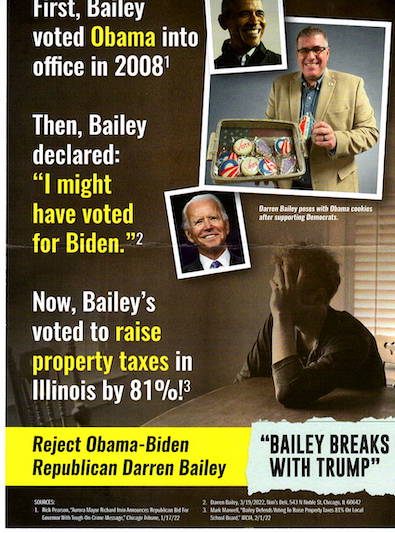 Notice there's no disclaimer saying who it's from. The Irvin campaign sent a letter to the Illinois State Board of Elections blaming the omission on a vendor error.
* There's even a new Irvin TV ad making the same claim…
Announcer: Who's paying for this false ad against Richard Irvin? Check the fine print.

Mary Ann Ahern: The new ad paid for by the Democratic Governors Association. Republicans call it meddling.

Announcer: It sure is. JB Pritzker knows he can beat Darren Bailey and Jesse Sullivan. After all, they both supported Obama for President. Bailey even admitted he backed Joe Biden.

Bailey: I might have voted for Biden.

Announcer: So the next time you see Pritzker smearing Richard Irvin, don't fall for it.
There's no proof that Bailey voted for Obama in 2008. And, as you'll see, he actually said he might've voted for Joe Biden in 2008, not 2020 as implied.
* The audio clip supplied by the Irvin campaign to back up the Biden quote claim…
* Transcript…
First of all, in 2008, you guys remember Rush Limbaugh? So he had Operation Chaos. And it was because everybody was scared to death of Hillary Clinton getting in. So the goal was if you didn't have a local race, which, interestingly enough, we did at the time in Clay County, where I live at, we did not have a Republican running for state's attorney. We had two Democrats running for State's attorney. State's attorneys grow up to be judges. So, I've never pulled a Democrat ballot in my life, but I can tell you, I'll never do it again. Cindy and I being a, and this is, you're gonna laugh at this, but the next two years Cindy and I were thinking, what if the world ends and Jesus comes back and we're registered Democrats? That's been that's been 12 years, 14 years ago now. And you have no idea. And when I tell you this stuff, like I said you can walk over and ask Cindy about it. So I had a brother [crosstalk] I had a brother that followed him, and it made sense because it's Hillary, I don't even, I think I might have voted for Biden. I don't even remember. Biden rhymes with [garbled]. I didn't even know who these guys were in 2008. But we did that.
Emphasis added to show he's being hit for voting for two Democratic presidential candidates in the very same primary. Also, please pardon all transcription errors.
Whatever the truth is, Bailey is gonna get absolutely freaking buried by this stuff if he doesn't start fighting back on the air and in the boxes.
* And there is a way. A bit of Democratic oppo was tossed my direction today. Here's Richard Irvin speaking in February of 2020 about former President Barack Obama…
And even through all of that, I don't know if my grandfather, grandmother, or my slave-born great-grandfather could have ever imagined that our vote, our Black vote would make such a difference in this country that will elect a Black man to the presidency in 2008 when Barack Obama made history.
Also…
Mayor Richard C. Irvin and the City of Aurora congratulate President Joe Biden and Vice President Kamala Harris on their historic election and empowering inauguration ceremony today. #POTUS #VPOTUS #UnitedStatesofAmerica pic.twitter.com/fph2V8ouQ8

— City of Aurora, IL (@CityofAuroraIL) January 20, 2021
Again, none of this means anything if it ain't on the air.
…Adding… Prompted by a commenter, I looked up Operation Chaos. According to Wikipedia, Limbaugh launched the program in late February of 2008. The 2008 Illinois primary was on Feb. 5. So, Bailey's explanation may not actually be true.
32 Comments































































































Sorry, comments for this post are now closed.