Unless both sides can reach an agreement before May 19, voters will get to decide in a June 28 referendum which map will become the city's new ward boundaries — the one proposed by the Black caucus or the offer from the Latino caucus. A remap needs 41 votes to become law, and neither side likely has enough votes. We have always thought that letting voters decide is the best route to take, especially since Chicagoans are the one group routinely shut out of the remap process.

There's a hitch, however, to the potential for a referendum.

Both the Black and Latino caucuses have submitted their versions of a remap for placement on the June 28 referendum ballot. But the Latino caucus now wants to submit a new and improved map for the ballot. The caucus has teamed up with Change Illinois, a civic advocacy group behind an advisory redistricting commission that crafted its own map. That document, known as the "People's Map," has merit because it was produced with the input of voters — the same voters that City Hall has ignored during remap talks.Like Change Illinois, members of the Latino caucus believe the process is fairer when it includes citizen input.

But 15 aldermen with the Latino caucus already signed onto putting their original map on the referendum ballot. The Black caucus map has been signed by 33 aldermen. Aldermen can only sign onto one map. A minimum of 10 aldermen are needed to put a map on the ballot, which makes it impossible for the Latino caucus to swap out its old map for a new "People's Map."

Change Illinois leaders tell us there is a wonky workaround, though. If at least 26 of the council's 50 aldermen vote to approve one of the maps, then the whole process starts anew and each caucus can revamp their maps and resubmit them for placement on the ballot. A vote of 41 or more for a map would negate the need for a referendum, but given how far apart both sides have been, that's not likely.
Considering how the reformers have been bad-mouthing the majority with "Because Madigan!" insults, I'm kinda thinking that the majority is probably in no mood to cooperate. But, hey, we'll see.
*** UPDATE *** Like I said, the city council majority ain't exactly happy right now. Check out their new mailers…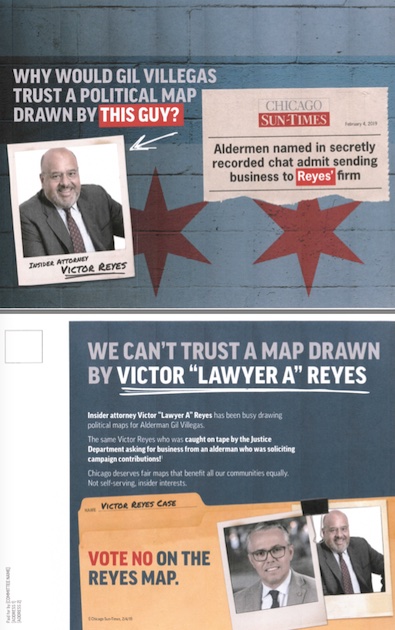 Oof.
30 Comments

























































































Sorry, comments for this post are now closed.