* April 14…
The Midcontinent Independent System Operator (MISO) released the results of its 2022-2023 annual Planning Resource Auction (PRA) indicating capacity shortfalls in both the north and central regions of MISO. This encompasses parts of 11 states in the Midwest. MISO remains committed to continue its work with members and state regulators to maintain grid reliability across the entire 15-state MISO footprint.

"We have anticipated challenges due to the changing energy landscape and have communicated our concerns through the Reliability Imperative. We have prepared for and projected resource fleet transformation, but these results underscore that more attention is required to offset the rate of acceleration," said MISO Chief Executive Officer John Bear. "These results do not undermine our ability to meet the immediate needs of the system, but they do highlight the need for more capacity flexibility to reliably generate and manage uncertainty during this transition."

The Local Clearing Requirement – capacity required from within each zone – was met for the entire MISO Region, but Zones 1-7 cleared at the Cost of New Entry (CONE).

• Zones 1-7 (parts of Illinois, Indiana, Iowa, Kentucky, Michigan, Minnesota, Missouri, Montana, North Dakota, South Dakota and Wisconsin) all cleared at $236.66/MW-day.
• Zones 8-10 (parts of Arkansas, Louisiana, Mississippi and Texas) cleared at $2.88/MW-day.

Load Serving Entities (LSEs) that entered the MISO auction without enough owned or contracted capacity to cover their requirement (load plus reserves) will pay these prices for the amount of capacity they are 'short'. The cost impact to consumers of those LSEs with a shortfall will depend on the amount they are short and the LSE's retail rate arrangement with their state regulator. LSEs that entered the auction with sufficient capacity to cover their requirement will not need to purchase capacity at these prices.

"The reality for the zones that do not have sufficient generation to cover their load plus their required reserves is that they will have increased risk of temporary, controlled outages to maintain system reliability," said Clair Moeller, MISO's president and chief operating officer. "From a consumer perspective, those zones may also face higher costs to procure power when it is scarce."
Emphasis added.
* Steve Daniels last week…
Carmel, Ind.-based Midcontinent Independent System Operator, or MISO, the regional power grid overseer for much of the Midwest, including downstate Illinois, warned last week that rolling blackouts are possible this summer because of a shortage of power-generation capacity. […]

Critics of policies phasing out coal and natural gas in favor of renewable power are seeing their doomsday forecasts start to come true far faster than even they thought. The price shock downstate also hands Republicans who didn't support Gov. J.B. Pritzker's sprawling, costly Climate & Equitable Jobs Act, or CEJA, last year an issue in the upcoming election.

The statute requires the closure of all fossil fuel power plants in Illinois no later than 2045. Effectively, it's made the usual method of addressing power-supply shortages—construction of new natural gas-fired plants—uneconomic and significantly reduced the tools available to address the shortage that's emerged. […]

"Currently, we are confident that our delivery system is stable and reliable and power will be there when it is needed this summer," spokeswoman Marcelyn Love said in an email. But, she added, "Even hearing MISO's president suggest the possibility of having to shed load is a serious concern."
* Richard Irvin campaign last Thursday…
The cost of living in Illinois is again about to get higher for residents thanks to Governor Pritzker's ComEd bailout bill which passed last year.

In a notice to consumers this week, Ameren Illinois, one of the state's leading energy providers, warned consumers to expect to see their yearly energy bills rise by as much as $500. In addition to the price hike, consumers may also face rolling brownouts during the hottest days of summer due to a shortage of power-generation capacity driven by Pritzker's energy law.

J.B. Pritzker pushed a radical total phase-out of fossil fuel power plants with massive spending and facility closures to begin over the next few years. Now, residents in Central and Southern Illinois are going to pay the price for Pritzker's misplaced priorities with the possibility of no power at all this summer.

The rapid closure of coal-fired power plants in favor of less-reliable renewable energy sources has made the Midwest's energy grid less resilient. Ameren shared this concern with Pritzker during negotiations for the 2021 energy bill, instead recommending a steadier transition to renewable generation. Industry experts warn that while Central and Southern Illinois customers are most at risk this summer, if a prolonged power shortage occurs it could affect future supplies in the Chicago market.

"J.B. Pritzker ignored countless warnings from lawmakers, businesses, and energy providers themselves; now consumers are living out the worst case scenario," said Irvin for Illinois Spokesperson Eleni Demertzis. "Pritzker's radical agenda keeps hurting the people of Illinois. Crime is out of control because of his anti-police, pro-criminal policies. Now struggling families will suffer even more because of his radical energy agenda."
* From Jordan Abudayyeh in the governor's office…
The market had already sealed the fate of coal long before the passage of CEJA, with nearly all announced retirements coming in advance of final action. New gas build was not prohibited by CEJA, and the ability of gas plants to stay online until 2045 without reaching zero emissions was a legislative concession to gas-fired investors who insisted they could make the economics work and transition to clean hydrogen in the out years. Some of those projects are in the permitting process currently.

No new gas plant could help with the current MISO projection; the permitting and construction of such a new plant would take many years - the buildout of new renewables, including Illinois' innovative coal-to-solar program, could have a speedier impact. MISO may also consider accelerating the interconnection cue for new renewables, which would also be faster to market.

–
Background:

• MISO is much bigger than just Illinois. There are coal retirements throughout MISO, and even if CEJA were limiting new gas buildout, CEJA isn't influencing that in other states.
• Many providers hedge to protect against price fluctuations. Anticipated costs in Michigan a couple of years ago (which were larger than the current MISO projections) didn't come to fruition for the vast majority of Michigan MISO customers because of hedging
• MISO and SPP could work together to do enhance power flows between their RTOs. That would help in the short term, as well.
* Illinois Environmental Council…
"The irony of dirty, expensive fossil fuel generators and their allies issuing outdated, hyperbolic warnings on the eve of Earth Day borders on the ridiculous. These are the same old talking points we hear from fossil fuel special interests who aren't honest with the people of Illinois that fossil fuels were already too dirty and expensive to compete. Frankly, it's a tired playbook that voters and the General Assembly have already rejected.

"Coal plants were retiring before Governor Pritzker and the General Assembly moved proactively to ensure a healthy and prosperous future for Illinoisans when they passed the Climate and Equitable Jobs Act, a comprehensive short- and long-term plan to replace dirty, expensive gas and coal with a cleaner, less expensive, more reliable energy sector that will create thousands of clean energy jobs and save lives."
The IEC also noted that "all MISO states in the Midwest are seeing the same price impacts"…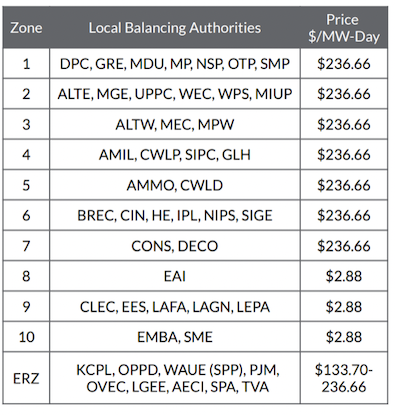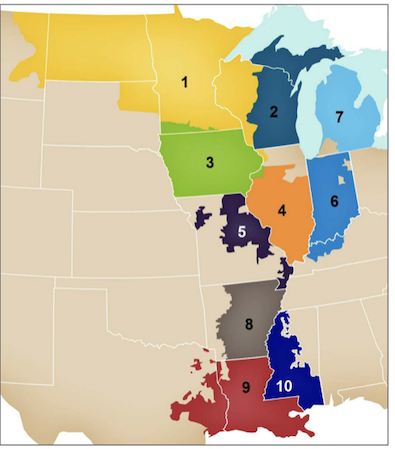 37 Comments














































































































Sorry, comments for this post are now closed.