* Just so we're clear, somebody other than the pollster and the client leaked me this internal tracking poll today. I'm not sure how this person obtained it, and I didn't ask. We'll get to the strong caveats in a moment…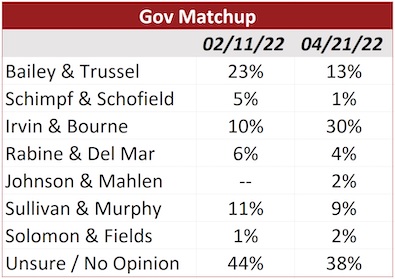 The first takeaway is that spending lots of money works, particularly if it's spent well, as the Irvin campaign is doing.
Just keep in mind that these were automated landline polls done on the cheap and for internal use only. No mobile phones. No text or online contacts.
The polls were not meant for public consumption, but since I had the results, Cor Strategies and its client decided to confirm their existence.
* Details from the pollster…
Universe: Likely Republican Primary Voters
Field Dates: Monday, April 18 - Thursday, April 21
Method: IVR (automated)
Responses: 536
MoE: ±4.23%
Discuss.
43 Comments
































































































































Sorry, comments for this post are now closed.