* SJ-R…
Awake Illinois, a right-leaning political organization focused on education, is attracting some candidates for office in Illinois to sign a pledge promising support for, among other things, school choice, requiring schools to provide parents with annual reports about schools' curriculum and prohibiting schools from teaching about consent, sexual orientation or gender identity.

"Not only do we stand beside you completely, I look forward to working with you once elected as governor to work to begin to rescind the nonsense," said gubernatorial candidate state Sen. Darren Bailey, R-Xenia, at a virtual event hosted by Awake Illinois on Sunday. […]

"Our way of life is under attack," said Bailey in that virtual event with the group's president and founder, Shannon Adcock. […]

Illinois allows parents to opt their students out of sexual health education classes, according to [Brigid Leahy, vice president of public policy at Planned Parenthood Illinois Action]. In addition to the opt-out, SB 818 also requires that schools provide parents with an opportunity to review the sex education curriculum to be used at their children's schools.
* The prohibition against teaching "inaccurate and false history" is kind of a tell…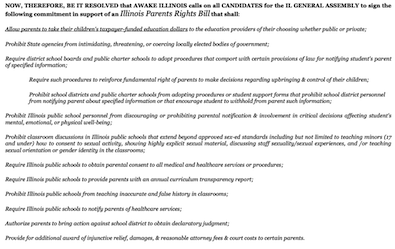 Nice bit about lawyer fees, too. Tom DeVore has also signed on. Click the pic for a better view.
Thoughts?
38 Comments

















































































































Sorry, comments for this post are now closed.