* Didn't somebody tell us this week that Sen. Darren Bailey was supposed to have a sitdown with former President Donald Trump yesterday? Well, Bailey hasn't yet posted anything online, including any pics. People did post a few from the Mary Miller endorsement event at Mar-a-Lago, including this one from a few rows back…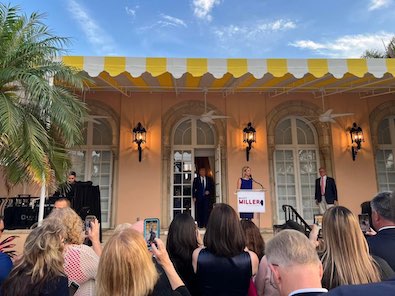 Looks like I had better seats at the Wilco show. Alas, I didn't get a sit-down with Jeff Tweedy, either. But I didn't try. Stay tuned, I suppose.
* Equality Illinois' 2022 primary endorsement list is out today and, so far, the group is staying out of the Democratic race for secretary of state. Planned Parenthood Illinois Action endorsed Anna Valencia earlier this week.
* Casten…
Today, U.S. Congressman Sean Casten (D-IL) released his first digital ads of the cycle. The ads will run on Facebook, Google, YouTube, and Hulu through Election Day as part of a six-figure digital buy. They are the first in a series of digital ads the campaign will run to highlight Rep. Casten's work to lower costs for families, fight climate change, and protect a woman's right to choose.

You can watch the first ad, "Prices", here.

You can watch the second ad, "Moment", here.

You can watch the third ad, "Worry", here.

You can watch the fourth ad, "Marcie, here.
* Levin dropped out of this race earlier in the week…
I'm proud to endorse @eileendordek to be the next State Representative of the 13th District. I trust that Eileen will fight for the issues that matter most to our community–protecting the right to choice, addressing climate change, and working to ensure housing affordability.

— Becky Levin (she/her) (@BeckyForRep) April 27, 2022
Speaking of Dordek…
For State House District 13, where LGBTQ+ champion House Majority Leader Greg Harris is retiring, Equality Illinois endorsed out LGBTQ+ candidate Fernando "Sergio" Mojica and super-ally Eileen Dordek.
Planned Parenthood Illinois Action endorsed Dordek as well.
* WHOI…
The press team for GOP gubernatorial candidate Richard Irvin has responded to our requests for comment as to why he wasn't present during the forum Monday night in Washington.

The Central Illinois 2022 Republicans Gubernatorial Candidate Forum distributed six invitations to remaining candidates, including Senator Darren Bailey, businessman Gary Rabine, state Senator Paul Schimpf, attorney Max Solomon, and businessman Jesse Sullivan. All were in attendance at the event except for Irvin.

In an email, Irvin campaign member Eleni Demertzis says the candidate had a "prior commitment" that evening, adding in a statement:

"As a former prosecutor who put violent criminals behind bars, a mayor who cut spending to lower taxes and the only Republican candidate for governor to take on Mike Madigan and win, Mayor Irvin looks forward to sharing the stage with his opponents which will prove he is the best candidate to roll back the crime, corruption and high taxes we've seen under J.B. Pritzker."
Bailey ain't buying it…
He had a "prior commitment" every time they were presented with a date for this forum and several others. He's hiding in his basement & afraid to debate because he hasn't learned his GOP talking points yet. Irvin is a liberal, a liar, and has no business in a GOP Primary. #twill https://t.co/ZxFHxvONZV

— Darren Bailey for Governor (@DarrenBaileyIL) April 26, 2022
* Two press releases from the Gary Rabine campaign…
"The Schaumburg Township Republican Organization (STRO) has announced its endorsed candidates for the June 28 Republican primary. Chairman Joe Folisi said "We are very pleased to announce that STRO has endorsed Gary Rabine and Aaron DelMar for governor and lieutenant governor, Kathy Salvi for United States Senator and Dan Brady for Secretary of state. These individuals are of high caliber and will serve Illinois well once elected."

"Continuing the strong momentum gained over the last couple of weeks, we picked up another township endorsement last night. The Republican Organization of Elk Grove Township endorsed my campaign because I am the conservative candidate that can beat JB Pritzker in November. Thank you to all the members of the Republican Organization of Elk Grove Township for all the hard work they do for Republican candidates every day."
…Adding… CD17…
Today, Jonathan Logemann, Democratic candidate for Illinois' 17th Congressional District, announced the endorsement of Rockford Mayor Tom McNamara. Mayor McNamara and Alderman Logemann have served Rockford since 2017 in their respective roles and have worked hand-in-hand to improve their local neighborhoods and strengthen the Rockford region's economy.
11 Comments
































Sorry, comments for this post are now closed.