* Patrick Smith at WBEZ…
A new study from University of Chicago researchers raises questions about what exactly has driven the recent surge in carjackings in the city.

Chicago police officials have repeatedly laid the blame at the feet of the city's young people, saying the violent car thefts are motivated by kids seeking joyrides or looking for a vehicle to use in other crimes. […]

In press conferences over the last 18 months, Chicago Police Superintendent David Brown has highlighted the extremely young age of some of the alleged carjackers they've arrested and called for a combination of more services and more "accountability" for young people as a way to stem the tide of carjackings.

At a March 10, 2021 news conference, Brown said the No. 1 motivation for carjackings was joyriding.

"It's a shame that you'll hold a gun to someone's head just to joyride, but that seems to be what our young people are doing that we're capturing," Brown said.
The problem is that CPD is only catching a small percentage of carjackers (15 percent in 2020, for instance), and apparently most of those are joyriding young people.
* But Professor Robert Vargas, director of the UChicago Justice Project, saw something interesting in the data. From his study…
If youth joyrides have, in fact, been driving the carjacking spike, then one would expect most cars to be recovered as the point of a joyride is to drive the car and not sell it.
As it turns out, less than 20 percent of carjacked autos are recovered each year. Lately, it's been closer to 10 percent. And as carjackings have risen, the percentage of recovered autos has decreased…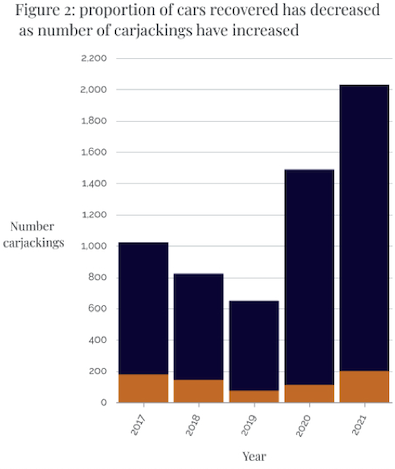 * Back to the study…
If the majority of carjacking incidents are cases of youth seeking joyrides, these data indicate that something more is happening. Either these cars are being sold for profit, or carjacking offenders are really good at hiding vehicles after their joyride. Figure 3 is a time series graph that attempts to test alternative explanations for changes in carjacking from 2017-2021. One hypothesis put forward by the Chicago Police Department has been that its carjacking taskforce contributed to a decline in carjackings. Another hypothesis is that the stimulus checks dispersed through the COVID relief bill may have reduced economic incentives for carjacking. Figure 3 illustrates no evidence to support either of these alternative explanations, as the timing of the stimulus checks and implementation of the carjacking task force had no visible impact on carjacking trends.
Figure 3 does appear to show that the joyriding (but not carjackings) may have peaked during the early months of 2021…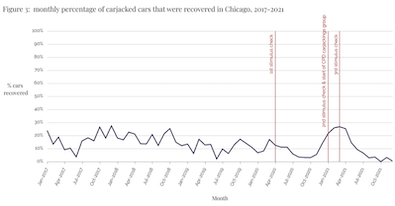 * Professor Vargas' conclusion…
These findings are important for several reasons. The percent of recovered vehicles can shed light on the scale at which carjacking may be motivated by economics. As a panel on carjacking organized by Senator Dick Durbin made clear, carjacking is linked to the informal economy and fueled (in part) by the soaring price of used cars brought on by COVID-19 related supply chain issues (Vinicky 2022). Cars are not only stripped for parts and sold, they are also sold out of state. More information is needed to shed light on what is happening to the cars that are not getting recovered.

It is worth noting a few limitations of our analysis. Just because only 20% of carjacked vehicles are recovered, does not mean that all of those cars have been sold in the informal economy. Some may have been abandoned and never found. Others may be sitting on an impound lot. The best source of information to clarify these issues would be car insurance companies whose claims data can bring greater clarity on what happened to each of these vehicles. Our efforts to reach out to Chicago's largest private car insurance providers for these data have gone without response.
Vargas also rightly complained that this data should be more widely available to the public. "It should not take a FOIA request and over a year's worth of time to get an answer to a simple question about carjacking," he wrote.
* From the referenced WTTW story above…
With demand high and supply low for used cars, criminals can make a profit from stolen vehicles.

"Cars are being stolen here in the United States. There's VIN swaps that are utilized to resell the vehicles so they're not known that they are stolen. They're shipped overseas, Middle East criminal enterprises," said David Glawe, president of the National Insurance Crime Bureau. "And then cars are also shipped to Mexico. We repatriate hundreds of cars a year…after they're stolen."

Perpetrators may be looking for an anonymous car to use in another crime, like a drive-by shooting.

Cook County Sheriff Tom Dart points to that as a common motive.
If criminals were only looking for cars to use in another crime, you'd think the police would find lots more of those cars than they are.


Click here to help buy presents for LSSI foster kids!
49 Comments


















































































































































Sorry, comments for this post are now closed.