* NBC 5…
NBC 5 and Telemundo Chicago are partnering with the Chicago Urban League, The Latino Policy Forum and the Union League Club of Chicago to host a televised forum for Republican candidates vying for the party's nomination to challenge Gov. J.B. Pritzker in the 2022 election.

The one-hour forum will take place on Tuesday, May 24 at 6 p.m., and will be hosted at NBC Tower.

NBC 5 Political Reporter Mary Ann Ahern will moderate the forum, and Telemundo Chicago anchor Anabel Monge will take questions from a live-studio audience for the roundtable-format event.

"We are pleased to host the Republican candidates for Illinois governor in this forum," NBC 5 Station Manager and Vice President of News Frank Whittaker said in a statement. "We're committed to providing our community with unmatched political coverage."

Aurora Mayor Richard Irvin has announced that he will participate in the forum.
* Trouble is, Darren Bailey and Jesse Sullivan both committed to doing a WGN-hosted debate the same evening. And Irvin may only do one debate. Bailey's campaign spokesperson sent me this exchange with NBC 5's political reporter…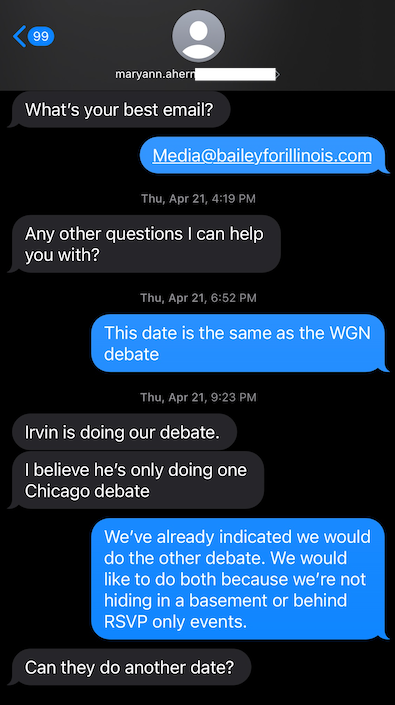 * Team Bailey is not happy and they unfairly took it out on MAA…
Bailey responds. He's sticking with the WGN debate and turning down the NBC5 offer https://t.co/00qse5yccn pic.twitter.com/tpt7kNmdWB

— Rich Miller (@capitolfax) April 29, 2022
Either way, one or both of these TV stations needs to change their debate dates to avoid being used as pawns by the campaigns. Also, one Chicago debate is ridic.
24 Comments







































































Sorry, comments for this post are now closed.