* Dan Proft's new PAC has a new TV ad…
What kind of Republican says he supports Black Lives Matter strongly and passionately?

The kind of Republican who voted Democrat in seven of the last eight primaries.

The kind of Republican who says this about JB Pritzker: 'It is my honor to bring to the podium a great friend and a great leader who has guided our state with professionalism and compassion.'

You know who you call Richard Irvin? You call him 'a Democrat.' In the Republican primary, vote for, you know, a Republican. Vote 'No' on Democrat Richard Irvin
But the Irvin campaign is claiming that their media tracking shows Proft's new PAC, perhaps ironically called People Who Play by the Rules, has spent $2,473,131 so far on broadcast TV, cable and radio ads while only claiming to have raised $1 million.
Hmm.
I sent Proft an email asking for comment.
*** UPDATE *** From Proft…
Clerical error. Received $2.55M from Dick Uihlein on April 20. Should've been reported accordingly. Thought it was. The person who keeps my books made a reporting mistake online. He is on the phone with the State Board of Elections now to notify them of our mistake and correct it. Our bad.
* Sun-Times…
Gov. J.B. Pritzker and the Democratic Party will host a high dollar fundraising reception with President Joe Biden in Chicago on Wednesday evening, with the top ticket price $365,000, the Sun-Times has learned. […]

The White House also said Biden will attend a Democratic National Committee fundraiser while in Chicago. The Sun-Times obtained a copy of the invitation and the price levels:

*$365,000 to be a "sponsor."

*$250,000 to be a "leader."

*$100,000 to be a "supporter."

These top three levels get a donor into a small meeting — called a "clutch" in fundraising — with Biden plus a photo.
A pic for a ticket is standard in politics. For instance, the going rate for a photo with former President Trump at US Rep. Mary Miller's recent fundraiser was $25,000…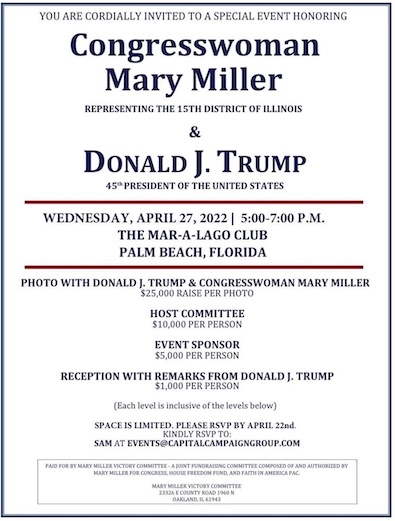 Hmm…
* In other news…
The Winnebago County GOP is calling for their chairman Eli Nicolosi to resign from his position.

Precinct Captain for the Winnebago County Republican Central Committee (WCRCC) Austin Davies told 13 Investigates that Nicolosi was not conducting meetings properly with the organization's bylaws.

Davies has also expressed concern over an order of protection that was filed against Nicolosi in April, which was later withdrawn on May 4.

"We think it's important at this time to let the public know that Eli does not represent us based on these new allegations by his wife, by his conduct over the last couple years of his chairmanship and his unwillingness to meet with those that are concerned," Davies said. […]

Nicolosi is currently running for state senate in the 35th district against incumbent Dave Syverson.
* Stolen hunter valor? /s…
According to the Illinois Department of Natural Resources, Jesse Reising does not have a hunting license. That didn't stop him from wearing camo and hunter orange in campaign videos.

The GOP Congressional candidate explains the photo shoot here:https://t.co/YbxGdUDxaK

— Mark Maxwell (@MarkMaxwellTV) May 9, 2022
From the story…
However, according to FOIA documents from the Illinois Department of Natural Resources obtained by 5 On Your Side, Reising does not have a hunting license in Illinois. He acknowledged as much during a recent interview.

"Right. No, I don't," he said. "I haven't hunted since I was a young kid."

Illinois state law allows 15- to 18-year-old teenagers to hunt with a provisional license if they have a licensed adult hunter accompanying them.

A spokeswoman for the Democratic Congressional Campaign Committee gave a statement on the campaign tactic.

"Already Chicago lawyer Jesse Reising is running a dishonest campaign," Elena Kuhn with the Democratic Congressional Campaign Committee said in a statement. "Reising has made clear he's not up for the job."

Reising says portraying himself as a hunter is fair game because he used to go hunting years ago.
* Politico…
Firefighter Eric Mattson, who's running to represent the 43rd state Senate seat that's been held by former Sen. John O'Connor, was appointed to the seat over the weekend.

How convenient: The move was designed to give Matson an edge in the June primary over Democrat Rachel Ventura, a Will County board member who's also running for the seat. O'Connor stepped down a month ago to care for a family member. […]

Insiders have worried that Mattson, a moderate Dem with establishment support, will have a tough time against Ventura, a progressive who ran for Congress in 2020 and has higher name recognition.
Local unions are also almost entirely opposed to Ventura.
* Another appointment is coming for the Supreme Court that so far has not been covered like the appointment above…
For nearly five decades, Justice Rita Garman has been a judge in central Illinois. Effective July 7, the sitting justice of the Illinois Supreme Court will retire.

"This is the right time for me to step back from my public role and allow someone else to assume this all-important position," Garman wrote in an open letter on Monday. [scroll all the way to the end…]

In the short term, Garman will be replaced by a judge appointed by the state Supreme Court. Her seat will then be filled in the 2024 election cycle, according to Matt Dietrich, a spokesperson for the state board of elections.

There are two seats up for election on the state's highest court in the 2022 cycle. The partisan elections are for the Second District, which covers the northern suburbs of Chicago outside of Cook County, and Third District, which covers the southern and western suburbs outside of Cook County.
* More…
* With abortion rights moving to the fore, suburban women voters in Illinois are key in race for governor

* Chicago mayor's race 2023 lineup: Who is in, who is out, who is undecided
23 Comments »




































































This is not Facebook, so uncivil comments, profanity of any kind, rumors and anonymous commenters will not be tolerated and will likely result in banishment.