* WGN's Tahman Bradley…
Last Saturday in Chicago's Millennium Park, a 16-year-old boy was fatally shot prompting Chicago Mayor Lori Lightfoot to impose a curfew on unaccompanied minors.

WGN News asked: "If your 19-year-old and your 17-year-old called you up and said, 'Hey dad, we want to hang out at the Bean on a Saturday night,' would you be comfortable with them doing that?"

"Well, certainly watching what happened, the traffic, the death 16-year-old in that area gives one pause," Pritzker said. "It is the responsibility of local law enforcement to do everything that they can to protect their downtown areas – that's not just in Chicago, that's in Rockford, it's in Quincy, it's in Carbondale, everywhere in the state."

The fiscal year 2023 budget includes $1.4 billion to reduce crime and violence.
* Pritzker was also asked about that shooting and the mayor's curfew order earlier in the week…
I've had the Illinois State Police reach out to the city and to the CPD to make sure that we're offering every available service that we have, from the state level, including state troopers if necessary. And so that's always available, but we just wanted to double down and make sure that they know, in any moment, particularly if there's a crisis that's happening in any given hour, we have state police on the front lines available to assist.

And of course, it's up to each city, they are on the frontlines to do what is necessary to keep order. And to this, I just want to say these killings, particularly of young people, but any sort are just horrific for everybody that lives in Chicago and everybody that lives in Illinois. And so local police have to get their arms around this. We are providing at the state level significant support in other ways, including state police. But I also want to say, violence prevention programs, we put tens of millions of dollars into youth employment programs and making sure that we're providing services for youth for the entire summer, but also all year long. And so those services are critically important to employ. We want to make sure that those dollars are being used properly. But suffice to say that the state's engagement in this is significant.
* Also today, the governor signed a bill outlawing ghost guns…
Governor JB Pritzker signed HB4383 into law, banning the sale and possession of so-called 'ghost guns' statewide. 'Ghost guns' refer to unserialized, privately made firearms that are often sold as a set of parts to be assembled at home, allowing prohibited purchasers to circumvent background checks. Ghost guns cannot be traced by conventional means and can be created on a 3-D printer, leaving no record of their ownership.

"The people creating, selling, and purchasing these firearms know that they're working to circumvent common-sense gun laws that ensure guns stay out of the hands of traffickers, abusers, and convicted criminals," said Governor JB Pritzker. "We are seeing these unseralized guns being built in basements by those who should never have had access to such dangerous weapons and then used to commit heinous crimes, and it must be stopped to keep Illinoisans safe."

Illinois is a trailblazer the fight against ghost guns. President Joe Biden's Bureau of Alcohol, Tobacco, Firearms, and Explosives has focused on ghost guns since taking office, recognizing the unprecedented threat these unregulated weapons pose. President Biden's administration has taken similar steps to Illinois on the national level to reign in ghost guns, requiring serialization and reclassifying these build kits as firearms.

Because ghost guns are cheaper and easier to acquire than conventional firearms, they are more accessible to young people. Already in May of 2022, at least two Illinois teenagers were charged with possession of ghost guns, including one case where a loaded ghost gun was brought to a high school. ISP has worked on 28 cases concerning ghost guns in May of 2022 alone. Using the increased expressway cameras installed under Governor Pritzker, State Police recently brought into custody and arrested individuals associated in connection with multiple armed carjackings who used ghost guns to commit these crimes.
* Chicago police recovered a ghost gun after that Millennium Park shooting incident…
A second male, whose age was not listed in the police report, also was "observed in close proximity to (the 17-year-old) at the time of his arrest." He also was seen pulling a gun from his waistband, but the police report notes he only took out the weapon after Holliday had been shot. When he saw officers coming toward him he also took off running, the report said, but he was stopped and detained after a brief foot chase.

The gun the second male pulled from his waistband was a ghost gun, meaning it does not have a serial number and can't be traced, according to the report. It was not immediately clear whether police had filed charges against the male with the ghost gun.
* Saying the locals have to step up more may be partly why Lori Lightfoot elbowed her way in today…
Mayor Lori Lightfoot is crashing the governor's news conference at St Sabina where he is signing a ghost gun bill that Kam Buckner — one of her opponents — pushed. It is not on her public schedule.

— Gregory Pratt (@royalpratt) May 18, 2022
More likely, though, it was because the bill's sponsor Rep. Kam Buckner was being featured. Buckner is running for mayor and Lightfoot never so much as mentioned his name when she spoke and then maneuvered him to the side of the photo op during the bill-signing…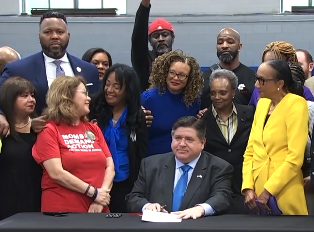 All class.
33 Comments


































































































Sorry, comments for this post are now closed.