* Derrick Blakley…
In the 2018 elections, 53% of the Illinois statewide vote came from women, with 28% of the total votes cast from suburban women.

"It's white suburban women who need to take this issue very, very seriously when they cast a ballot. Which means them, their friends, their daughters their nieces and everyone else," said Terry Cosgrove, executive director of Personal PAC, which supports pro-choice candidates.

Both sides in the abortion debate are using the prospect of overturning Roe v. Wade as a rallying cry for their voters.

"For those of us who are pro-life in Illinois, I think its a two-fold reaction," said Mary Malone Rumley of Illinois Right to Life. "We're absolutely thrilled that it's looking like Roe is finally going to be overturned after 50 years. But we also know that this will impact Illinois greatly. We know that there are plenty on the pro-choice side who would like to see Illinois become an abortion oasis for the entire Midwest."
* Dean Olsen…
The final Supreme Court decision is expected before the Nov. 8 general election. [Kent Redfield, emeritus professor of political science at University of Illinois Springfield] said the abortion debate could further energize a Republican base that generally supports abortion restrictions and is capitalizing on voter frustration with President Joe Biden and inflation.

Democratic politicians, whose base isn't as enthusiastic, have more to gain if Roe falls and pro-choice voters want to prevent restrictions on abortion at the state and federal level, Redfield said.

In Illinois, where Democrats control state government, concern about preserving abortion rights could mitigate voters' concerns about crime, he said.

"It will have a more positive effect overall, and it will affect Democratic turnout," he said. "This is something that motivates younger voters, who are more likely to be pro-choice."
* Michele Munz…
Vice President Kamala Harris met Thursday with abortion providers from some of the most restrictive states in the country, including Missouri, to learn how the Biden administration can help protect access to abortion amid a looming U.S. Supreme Court decision that could end the constitutional right to the procedure. […]

The St. Louis region is unique in that it straddles the two states — Republican-led Missouri, which has moved to restrict abortion access, and Democrat-led Illinois, which has worked to expand access.

Planned Parenthood of the St. Louis Region in 2019 opened an abortion clinic in Fairview Heights — just 15 minutes from its Missouri clinic. Over the years, the St. Louis clinic has become the only abortion provider in Missouri.

Since the Fairview Heights facility opened, abortions have become nearly nonexistent in Missouri. Patients can drive a bit farther to Illinois and avoid Missouri's 72-hour mandatory waiting period, which requires two appointments three days apart for those seeking an abortion.
* Sarah Fentem…
At the Hope Clinic for Women in Granite City, the day starts early. Before the doors open at 7:30 a.m., clinic escorts and protesters take positions on opposite ends of the parking lot.

"You'll remember this for the rest of your life!" one of the protesters shouts at the escorts. "Is it glorious to you [that] you're participating in the death and destruction of babies?"

The escorts, volunteers from the activist group Pro-Choice Missouri, have started seeing a lot of patients who have traveled far to get to the Metro East clinic.

"I can see a Mississippi plate behind you right now," escort Justine Collum said. Like the others, she's clad in a rainbow vest and sometimes carries a large umbrella to shield patients from view."

"I would say we've been seeing a lot of out-of-state plates lately," she said. "There always have been some. But I would say it's been an increase."

Between 2014 and 2020, the state saw a more than 200% rise in abortion patients coming from out of state, a total of more than 9,000 abortions, according to data from the Illinois Department of Public Health.

In 2020, about two-thirds of those patients came from Missouri. They also come from other states that have also increased abortion restrictions in the past decade.
* Planned Parenthood press release…
Planned Parenthood of Illinois (PPIL) is proud to offer abortion pills through the mail to qualifying patients with an Illinois address. The FDA permanently removed in-person dispensing requirement for Mifepristone, also known as the abortion pill, in December 2021, allowing PPIL to launch this new program. With the Supreme Court expected to dismantle the legal protections afforded by Roe v. Wade this summer, this service is one more way PPIL is advancing health equity, breaking down unnecessary barriers to health care, and expanding access to underserved areas of the state.

"Now more than ever it's crucial that our patients can access the care they need, when and where they need it," said Dr. Amy Whitaker, Chief Medical Officer for PPIL. "There are over 20 years of data demonstrating the safety and effectiveness of medication abortion using Mifepristone. Not only is this a safe method, but it also increases access to care, especially for people of color, people living in rural areas, and people with low incomes who already face barriers to care."

PPIL has been offering medication abortion via telehealth since 2021, however, patients needed to visit a physical health center to pick up the prescription. Starting mid-April 2022, patients can have the medication mailed to an Illinois address after they meet with a clinician via telehealth to determine whether they qualify. Mailing prescriptions directly to qualifying patients allows PPIL to expand capacity for patients who still require in-person services and for those who are forced to travel here from other states.

Out-of-state patients can still access medication abortion via telehealth, as long as they are traveling to Illinois for their video visit. They can then pick-up the medication in person at a PPIL health center.
* And Jesse Sullivan is fully embracing the abortion issue. Click the pic for a larger image…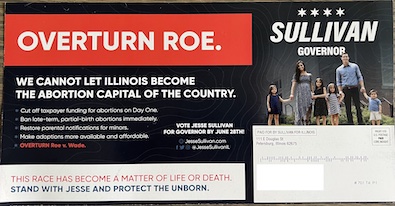 * Related…
* Illinois rejoins federal Title X family planning program: Pritzker announced in August 2019, shortly after the policy took effect, that the state health department would no longer participate in the program while a number of other family planning service providers, including Planned Parenthood of Illinois and Aunt Martha's Health and Wellness, said they would not comply with the new requirements. For the rest of that fiscal year, the state health department used General Revenue Fund money to fill in what was previously paid for by the federal government. The following year, the agency expanded the program with $5.8 million to fund Planned Parenthood, which had previously gotten its Title X money on its own, and other providers that weren't previously part of the state's Title X program.
11 Comments
































Sorry, comments for this post are now closed.