* Press release…
As voting begins in the Democratic Primary in Illinois 6th Congressional District, new polling shows U.S. Congressman Sean Casten (D-IL) with a robust 9-point lead – prior to his campaign spending a single dollar on television advertisements.

Key highlights from the poll:

• Overall, Sean Casten has opened up a nine-point advantage over Marie Newman since January when the race was a dead heat.
• Casten leads Newman among progressives (+7), liberals (+11), and moderates/conservatives (+10).
• Casten is ahead of Newman with women (+5) and men (+14).
• Casten has a significant lead among voters citing abortion as their top issue (+15).

No information was provided about any candidate prior to the questions related to this data.
On behalf of Casten for Congress, the Garin-Hart-Yang Research Group conducted a district-wide telephone survey (including both cell and landline interviewing) among a representative cross section of 402 likely June 2022 Democratic primary voters. The survey was conducted May 12 to 16, 2022, and has an overall margin of error of ±4.9.
* This is hilarious…
Jeanne Ives chased Richard Irvin out the door: Ives, a conservative Republican who got thisclose to defeating Bruce Rauner in the GOP primary for governor four years ago, asks Irvin who he voted for president in 2016. Irvin stuck by his guns and wouldn't say. Ives can be heard chasing Irvin out the door for an answer. Via AM560 and Dan Proft, who is behind the "People Who Play By the Rules PAC" that opposes Irvin.
In the space of just a couple-two-three seconds, Irvin said a version of "Hold on a second" eight times while attempting to interrupt Ives.
Keep watching the video and you'll see Amy Jacobson describe how Irvin was "shucking and jiving" while attempting to avoid her.
* Speaking of Irvin…
Despite continuing to court Republican voters ahead of the June 28 primary election, Aurora Mayor Richard Irvin again refused to say whether he voted for former President Donald Trump in the 2016 and 2020 elections.

Irvin, considered a frontrunner for the Illinois GOP gubernatorial nomination, briefly met with reporters following a Saturday morning campaign event in Springfield. It was one of the final stops of a three-day, 16-event campaign swing across the state to promote early voting, which started Thursday.

Asked point blank whether he voted for Trump, who was GOP's presidential candidate in 2016 and 2020 and is widely considered the favorite to win the nomination in 2024 if he runs, Irvin deflected, saying that "in general elections, I'm a Republican. I always vote for Republicans."
And he avoided the question over and over again.
* From the same Richard Irvin who won't say if he voted for Trump…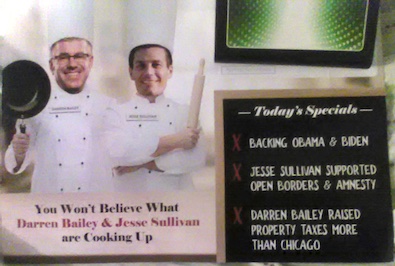 * But two can play that game…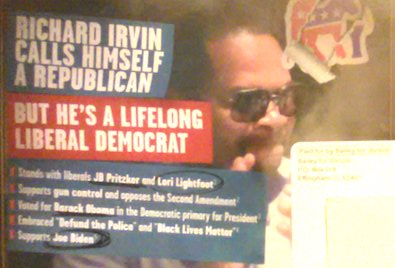 * "From left, GOP gubernatorial candidate Gary Rabine, retired Army Lt. Gen. Michael Flynn and GOP U.S. Senate candidate Bobby Piton take turns speaking Friday at a campaign fundraiser in Niles"…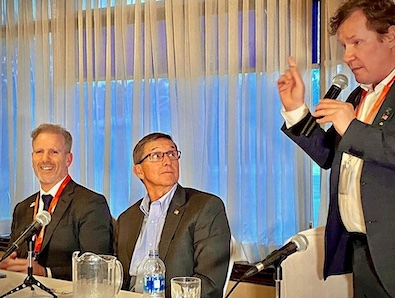 From the coverage…
The audience roundly applauded anyone who supported Trump, those who support a single day of voting, speakers who wanted laws banning critical race theory from being taught in schools, and any mention that 2020 election was fraudulent.
* Mary Miller…
Conservative Congresswoman Mary Miller received a perfect "A" rating from the National Rifle Association today, after previously receiving an "A" rating from Gun Owners of America for her perfect record of support for the Second Amendment.

Miller's opponent, RINO Rodney Davis, was scored lower by the NRA and Gun Owners of America because Rodney Davis has embraced "red-flag" gun confiscation and voted to allow the federal government to seize firearms from American citizens.

"I am honored to receive a perfect A rating from the National Rifle Association, and I will always defend the Second Amendment from Joe Biden and JB Pritzker," said Miller, who is a member of the House Second Amendment Caucus. "Some RINO Republicans like my opponent Rodney Davis have betrayed conservative voters by embracing red-flag gun confiscation and voting to allow the federal government to seize firearms. President Trump endorsed me because I will never back down under pressure from the liberal media or leftist politicians. I am 100% pro-Second Amendment, and I will always defend our right to keep and bear arms."

Mary Miller is the only member of Congress from Illinois in both the House Second Amendment Caucus and the House Freedom Caucus, where she has been a strong opponent of Joe Biden's efforts to ban firearms, seize firearms, and create a national gun registry.

Her opponent, RINO Rodney Davis, has been endorsed and funded by Joe Biden's major Super PAC, the United Union of Plumbers and Pipefitters, based on his liberal record supporting the Biden-Pelosi agenda. Rodney Davis has an "F" rating from the American Conservative Union and an "F" Liberty Score from the Conservative Review. You can read about RINO Rodney Davis' support for red-flag gun confiscation below:
Davis scored an A- from the NRA.
* From a longtime reader…
Hi Rich,

We've begun to wallpaper our newsroom with the mailers we get for Illinois Governor and the Miller-Davis race.

We recently got a mailer for an anti-Miller ad from The Governing Majority Fund attacking Miller's vote on [the National Defense Authorization Act].

I did some research on the Super-PAC sending out the mailer. They are based in Tampa, Florida. Nancy Watkins is the Treasurer for them. She seems to be a go-to CPA for Republican campaigns around the country.

Miller has been going after Rodney for not being Trumpy enough. Here's something interesting on Nancy Watkins' biography I found doing some googling online:

"Watkins' firm also oversees the legal defense fund for Roger Stone, the GOP strategist and Donald Trump confidante who was convicted on charges related to special counsel Robert Mueller's Russia investigation but was later pardoned by Trump."

Source: https://floridatrend500.com/professional-services/nancy-watkins/

Here's the Super PAC's profile on Open Secrets:

https://www.opensecrets.org/political-action-committees-pacs/governing-majority-fund/C00737411/summary/2020

This primary is going to be wild down to the finish.
More on that race here.
Democratic State Central Committeewoman Lauren Beth Gash (10th Congressional District) has been endorsed by 10th District Congressman Brad Schneider, Democratic Party of Illinois Chair Congresswoman Robin Kelly, and Congresswoman Jan Schakowsky for re-election to the Democratic State Central Committee. These Congressional leaders and more than 100 other prominent Democrats are supporting Gash because of her tireless dedication to electing Democrats in the 10th Congressional District and throughout Illinois.

Chair of the Democratic Party of Illinois Congresswoman Robin Kelly said of Lauren Beth Gash: "I know a true political organizer when I see one." That's only one of the reasons so many prominent Illinois Democrats in the 10th Congressional District and beyond have endorsed Lauren for re-election.
* More…
* Stacy Davis Gates becomes CTU president as leadership wins reelection: The incumbent leadership group, part of the Caucus of Rank-and-File Educators, also known as CORE, won 56% of the votes — CTU did not say how many ballots were cast. Members First, which called for the union to focus solely on basic working conditions for teachers, received 27%. The other challenger, the Respect, Educate, Advocate and Lead caucus, or REAL, got 17%.
21 Comments






























































Sorry, comments for this post are now closed.