* From Rick Pearson's profile of Richard Irvin…
But there is an early example of Irvin trying to be all things to everyone. It came in his successful 2017 run for the nonpartisan position of mayor of Aurora, through a pair of near identically designed mailings — one sent to Democrats and another sent to Republican households.

Each mailer is labeled, "The Choice is Yours" with the words appearing atop a donkey representing Democrats and an elephant representing Republicans.

In the mailer sent to Republicans, an arrow points to the donkey with the words, "Rick Guzman is endorsed by entrenched Chicago Democrats like Dick Durbin." The arrow pointing to the elephant says, "Richard C. Irvin is endorsed by Local Elected Officials who actually have a stake in Aurora's future."

The reverse side touts GOP endorsements he received and says, "The reasons are clear. Richard C. Irvin has a solid conservative record."

But in the mailer that went to Democrats, the arrow pointing to the elephant warns Guzman, a former mayoral chief of staff, is "endorsed by Tea Party Republicans." Under the donkey arrow appear the words: "Richard C. Irvin is endorsed by Local Elected Officials who actually have a stake in Aurora's future."

On the opposite side, appears a list of Democratic elected officials and groups supporting him for mayor — but there was no mention of his "solid conservative record."
…Adding… The latest Irvin campaign mailer…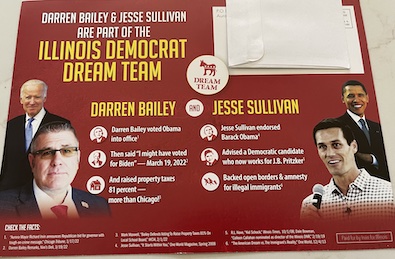 * Also, Irvin has now changed his story from March of 2020, when he claimed he had "spoken" with Gov. Pritzker. Now, he says he spoke to Pritzker's staff because Pritzker wouldn't return his calls.
When I asked, the governor's spokesperson said Pritzker called Irvin around March 12, 2020 to check in and see how it was going in Aurora and to say his office was monitoring the situation and working to keep people safe. Then, I was told, Pritzker called Irin to check in on him in April when Irvin tested positive for the virus. And Pritzker talked to him again around the middle of July. The governor called Irvin again on November 14 and got his voicemail, but Irvin called him back. Pritzker called again on Dec. 10 and got Irvin's voicemail. More documentation is here.
* But, to be fair, in the spring of 2020 just about everyone was on board the mitigation train. Even Darren Bailey was telling his Facebook followers on March 21 to stay safe...
Please just, just take this serious. I'm, as I compare what we're doing here in Illinois, and then I watched President Trump with many of his recommendations. We just we really need to take this serious so we don't get to the point where Italy and other countries are at. […]

We really need to take this serious so we don't get to the point where italy and other countries are at. […]

And you know, there is reason to be concerned. So I am satisfied with what the governor is doing as we watch what he is suggesting and compare that with what President Trump is doing.

I wanted to ask everyone to please stay home from church tomorrow. If your church is considering having services, please call your pastor and, and talk about it, you know. For the next few weeks, we need to take this serious.
And then in May of 2020, Bailey offered up his own mitigation plan, including for places of worship…
Places of Worship

All staff and worship leaders shall have temperature checks when arriving to work.
Occupancy allowed at 25% capacity ensure not less than six feet distance between attendees
Distancing between family members is at their discretion
Avoid contact with common items (items open to use by all attendees)
Disposable hymn handouts
Avoid physical contact between attendees
No greeters/No physical contact
No Offering Baskets passed among attendees
No waiting area
All surfaces touched by attendees shall be sanitized between each use
Continued Virtual worship is recommended
Self-Contained communion practices are acceptable
Organized dismissal should be implemented
…Adding… Irvin says in the article that his support for mitigations waned over time, but he declared a special day for Dr. Ezike when she was in Aurora this past October for a vaccine event.
46 Comments









































































































































Sorry, comments for this post are now closed.