* Robin Kelly's DPI reelection announcement…
Matteson, IL, May 31, 2022-Today, Rep. Robin Kelly announced she will run for re-election as Chair of the Democratic Party of Illinois.

"Today, I am honored and excited to announce I will be running for re-election as Chair of the Democratic Party of Illinois," said DPI Chair Rep. Robin Kelly. "I couldn't be prouder of the progress we've made together in the last fourteen months and with a full slate of fantastic Democratic candidates gearing up for this fall's midterm election, now is the time to reaffirm our commitment to a party that is inclusive, transparent, and active in everything we do. I ask all State Central Committee candidates to join me as we continue to fight for Democratic values for all in Illinois."

Chair Kelly was elected in March 2021 as the first woman chair and first Black chair in DPI history. Since her historic election, Chair Kelly has overhauled the party, reorganizing the party structure to bring in new voices while hiring a new team of staff and vendors as well as instituting a successful new fundraising structure.

"Before I was elected, party power in Illinois was concentrated in the hands of too few people," said Chair Kelly. "Now, not only do diverse voices guide our work, but I am proud to show up for Democrats in every corner of Illinois. We need a party chair who listens to others, works collaboratively, and never forgets that it is the Democratic voters of this state who must ultimately guide our work for the benefit of all Democratic nominees. I humbly ask for a full term to continue our work together toward these goals."

Under Chair Kelly's leadership, the Democratic Party of Illinois has taken significant steps in modernizing the party and providing foundational services common among other state parties nationwide. Accomplishments include:

• Raised more than $1.9 million in federal and non-federal money under a new, diversified fundraising structure including a grassroots donor program, which bolsters the Party's pre-Coordinated campaign budget to over $4.2 million cash on hand.
• Lowered Party administrative costs to save tens of thousands of dollars annually while bringing in more specific-to-state party expertise.
• Expanded data and technology trainings for candidates, staff, and activists every month, plus a brand-new candidate training program run in conjunction with the Illinois Democratic County Chairs' Association to focus on building the strongest bench of candidates statewide.
• Built out a traditional and social media outreach strategy to center the DPI as the standard-bearer of the Democratic message while holding Republicans accountable, including building an email list from scratch of more than 100,000 people (and growing) to reach Democratic voters where they are.
• Building out a statewide organizing team recruiting and connecting volunteers with local campaigns and party organizations.
• Re-engaged with the national Democratic Party, including the election of Chair Kelly as a representative of the Midwest Caucus to the Executive Committee of the DNC, support for the bid for the 2024 Democratic National Convention, and an application for Illinois to be included as a 2024 early state primary.

The chair of the Democratic Party of Illinois is elected by a weighted vote of the Democratic State Central Committee, who are individually elected in the June 28 primary. The chair must be a sitting State Central Committeeperson. Chair Kelly has no opposition in her re-election campaign as State Central Committeeperson from Illinois' Second Congressional District.
* Politico…
Kelly was elected party chair in 2021 after Michael Madigan stepped down from his 23-year reign. Kelly defeated Chicago Ald. Michelle Harris for the job, creating some intraparty tension that continues to bubble up. Kelly was backed by Sen. Dick Durbin, and Harris was endorsed by Gov. JB Pritzker.

For months there was buzz that the relationships between Kelly and Pritzker, and Durbin and Pritzker, were chilly — though all parties were publicly professional about it all (maybe through gritted teeth).

And now the top party job is up for grabs again.

Pritzker has enlisted former Deputy Gov. Dan Hynes to recruit allies to run for seats on the Democratic Central Committee. They will be elected during the June 28 primary. Winners will then pick the party chair. […]

Pritzker has given $20,000 to Liz Brown-Reeves, a former Madigan aide turned lobbyist, for her race to join the Democratic Central Committee in a contest against Katherine Daniels, the sitting chair of the Adams County Democrats. Daniels is endorsed by the Sangamon County Democratic Party, which is headed by longtime Durbin ally Bill Houlihan.
The Sangamon County party is meeting this week to try to overturn that endorsement of Adams County resident Katherine Daniels. Stay tuned.
* In the meantime, Brown-Reeves has reported raising more than $41K so far and is putting that money to work. She already sent out one mailer featuring the governor, and here's her second piece…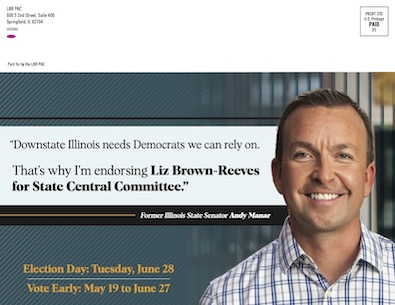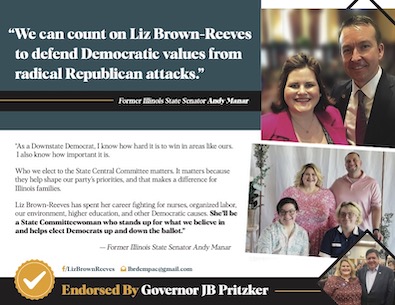 * And she lined up Secretary White's endorsement…
As early voting begins for the June 28th primary, Secretary of State Jesse White endorsed Liz Brown-Reeves (D-Springfield) for Democratic State Central Committee in the 15th Congressional District.

"I have known Liz since she was a college student at SIU Carbondale and have followed her professional career in Springfield for the last twenty-two years. It's extremely important to have strong, experienced Democrats in our party that have a comprehensive knowledge of downstate politics," said Secretary of State Jesse White. "Liz is a go-getter and hard worker. Her enthusiasm is infectious and is much needed in our party, especially downstate. Liz has dedicated her life to helping elect Democrats and she will be a significant addition to the Democratic Party of Illinois,"

Secretary White joins the long list of supporters for Liz Brown-Reeves that includes Governor JB Pritzker, former Senator Andy Manar, Senator Doris Turner, former State Representative Julie Curry and House Assistant Majority Leader Jay Hoffman.

"Jesse White is a hero in Illinois politics. His groundbreaking, people-first approach has been the model in Illinois state government. To receive the endorsement of Secretary White is a tremendous honor and I vow to continue to his legacy in every part of Illinois - including the reddest ones in our State," said Liz Brown-Reeves.

More information on Liz and her campaign can be found at https://www.facebook.com/LizBrownReevesforIL15.
A mailer featuring White is forthcoming.
Needless to say, this much time, energy and money going into a state central committeeperson race is extraordinarily rare. As an example, Gov. Pritzker has so far only given one committee, Friends of Chakena Perry, more money than Brown. Legislators with primaries received $5K.
33 Comments


































































































Sorry, comments for this post are now closed.