* Since we last discussed this topic, Gov. Pritzker has contributed $55,000 to Avon Township Democratic Chair Hal Sloan's campaign for state central committee. Tom Maillard is the incumbent, but despite receiving several endorsements, he has reported raising almost no money.
And then this hit the mailboxes today…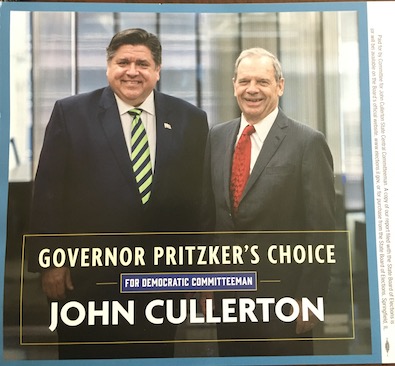 Former Senate President Cullerton voted with Pritzker on the DPI chair election, accurately predicting that the state party would face some big legal hurdles to raise and spend non-federal campaign funds if Robin Kelly won. Cullerton is running against Sen. Rob Martwick (D-Chicago), and Martwick wasn't surprised with the endorsement.
Also, Martwick and Pritzker have tangled a bit on MWRD candidate Daniel Pogorzelski. "Pogo" was endorsed by the county party and he's close to Martwick. Pritzker is going up against the party in that race and is backing former staffer Chakena Perry, who was appointed to the MWRD.
That makes seven public endorsements so far in contested races. The others are here.
*** UPDATE 1 *** The governor has contributed another $500,000 to the Democratic Party of Illinois. He also gave $15,000 to Karen Yarbrough, who's running unopposed for both state central committee and for county clerk. He also contributed $5,000 to Lake County Sheriff John D. Idleburg.
*** UPDATE 2 *** Rep. Gordon Booth, a strong Pritzker ally at the Statehouse, is running against two other Democrats in this open-seat contest, Pam Davidson (who has also sent a mailer) and Linda McNeely…
*** UPDATE 3 *** Rep. Maurice West (D-Rockford) just confirmed that he was endorsed by Gov. Pritzker. West is running against Virgil Mayberry in the 17th District.
18 Comments »





















































This is not Facebook, so uncivil comments, profanity of any kind, rumors and anonymous commenters will not be tolerated and will likely result in banishment.